Postdoctoral Scholar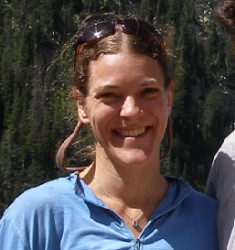 Research Interests
Global change biology, plant-soil microbe interactions, alpine tundra, plant invasion
Research Description
My research is broadly aimed at understanding the interactions that structure plant communities in space and time. These range from competition, facilitation, interactions with soil microbes, and climatic and environmental pressures. My research also focuses on understanding the mechanisms through which global change factors, including climate change, nitrogen deposition, and invasive species, influence native plant communities and the consequences of these global changes for ecosystems in the future. I study ecology in a framework that is founded in ecological theory and utilizes a broad range of experimental, survey, and modeling techniques.
For more information, check out my webpage.
Selected Publications
King, A. J., E. C. Farrer, K. N. Suding, AND S. K. Schmidt. 2012. Cooccurrence patterns of plants and soil bacteria in the high-alpine subnival zone track environmental harshness. Frontiers in Microbiology 3:347.
Foxman, B., J. Wu, E.C. Farrer, D.E. Goldberg, J.G. Younger, C. Xi. 2012. Early development of bacterial community diversity in emergently placed urinary catheters. BMC Research Notes. 5:332.
Farrer, E.C. and D.E. Goldberg. 2011.  Patterns and mechanisms of conspecific and heterospecific interactions in a dry perennial grassland. Journal of Ecology. 99:265-276.
Farrer, E.C., D.E. Goldberg, and A.A. King. 2010.  Time lags and the balance of positive and negative interactions in driving grassland community dynamics. American Naturalist. 175(2):160-173.
Farrer, E.C. 2010. Plant-environment feedbacks in a native and invasive system. Dissertation, University of Michigan, Ann Arbor.
Farrer, E.C.and D.E. Goldberg. 2009.  Litter drives ecosystem and plant community changes in cattail invasion. Ecological Applications. 19:398-412.
Contact Information
Email: ecfarrer@berkeley.edu
Website(s)
Curriculum Vitae
Research Group(s)
Mailing Address
Dept of Environmental Science, Policy, & Management
UC Berkeley
130 Mulford Hall #3114
Berkeley, CA 94720