Professor Emeritus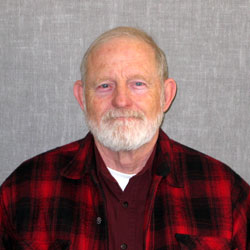 Education
PhD Botany University of California, Berkeley
B.S. Forestry University of Montana, Missoula
Research Interests
Forest ecology and urban forestry
Research Description
My research is focused on urban forestry. This research is concerned with three questions:
What is the relationship between the ecological characteristics of the biome in which a city occurs and the composition, structure, and function of its urban forest,
What are the implications of global climate change for tree species selection for urban forests, and
How have historical events and cultural attitudes influenced the composition and structure of urban forests.
Teaching Interests
I am interested in undergraduate education. I teach the following courses: ESPM 101A (Ecology of the Sierra Nevada), LA 182 (Forest Operations Management), ESPM C191 (The American Forest), LAEP 110 (Ecological Analysis), LAEP 201 (Ecological Factors in Urban Design), LAEP 212 (Landscape Ecology), LA 223 (California Landscapes), and LAEP 225 (Urban Forest Planning and Management). I like working with graduate students who are interested in teaching as a career objective.
Current Projects
Composition, Structure, and Function of the World's Urban Forests
Reconstruction of Urban Forests after WWII Firebombing
Global climate change and urban forest composition
Urban Forest Master Plan for San Francisco
Selected Publications
McBride, J. R. 2000. Urban Forestry: What we can learn from cities around the world. Proceedings of the XIIth National Urban and Community Forest Conference. Seattle, WA. pp. 39-43.McBride, J. R. and A. Mossadegh. 2000. Tree-lined canals and the urban Forests of Tehran. Arboriculture Journal. 24:155-173.Yang, J. and J.R. McBride. 2003. A technique for street tree planting in Beijing, Arboricultural Journal 27:1-10.McBride, J.R. Cheng, S., and J. Clausen. 2004. Vegetation Management Strategy for Land End, GGNRA. Report to the Golden Gate national Park Conservancy. San Francisco, CA.Russell, W.H. and J.R. McBride. 2002. Landscape scale vegetation-type conversion and fire hazard in the San Francisco Bay area open spaces. Landscape and Urban Planning 64:201-208.Yang, J., J.R. McBride, Jinxing Zhou, and Zhenyuan Sun. 2005. The urban forest in Beijing and its role in air pollution reduction. Urban Forestry and Urban Greening 3:65-78.
Wu, A., McBride, J.R., Nowak, D.j., Yang, J. & Cheng, S. 2006. Effects of Urban forest on Air Pollution in Hefei City. Journal of Chinese Urban Forestry 1:39-43.
Recent Teaching
99 - SUPERV INDEP STUDY
101A - Sierra Nevada Ecology
182 - Forest Operations Management
195 - Senior Thesis
H196 - HONORS RESEARCH
199 - SUPERV INDEP STUDY
299 - INDIVIDUAL RESEARCH
Contact Information
Email: jrm2@berkeley.edu
Office: 35 Mulford Hall
Office Phone: (510) 643-8074
Fax: (510) 643-5438
Website(s)
Office Hours
Monday 9:30-11:30; Thursday 2:30-4:30, Updated: 2010/01/21
Research Group(s)
Mailing Address
Dept of Environmental Science, Policy, & Management
UC Berkeley
130 Mulford Hall #3114
Berkeley, CA 94720