Associate Professor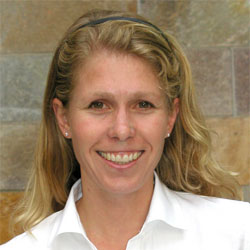 Education
PhD Ecology, University of Michigan, 1999
B.S. Highest honors in Biology, Williams College, 1994
Research Interests
Plant Community Ecology; Restoration, Invasion biology, Environmental change, Conservation
Research Description
I am a plant community ecologist working at the interface of ecosystem, landscape and population biology. My goal is to apply cutting-edge "usable" science to the challenges of restoration, species invasion, and environmental change. My research group and I work with a range of conservation groups, government agencies and land managers to provide evidence-based solutions that take into account biodiversity, human well-being, and management opportunities. We employ a combination of long-term monitoring, modeling and experimental approaches in settings that range from alpine tundra to oak woodlands to grasslands. Common themes include plant-soil feedbacks, functional traits, species effects on ecosystem processes, and non-linear and threshold dynamics.
Selected Publications
[A complete list with links is included on my lab webpage]
Suding, K.N., K.L. Gross, and G. Houseman. 2004. Alternative states and positive feedbacks in restoration ecology. Trends in Ecology and Evolution 19: 46-53.
Suding, K.N., S.L. Collins, L. Gough, C. Clark, E.E. Cleland, K.L. Gross, D.G. Milchunas, and S. Pennings. 2005. Functional- and abundance-based mechanisms explain diversity loss due to N fertilization. Proceedings of the National Academy of Science 102: 4387-4392.
Harpole, W.S., D. Potts, and K.N. Suding. 2007. Ecosystem responses to water and nitrogen amendment in a California grassland. Global Change Biology 13: 2341-2348.
Suding, K.N., S. Lavorel, F.S. Chapin, H. Cornelissen, S. Diaz, E. Garnier, D. Goldberg, D.U. Hooper, S.T. Jackson and M.L. Navas. 2008. Scaling environmental change through the community-level: a trait-based response-and-effect framework for plants. Global Change Biology 14:1125-1140.
Suding, K.N., I. Ashton, H. Bechtold, W. Bowman, M. Mobley, and R. Winkleman. 2008. Plant and microbe contribution to community resilience in a directionally changing environment. Ecological Monographs 78: 313-329.
R.J. Hobbs and K.N. Suding, eds. 2008. Book. New Models for Ecosystem Dynamics and Restoration. Island Press, Washington DC. 566 pages.
Funk, J. L., E.E. Cleland, K.N. Suding, E.S. Zavatela. 2008. Restoration through re-assembly: plant traits and invasion resistance. Trends in Ecology and Evolution 23: 695-703.
Suding, K.N. and R.J. Hobbs. 2009. Threshold models in restoration and conservation:  a developing framework. Trends in Ecology and Evolution  24:271-279
Ashton, IW, AE Miller, WD Bowman, and KN Suding. 2010. Niche complementarity due to plasticity in resource use: plant partitioning of chemical nitrogen forms. Ecology 11:3252-3260.
Grman, E., E. Hayes, and K.N. Suding. 2010. Within-year soil legacies contribute to strong priority effects of exotics on native California grassland communities. Restoration Ecology 18:664-670.
Harpole, W.S. and K.N. Suding. 2011 A test of the niche dimension hypothesis in an arid annual grassland. Oecologia 166: 197-205.
Aicher, R..J., L. Larios, and K.N. Suding. 2011. Seed supply, recruitment and assembly: quantifying relative seed and establishment limitation in a plant community context. American Naturalist 178: 464-477.
Cleland, E.E., C.M. Clark, S.L. Collins, J.E. Fargione, L. Gough, K.L. Gross, S.C. Pennings, and K.N. Suding. 2011. Patterns of trait convergence and divergence among native and exotic species in herbaceous plant communities are not modified by nitrogen enrichment Journal of Ecology 99: 1327-1338.
Suding, K.N. 2011. Toward an era of restoration in ecology: successes, failures, and opportunities ahead. Annual Review Ecology, Evolution and Systematics 42: 465-487.
Spasojevic, M.J., and K.N. Suding. 2012. Inferring community assembly mechanisms from functional diversity patterns: the importance of multiple assembly processes. Journal of Ecology 100: 652-661.
Honors and Awards
2008     Distinguished Assistant Professor Award for Research
2005     Andrew W. Mellon Foundation, Young Investigator Research Award
2002     Centre National de la Recherché Scientifique Fellow
1998      Rackham Predoctoral Fellow
1997      Helen Olson Brower Memorial Fellow
1994      Henry A. Dwight 1829 Botanical Prize
Recent Teaching
100 - Environmental Problem Solving
187 - Restoration Ecology
194 - Capstone seminar in Conservation and Resource Studies
290 - Graduate seminar in Restoration Ecology
Contact Information
Email: suding@berkeley.edu
Office: 347 Hilgard
Lab Phone: (510) 642-1334
Fax: (510) 643-5438
Website(s)
Curriculum Vitae
Office Hours
By Appointment. Please sign up on the lab calender. For login information, contact me or Liana Nichols (liana at berkeley.edu)
Research Group(s)
Mailing Address
Dept of Environmental Science, Policy, & Management
UC Berkeley
130 Mulford Hall #3114
Berkeley, CA 94720