PhD Candidate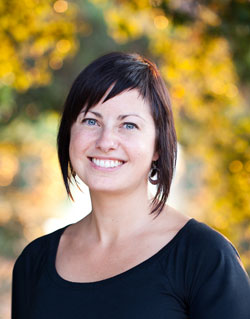 Research Interests
Food systems, farm to hospital, commodity networks, alternative agrifood movements, ecological nutrition, corporeality
Research Description
My interests lie at the nexus of public health and alternative agrifood movements.  I'm conducting participatory action research within the farm to hospital movement, exploring how an ecological nutrition approach to food and health is being used to create food system change.  My work explores bodies, food, and ecology as metaphor and metabolism - laden with cultural meaning and enmeshed in complex material processes.  I examine the ideational drivers of the farm to hospital movement as well as the on-the-ground supply chain consequences of farm to hospital food procurement initiatives.
The farm to hospital movement encompasses new coalitions of nonprofit organizations, doctors, dieticians, hospital chefs and food service staff, health professional associations, farmers, and supply chain intermediaries such as food processors and distributors.
Ecological Nutrition
All apples are not created equally.  This is one of the underlying tenets of the ecological nutrition approach emerging in the farm to hospital movement.   Actors are making the case that the history of food matters - that a food's path through the food system results in particular health and environmental benefits or costs.
In the traditional approach to food-related  health captured by the term nutritionism (Pollan 2008; Scrinis 2008) a 'balanced meal' sits on the plate devoid of history, measured only in terms of its constituent parts – carbohydrates, proteins, vitamins, isoflavones.  In an ecological approach, the microscope of nutrition science trained on the biochemistry of food zooms out to examine the entire eco-agri-food system, involving complex networks of social, political, economic, ecological, and techno-scientific practices and processes.
An ecological nutrition approach takes measure of the entire eco-agri-food system, and according to its assessment, the modern industrial food system does not measure up.  Farm to hospital actors are leveraging a growing body of scientific data to problematize the modern industrial food system and to legitimize and inspire alternative food system models.  They argue that the modern industrial food system impairs human health while also undermining the ecosystem functions and processes on which we depend for survival.  For example: pesticides destroy soil biota and wildlife while contributing to rising rates of cancer, neuro-developmental and reproductive disorders; likewise, manure lagoons at Confined Animal Feeding Operations leach pollutants including phosphorus, heavy metals and ammonia while providing ideal habitat for foodborne pathogens and creating noxious, asthma-inducing odors  (Horrigan et al. 2002, Cohen and Mikkelson 2004, Wallinga 2009)
Here, human bodies are both flesh and metaphor - beset by a growing array of health woes attributed to agrifood systems, as well as the portal through which we begin to tell a different story about our relationship with agrifood and ecological systems.  Our bodies become locations of resistance to the degradations of the modern industrial food system and sites that inspire transformation and change of food commodity networks, public health and agrifood policy, and notions of what constitutes healthy food.  The locus of responsibility for food-related health shifts from individual bodies to the collective political body – from personal choice to social, economic and political structures of power that shape agricultural policies and practices, food processing and distribution networks, and the food environments that constrain and enable food access and choice.
From Farm to Hospital 
New conceptualizations of what constitutes healthy food are particularly significant within the health care sector since it is a powerful cultural and political node for defining health and disease as well as a powerful economic node within food commodity networks, spending $12 billion annually in the food and beverage sector.
The non-profit organization Health Care Without Harm is networking hospitals nationwide to put an ecological nutrition approach into action.  To date, over 370 hospitals have signed their Healthy Food in Health Care Pledge, standing behind a systems definition of healthy food which states, "for the consumers who eat it, the workers who produce it and the ecosystems that sustain us, healthy food must be defined not only by nutritional quality, but equally by a food system that is economically viable, environmentally sustainable, and supportive of human dignity and justice".
These hospitals are leveraging their food dollars and procurement systems to source organic, local, and fair trade food as well as to purchase grass-fed meat, cage-free eggs, and animal products produced without the use of antibiotics and synthetic hormones.  Hospitals are hosting farmers' markets on site and working with regional distributors to source local and sustainably-produced food.  They are also reducing waste by composting food scraps and switching to compostable and washable dishes (Beery and Valliantos 2004, Harvie et al. 2008, Sachs and Feenstra 2008).
These actions represent food procurement shifts of no small consequence.  A mid-sized hospital can have an annual food budget of $3 - 4 million, providing financial potential for the (re)development of local and regional food system processing and distribution infrastructure and the 'agriculture of the middle' (Lyson et al. 2008).
However, moving farm to hospital initiatives beyond pilot stages will require negotiating a number of challenges including  budget constraints, the need for steady streams of large amounts of pre-processed food, and deeply entrenched relationships with supply chain intermediaries including Group Purchasing Organizations (e.g. Premier, Novation, MedAssets) and broadline distributors (e.g. SYSCO, US Foodservice) which can limit hospitals' freedom to exercise choice in buying food outside of their negotiated contracts.
--------------------
Beery, M. and M. Valliantos (2004). "Farm to hospital: promoting health and supporting local agriculture." UEPI Papers–Research Brief. Urban and Environmental Policy Institute, Occidental College, Los Angeles, CA.
Cohen, L. and L. Mikkelson (2004). Cultivating Common Ground: Linking Health and Sustainable Agriculture. Oakland, CA, Prevention Institute.
Harvie, J., D. Moore, et al. (2008). Menu of Change: Healthy Food in Health Care, Health Care Without Harm.
Horrigan, L., R. S. Lawrence, et al. (2002). "How sustainable agriculture can address the environmental and human health harms of industrial agriculture." Environmental Health Perspectives 110(5): 445.
Lyson, T. A., G. W. Stevenson, et al. (2008). Food and the mid-level farm: Renewing an agriculture of the middle, The MIT Press.
Pollan, M. (2008). In defense of food: an eater's manifesto. New York, The Penguin Press.
Sachs, E. and G. Feenstra (2008). Emerging Local Food Purchasing Initiatives in Northern California Hospitals. Agricultural Sustainability Institute, UC Davis.
Scrinis, G. (2008). "On the ideology of nutritionism." Gastronomica 8(1): 39-48.
Wallinga, D. (2009). "Today's Food System: How Healthy Is It?" Journal of Hunger & Environmental Nutrition 4(3): 251-281.
Selected Publications
Klein, Kendra and David Winickoff (2011). Organic regulation across the Atlantic: Emergence, divergence, convergence. Environmental Politics.  20 (2): 153-172. March.
Winickoff, David and Kendra Klein (2011). Food Labels and the Environment: Towards Harmonization of US and EU Organic Regulation. In Transatlantic Regulatory Cooperation: The Shifting Roles of the EU, the US and California.  Eds. David Vogel and Johan Swinnen.  Catholic University of Leuven: Belgium.
Honors and Awards
UC Berkeley Outstanding Graduate Student Instructor Award, 2010-2011
Switzer Foundation Environmental Fellowship, 2011-2012
UC Sustainable Agriculture Research and Education Program Graduate Research Grant, 2011-2012
Annie's Homegrown Sustainable Agriculture Scholarship, 2010
Recent Teaching
155 - Sociology of Natural Resources / Political Ecology of the Food System
161 - Environmental Philosophy and Ethics
162 - Bioethics and Society
C167 - Environmental Health and Development
Contact Information
Email: kleinkec@yahoo.com
Research Group(s)
Mailing Address
Dept of Environmental Science, Policy, & Management
UC Berkeley
130 Mulford Hall #3114
Berkeley, CA 94720