Graduate Student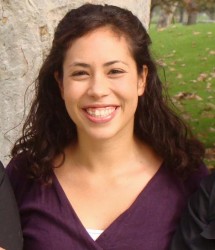 Education
2009-present    PhD Candidate, University of California at Berkeley, Department of Environmental Science, Policy and Management
2007-2009     University of California at Irvine, Department of Ecology and Evolutionary Biology, PhD program (transferred to UC Berkeley before completion)
2005    B.S.   California State University, Fullerton, Bachelor of Science, Biological Sciences emphasis in Biodiversity, Ecology, & Conservation
Research Description
I am interested in understanding the interactions between native and exotic species and how these dynamics may affect ecosystem functioning and inform successful restoration practices. My dissertation research in California grasslands has explored several processes governing the invasion of exotics, the invasion resistance of native grasslands and the coexistence between native and exotic species including competition for multiple resources, plant-soil feedbacks and disturbances.
Selected Publications
Larios, L., R.J. Aicher, and K.N. Suding. accepted. Effect of propagule pressure on recovery of a California grassland after an extreme disturbance. Journal of Vegetation Science.
Cleland, E., L. Larios, and K.N. Suding. Strengthening invasion filters to re-assemble native plant communities: soil resources and plant phenology. Restoration Ecology. doi:10.1111/j.1526-100X.2012.00896.x
Aicher, R.J., L. Larios, and K.N. Suding. 2011. Seed supply, recruitment and assembly: quantifying relative seed and establishment limitation in a plant community context. The American Naturalist 178:464-477
Larios, L. and P. Stapp. 2006. Effects of invasive thistle on grassland arthropod communities. CSUF Dimensions 8: 37-44
Honors and Awards
2010 ESA Strategies for Ecology Education, Development, & Sustainability (SEEDS) alumni annual meeting travel award
2008-2011 National Science Foundation Graduate Research Fellowship
Recent Teaching
ES 10: Introduction to Environmental Sciences, course instructors: Matthew Potts, Allen Goldstein
ESPM 173: Introduction to Analysis of Ecological Data, course instructor: Erica Spotswood
Interests
Hiking, Rock climbing, Baking, Football
Contact Information
Email: llarios@berkeley.edu
Office: 147 Hilgard Hall
Office Phone: 512-642-1334
Website(s)
Research Group(s)
Mailing Address
Dept of Environmental Science, Policy, & Management
UC Berkeley
130 Mulford Hall #3114
Berkeley, CA 94720