Henry J. Vaux Distinguished Professor of Forest Policy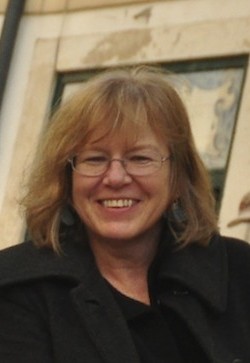 Education
Ph.D. Sociology of Agriculture and Natural Resources, Cornell University, 1988
MSc.  Sociology of Agriculture and Natural Resources, Cornell University, 1983
B.A. Anthropology, Friends World College, 1978
Research Interests
political ecology/environmental sociology/resource policy/forests/agrarian change/property and access
Research Description
My students and I study the social processes that affect the management of land-based resources, using ethnographic, historical, and other broadly sociological research methods.  My work explores various dimensions of resource access, use, and control, while comparing and contrasting local, national, and international influences on management structures and processes. I ground my analysis of contemporary resource management policy and practice in local and regional histories. I am particularly interested in how social difference – ethnic identity, class, gender – affects resource access and control. How do government and non-government institutions and actors define, make claims upon, contest, and attempt to manage natural resources?
In my early research on forest and agrarian politics and socio-environmental change in Indonesia, I studied trade in non-timber forest products in East Kalimantan, village-state conflicts in the teak and montane forests of Java, the role of forestry and social forestry in state formation, and changes in forest management practices and resource rights among indigenous swidden cultivators in West Kalimantan. The scope of my research has expanded In the past ten years to include the projects discussed below.
Current Projects
The History of Political Forests in Southeast Asia
In this comparative study of Malaysia, Indonesia, and Thailand, I am working with Peter Vandergeest, a colleague at York University, to examine the formation of what we call "political forests" during the nineteenth and twentieth centuries. We analyze the role and origins of forest and land law, professional forestry institutions, and the ways Cold War insurgencies and "emergencies" shaped forests and empowered territorializing states. We also consider the ways certain customary practices became "Customary Rights" or were ignored by the law, and how the law and state forest practices have affected people's livelihoods.
Violence, Territorialization, and the Production of Landscape
I am currently working on a book that examines the entanglements of violence and territoriality in landscape history in West Kalimantan, a province in Indonesian Borneo where I began doing fieldwork in 1990. Communal violence between Dayaks and Madurese erupted seven years later, engulfing my research sites. The book draws on ethnographic fieldwork I conducted before and after the violence, as well as on archival and secondary sources. It examines how conjunctures of violence, territoriality, and landscape production have reshaped access to and control over agrarian and political resources.
I use multiple versions of history gathered in my research to make a series of broad claims about relations between violence, territory, and landscape. My contention is that landscapes, as working, material domains of practice and sites of remembrance, are territories. The production of territories through practice and representation, or "territorialization," is a mode of claiming. This aspect of claiming differentiates territorialization from "place-making." As territories are produced and multiply, they become contested sites of identity production, resource control, and historical representation. In twentieth-century West Kalimantan, competing territorialities have led to repeated incidents of state and communal violence. In the wake of violence or its threat, those people remaining in place have produced new landscapes and new representations of their identities and histories, as part of their own and others' territorializing projects.
Selected Professional Activities
Chair, Division of Society and Environment, Dept. of ESPM 2006-2009
Program Co-Director, Berkeley Workshop on Environmental Politics, July 2004 - present.
Associate Editor, Annals of the Association of American Geographers, 2003 - 2009.
Chair, Center for Southeast Asian Studies, U.C. Berkeley, July 2001 - December 2002.
Associate Editor, Global Environmental Politics, 1999 - present.
Editor-in-Chief, Common Property Resource Digest, 1994-1998.
Selected Publications
Books and Monographs
Nevins, Joseph, and Nancy Lee Peluso (eds). 2008. Taking Southeast Asia to Market: Commodities, People and Nature in a Neoliberal Age. Ithaca: Cornell University Press.
Peluso, Nancy Lee. (translated by Landung Simatupang). 2006. Hutan Kaya, Rakyat Melarat: Penguasaan Sumberdaya dan Perlawanan di Jawa. Yogyakarta: Konphalindo. Printed by INSISTPRess. Indonesian Translation of Rich Forests, Poor People with a new introduction.
Padoch, Christine, and Nancy Lee Peluso. 2003. Borneo in Transition: People, Forests, Conservation, and Development. Kuala Lumpur: Oxford University Press. Includes new introduction and updated article, both by: Peluso, Nancy Lee, and Christine Padoch, "Resource Rights in Managed Forests of West Kalimantan, Indonesia." [second edition].
Peluso, Nancy Lee, and Michael Watts. 2001. Violent Environments. (Ithaca: Cornell University Press).
Peluso, Nancy Lee. 1992. Rich Forests, Poor People: Resource Control and Resistance in Java. Berkeley, CA: University of California Press. (Paperback 1994).
Refereed journal articles and book chapters
Peluso, Nancy Lee. "Rubber Producing Rights, Rubber Erasures." Special Issue of Development and Change on Property and Authority, Christian Lund and Thomas Sikor, eds. Peluso Rubber Erasures
Peluso, Nancy Lee, Suraya Afiff, and Noer Fauzi Rachman. 2008. "Claiming the Grounds for Reform: Agrarian and Environmental Movements in Indonesia." Journal of Agrarian Change 8:2-3:377-408.
Peluso, Nancy Lee. 2007. "Enclosure and Privatization of Neoliberal Environments: Some comments." In Neoliberal Environments. Nick heynton, James McCarthy, Scott Prudham and Paul Robbins, eds. Routledge.
Vandergeest, Peter, and Nancy Lee Peluso. 2006. "Empires of Forestry: Professional Forestry and State Power in Southeast Asia, Part 1. Environment and History 12 (1):31-64. PDF
Vandergeest, Peter, and Nancy Lee Peluso. 2006. "Empires of Forestry: Professional Forestry and State Power in Southeast Asia, Part 2. Environment and History 12 (4):359-393. PDF
Hart, Gillian, and Nancy Lee Peluso. 2005. "Revisiting Rural Java: Agrarian Research in the Wake of Reformasi: A Review Essay." Indonesia Number 80, October, 2005:177-197.
Peluso, Nancy Lee. 2005. "Seeing Properties in Land Use: Local Territorializations in West Kalimantan, Indonesia. Geografisk Tidsskrift: Danish Journal of Geography, V. 105, No. 1.
Ribot, Jesse, and Nancy Lee Peluso. 2003. "A Theory of Access." Rural Sociology 68 (2): 153-181 PDF
Peluso, Nancy Lee. 2003. "The Politics of Specificity and Generalization in Conservation Matters." Conservation and Society, 1 (1): 61-64.
Peluso, Nancy Lee. 2003. "Weapons of the Wild: Strategic Deployment of Violence and Wildness in Borneo Rainforests of Indonesia." In Candace Slater, ed. In Search of the Rainforest. Duke University Press.
Zinoman, Peter and Nancy Lee Peluso, Guest Editors. 2002. Asian Survey 42 (4) July-August: 545-549. Co-authored Special Issue Introduction (and co-edited the issue): "Rethinking Aspects of Political Violence in Twentieth Century Indonesia and East Timor."
Peluso, Nancy Lee and Peter Vandergeest, 2001. "Genealogies of the Political Forest and Customary Rights in Indonesia, Malaysia, and Thailand." The Journal of Asian Studies, Vol. 60, No. 3, (Aug., 2001), pp. 761-812. PDF
Peluso, Nancy Lee and Emily Harwell. 2001. "Territory, Custom, and the Cultural Politics of Ethnic War in West Kalimantan Indonesia." In, Violent Environments. Nancy Lee Peluso, Michael Watts, eds. Ithaca: Cornell University Press.
Fairfax, Sally K., Fortmann, Louise P., Hawkins, Ann, Huntsinger, Lynn, Peluso, Nancy Lee, and Wolf, Steven A. 1998. "The Federal Forests Are Not What They Seem: Formal and Informal Claims to Federal Lands." Ecology Law Quarterly. 25(4):630-646.
Peluso, Nancy Lee. 1998 "The Role of Forests in Sustaining Smallholders," in John Gordon, Ralph Schmidt, and Joyce Berry, eds., Creating Integrated Forest Strategies. New Haven: Yale University Press.
Christine Padoch and Nancy Lee Peluso, eds. 1996. Borneo in Transition: People, Forests, Conservation, and Development. Kuala Lumpur: Oxford University Press. (Second edition 2003).
Peluso, N.L. 1996. "Fruit trees and family trees in an Anthropogenic rainforest: Property rights, ethics of access, and environmental change in Indonesia." Comparative Studies in Society and History 38 (3):510-548.
Honors and Awards
Henry J. Vaux Distinguished Professorship in Forest Policy - College of Natural Resources - 2009- present
National Endowment of the Humanities Fellow - National Endowment of the Humanities - 2006
John Simon Guggenheim Fellow - John Simon Guggenheim Foundation - 2006
Humanities Research Institute Fellow - Humanities Research Institute, UC_Irvine - 2000
Outstanding Scholarly Contribution - Rural Sociological Society - 1995
Recent Teaching
168 - POLITICAL ECOLOGY
H196 - HONORS RESEARCH
198 - DIRECTED GROUP STDY
201C - ENVIRONMENTAL FORUM
253 - ADV POLITICAL ECOL
290 - SPECIAL TOPICS ESPM
298 - DIRECT GROUP STUDY
299 - INDIVIDUAL RESEARCH
N299 - Individual Research
300 - PROF SUPV TRAINING
Contact Information
Email: npeluso@berkeley.edu
Office: 139 Giannini Hall
Office Phone: 510-643-2797
Office Hours
By Appointment; Mondays 2-5
Research Group(s)
Mailing Address
Dept of Environmental Science, Policy, & Management
UC Berkeley
130 Mulford Hall #3114
Berkeley, CA 94720