Alumna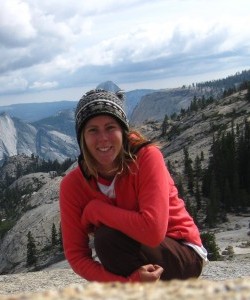 Research Interests
Climate Change Impacts on Carbon Storage in Annual Grassland, Nitrogen Deposition Effects on CA Soils
Research Description
Broadly, my research explores global change ecology questions and employs field manipulations, laboratory studies, ecological modeling, and stable isotope and radiocarbon ecological research methods. I am specifically interested biogeochemical mechanisms driving changes in ecosystem carbon storage and nitrogen dynamics resulting from the interactive effects of climate change and land management. I am also quite passionate about climate change education and outreach, and I appreciate the opportunity to share this passion.
Selected Publications
Lichter, J., R. Ryals, R.B. Jackson, S. Palmer. Soil C sequestration after nine years of elevated atmospheric CO2. [In preparation]
Williams, E., N. Greenglass, and R. Ryals. 2007. Carbon capture, pipeline and storage: a viable option for North Carolina utilities? The Nicholas Institute for Environmental Policy Solutions and The Center on Global Change at Duke University. Working Paper. March 8, 2007. Available at http://www.nicholas.duke.edu/institute/carboncapture.pdf
Previous experiences in environmental management and policy
Prior to matriculation at UC Berkeley, I earned a Masters in Environmental Management at Duke University, with a focus in climate policy and forest resource management. At Duke, I was involved in research at the interface between science, policy, and economics. I worked at the Duke Free Air Carbon Dioxide Enrichment (FACE) experiment to investigate gaps in our scientific understanding of long term soil carbon storage and the effectiveness of forest carbon offsets. I analyzed offset policy provisions during the development of the Regional Greenhouse Gas Initiative, the first regional cap-and-trade carbon policy implemented in the United States. I also worked on an interdisciplinary team to evaluated the technical and economic feasibility of biological and geologic carbon sequestration.
Contact Information
Email: bryals@berkeley.edu
Office Phone: 510-643-3963
Website(s)
Research Group(s)
Mailing Address
Dept of Environmental Science, Policy, & Management
UC Berkeley
130 Mulford Hall #3114
Berkeley, CA 94720