Graduate Student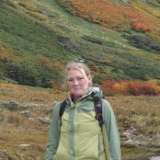 Research Interests
Indirect Interactions, Parasitoid Food Webs and Dispersal in Disturbed Landscapes, Host Selection
Research Description
Parasitoid wasps can significantly affect the population growth and dynamics of host species. Researches have focused on numerous "just-so" ecology-based systems involving specialized parasitoids and their hosts.  However, parasitoids can also be relative generalists, and in these systems, species interactions and influences are more complex.  My research is situated in landscape ecology, specifically, how indirect interactions mediated by parasitoid wasps can drive insect communities across diverse habitat patches. Depending on the densities of predator and prey species, host preference and resource abundance, community structure can vary widely in these systems. I work specifically with 2 species of Liriomyza leaf-miners and Diglyphus parasitoid wasps.  This research is particularly relevant to how we define and understand ecosystem function, landscape connectivity in a diverse matrix, conservation design and the future of Integrative Pest Management.
Honors and Awards
James A. Buchanan Scholarship (2010)
First Prize CITRIS (Center for Information Technology Research in the Interest of Society) White Paper Competition (2006)
Honors in Environmental Studies Major, University of California Santa Cruz (2006), Deans Award for Undergraduate Senior Thesis (2006).
Recent Teaching
ESPM 142: Insect Behavior
General Ecology
Contact Information
Email: semery@berkeley.edu
Office: 5057 VLSB
Office Phone: (510) 642-3989
Website(s)
Research Group(s)
Mailing Address
Dept of Environmental Science, Policy, & Management
UC Berkeley
130 Mulford Hall #3114
Berkeley, CA 94720