Postdoctoral Scholar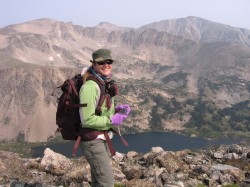 Education
PhD, University of California, Riverside, December 2010.
Advisor: Dr. Edith B Allen. Concentration: Plant, Soil and Restoration Ecology
Dissertation: Exotic plant induced plant-soil feedbacks and ecosystem resistance and resilience: a comparison of three vegetation types of southern California.
BA, University of Colorado, Boulder, 2003
Concentration: Biology and Plant Biology (Magna cum Laude)
AA, Minneapolis Community and Technical College, 1997
Concentration: Human Services.
Research Interests
I am broadly interested in plant-soil feedbacks, specifically in reference to exotic plant invasion and wildland restoration. Additionally, I am interested in working with land managers in identifying current and future land management needs in restoration ecology. My work asks questions that address not only ecological theories that can guide management planning, but also applied questions that assess effectiveness of current management methods.
Research Description
My background is in plant, soil, invasion and restoration ecology, biogeochemical cycling in reference to ecosystem functions, and fire ecology. Currently, I am assessing whether land management practices, land use history and environmental conditions interact to influence plant community composition in coastal sage scrub and grasslands. I work closely with wildland land managers to assess current restoration practices, identify current management needs (information and new tools/technology) and inform future restoration planning. The goal of this work is to produce new research and web-based decision support tools that are relevant to the needs of land managers.
Selected Publications
Technical Articles
Dickens, S.J.M and K.N. Suding. 2013. Spanning the science-practice divide: Why restoration scientists need to be more involved with practice. Ecological Restoration. 31(2): 134-140.
Dickens, S.J.M., E.B. Allen, L.S. Santiago and D. Crowley. 2013. Exotic annuals reduce soil heterogeneity in coastal sage scrub soil chemical and biological characteristics. Soil Biology and Biochemistry. 58:71-81.
Allen, E.B., Robert J. Steers and Sara Jo Dickens. 2011. Impacts of fires and invasive species on desert soil ecology. Range Ecology and Management, 64 (5): 450-462.
S J M Dickens, E B Allen, L S Santiago. 2009 Soil Responses Following Exotic Plant Invasion and Restoration of Coastal Sage Scrub of Southern California. Journal of Nematology. Vol. 41, (4): 324-325.
Dickens, S.J.M., F. Gerhardt, and S.K Collinge. 2005 Recreational Portage Trails as Corridors Facilitating Non-native Plant Invasion of the Boundary Waters Canoe Area Wilderness (USA). Journal of Conservation Biology. Vol. 19 (5): 1653-1657.
Semi Technical Articles
Dickens S.J.M., E.B. Allen, C. Bell, and Z. Principe. 2008 Prescribed Fire and Exotic Plant Effects on California Grasslands: Santa Rosa Plateau Ecological Preserve. Proceedings of California Invasive Plant Council Annual Symposium Chico, CA Oct. 1-4, 2008.
Dickens, S.J.M. and E.B. Allen. 2009. Prescribed Fire and Non-native Plant Effects on California Grasslands: Santa Rosa Plateau Ecological Reserve. The Nature Conservancy Report submitted to Santa Rosa Plateau.
Honors and Awards
Shipley Skinner/Riverside County Endowment 2007, 08 & 09
Fischer Vegetation Management Scholarship 2007-08
The Nature Conservancy PhD Research Fellowship 2007-08
University of California – Riverside BPSC Graduate Student Achievement Award 2009
California Invasive Plant Council Ryan Jones Catalyst Award 2009
Service to Profession:
Lobbying activities at CA state capital for weeds awareness 2008
Co-chair/founder of Student Chapter of California Invasive Plant Council 2007-2010
Contact Information
Email: sara.jo.dickens@berkeley.edu
Research Group(s)
Mailing Address
Dept of Environmental Science, Policy, & Management
UC Berkeley
130 Mulford Hall #3114
Berkeley, CA 94720