Postdoctoral Scholar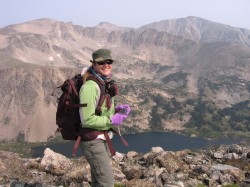 Education
PhD, University of California, Riverside, December 2010.
Advisor: Dr. Edith B Allen. Concentration: Plant, Soil and Restoration Ecology
Dissertation: Exotic plant induced plant-soil feedbacks and ecosystem resistance and resilience: a comparison of three vegetation types of southern California.
BA, University of Colorado, Boulder, 2003
Concentration: Biology and Plant Biology (Magna cum Laude)
AA, Minneapolis Community and Technical College, 1997
Concentration: Human Services.
Research Interests
I am broadly interested in plant-soil feedbacks, specifically in reference to exotic plant invasion and wildland restoration.
Research Description
My background is in plant and soil ecology, biogeochemical cycling in reference to ecosystem functions, and fire ecology. Currently, I am testing how land management practices, land use history and environmental conditions interact to influence plant community composition in coastal sage scrub and grasslands. I work closely with wildland land managers to assess current restoration practices and inform future restoration planning.
Contact Information
Email: sara.jo.dickens@berkeley.edu
Research Group(s)
Mailing Address
Dept of Environmental Science, Policy, & Management
UC Berkeley
130 Mulford Hall #3114
Berkeley, CA 94720