Alumnus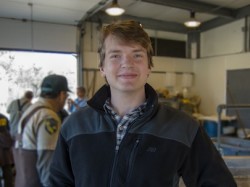 Research Description
My research is focused on developing tools and techniques to better understand complex systems and models and to obtain more accurate conclusions about them. I develop software both for custom models and to empower others to create models. One software of mine is InsightMaker.com, a program with over 7,000 registered users, which allows users to develop and run System Dynamics models in their web browser.
Selected Publications
Fortmann-Roe S, Starfield R, & Getz WM. (2012). Contingent Kernel Density Estimation. PLoS ONE, 7(2).

Nathan R, Spiegel O, Fortmann-Roe S, Harel R, Wikelski M, & Getz WM (2012). Using tri-axial acceleration data to identify behavioral modes of free-ranging animals: general concepts and tools illustrated for griffon vultures. Journal of Experimental Biology, 215(6).
Fortmann-Roe S. (2011). Effects of hue, saturation, and brightness on color preference in social networks: Gender-based color preference on the social networking site Twitter. Color Research and Application.
Getz WM, Fortmann-Roe S, Cross P, Lyons A, Ryan S, & Wilmers, C. (2007). LoCoH: nonparameteric kernel methods for constructing home ranges and utilization distributions. PLoS ONE, 2(2), 207.
Honors and Awards
National Science Foundation Graduate Research Fellowship
2012 - 2015
Berkeley Fellowship
2010 - 2012
National Defense Science and Engineering Graduate Fellowship
2010 (Declined due to overlap)
Best Paper ISAT Conference
2009
Fulbright Fellowship
2008 - 2009
Contact Information
Email: scottfr@berkeley.edu
Website(s)
Research Group(s)
Mailing Address
Dept of Environmental Science, Policy, & Management
UC Berkeley
130 Mulford Hall #3114
Berkeley, CA 94720