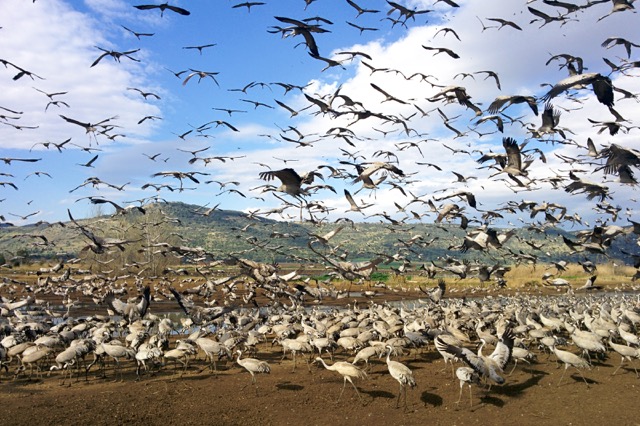 Photo credit: Sasha Pekarsky, Hebrew University of Jerusalem.
The National Science Foundation awarded $2.5 million to a team of UC Berkeley researchers (Wayne Getz, ESPM, Berkeley; Rauri Bowie, Integrative Biology, Berkeley; Pauline Kamath, former ESPM Ph.D currently with USGS; Ran Nathan, Hebrew University of Jerusalem, Israel) for their work on a project titled: "US-Israel Collab: Pathogens and disease transmission in migratory birds along the Palearctic-African flyway."
With a rise in diseases spread by migratory birds, notably avian influenza viruses (AIV) and Newcastle disease virus (NDV), the project aims to investigate how migration impacts the evolution of these hosts and pathogens.
The team plans to tag and track the movement of ten migrating species that breed in a Palearctic region, overwinter in an African region and spend time in Israel when flying between regions. Individuals from these species along with individuals from four non-migrating species will be intensively sampled in Israel. The proposed results will provide insight into the role that migrant populations play in the emergence and maintenance of widely distributed pathogens.
Visit the National Science Foundation for more information about the project.