Education
2008-12 PhD in Ocean and Earth Science at the National Oceanography Centre, University of Southampton and the Centre for the Environment, Fisheries & Aquaculture Science. Thesis: Environmental and physiological influences on otolith chemistry in a marine fish. Supervisors: Drs Clive Trueman & Ewan Hunter
2006-08 MSc in Marine Science (distinction) at the University of Otago. Thesis: Connectivity of sea perch (Helicolenus percoides) populations in southern New Zealand. Supervisor: Dr Stephen Wing
2001-04 BSc (First Class Honours) in Biological Sciences (Zoology) at the University of Edinburgh. Honours project: The current incidence of imposex in grouped populations of dogwhelks (Nucella lapillus) in the Firth of Forth, UK. Supervisor: Dr Chris Inchley
Research Interests / Specializations:
Using biominerals to answer questions about fish spatial ecology, life history diversity, population structure and management.
Research Description:
I am interested in marine fish movements and stock structure, and how it ties into sustainable management. For my current (UCB) and previous (UCSC) postdoctoral positions I have been focusing on Chinook salmon (Oncorhynchus tshawytscha) life history diversity using otolith strontium isotopes. The position involves synthesizing and analyzing existing juvenile outmigration data, otolith microchemistry data, and environmental variables to understand mechanisms of life history diversity, habitat use and juvenile salmon survivorship.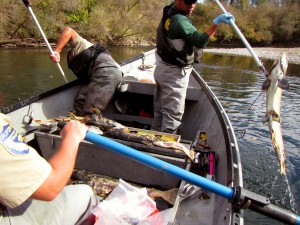 Collecting salmon carcasses on the Stanislaus River as part of the CDFW annual carcass survey. The otoliths are then removed and we use their isotopic composition to identify origin and individual movement patterns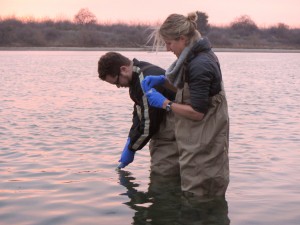 Water sampling in the Feather River, California, with George Whitman (UC Davis). The water samples help us map chemical changes in the environment that we can use to track individual salmon
My PhD centered around understanding the relationship between otolith microchemistry (trace element concentrations), physiological condition and ambient environmental conditions, using plaice (Pleuronectes platessa L.) as a model species. We carried out experimental work investigating the blood and otolith chemistry of juvenile and adult plaice under known conditions, and worked with otoliths from wild plaice tagged with electronic data storage tags (= 'known' movements). By temporally matching ambient conditions with otolith composition, we showed that some elements were under environmental control and could be a useful tool for reconstructing individual movement pathways, while other elements were primarily under physiological control and would be better suited to answering other types of questions, such as skipped spawning frequency.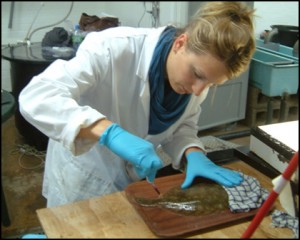 Blood sampling plaice at CEFAS Lowestoft
Selected Publications
Sturrock, A.M., Heyne, T., Wikert, J.D., Mesick, C., Hinkelman, T., Hubbard, A., Weber, P.K., Whitman, G., Glessner, J.J., Johnson, R. (2015). Reconstructing the migratory behavior and long-term survivorship of juvenile Chinook salmon under contrasting hydrologic regimes PLoS ONE 10(5): e0122380 (linked here)

Sturrock, A.M., Hunter, E., Milton J.A., EIMF, Johnson, R.C., Waring, C.P., Trueman, C.T. (2015). Quantifying physiological influences on otolith microchemistry. Methods in Ecology and Evolution 6(7): 806-816 (linked here)

Darnaude, A.M., Sturrock, A.M., Trueman, C.T., EIMF, Mouillot, D, Campana, S.E., Hunter, E. (2014). Listening in on the past: what can otolith δ18O really tell us about the environmental history of fishes? PLoS ONE 9(10): e108539 (linked here)

Sturrock, A.M., Trueman, C.T., Milton J.A., Waring, C.P., Cooper, M., Hunter, E.(2014). Physiological influences can outweigh environmental signals in otolith microchemistry research. Marine Ecology Progress Series 500, 245-264 (linked here)

Sturrock, A. M., Johnson, R.C. (2013). Contribution of hatchery and natural origin Chinook salmon to the Lower Yuba River. Report prepared for the Bay-Delta Sport Fishing Enhancement Stamp Program & CDFW. Award number P0981101.

Sturrock, A.M., Trueman, C.T., Hunter, E. (2013). Analysis methods and reference concentrations of 12 minor and trace elements in fish blood plasma. Journal of Trace Elements in Medicine and Biology  27, 273-285 (linked here)

Sturrock, A.M., Whitman, G., Johnson, R. (2012). Otolith microchemistry to determine size at outmigration of adult Chinook salmon in the Tuolumne and Merced rivers. Report prepared for AD Consulting and CDFW. 30 pp.

Sturrock, A.M., Trueman, C.T., Darnaude, A.M., Hunter, E. (2012). Can otolith microchemistry track individual movements of fully marine fish? Journal of Fish Biology 81, 766-795 (linked here)

Lawton, R., Wing, S. & Lewis, A.M. (2010). Evidence for discrete subpopulations of sea perch (Helicolenus percoides) across four fjords in Fiordland, New Zealand. NZ Journal of Marine & Freshwater Research 44, 309-322 (linked here)
Honors and Awards
2014 - Bruce Herbold Prize for best oral presentation at the Interagency Ecological Program annual meeting, Folsom, USA.

2013 - Delta Science Fellowship sponsored by the Delta Science & California Sea Grant College Programs  ($144,904).

2012 - Fisheries Society of the British Isles (FSBI) Representative at the International Council for the Exploration of the Sea Annual Science Conference in Bergen, Norway (£1000).

2011 - Best poster (1st place) at the 8th International Flatfish Symposium in Ijmuiden, The Netherlands.

2010 - Best poster (2nd place) at the Institute of Fisheries Management meeting in Portsmouth, UK.

2010 - Natural Environment Research Council Research Grant for 3 weeks instrument time at the Edinburgh Ion Microprobe Facility (c. £20,000).

2010 - FSBI/International Fisheries Section student travel award to attend the American Fisheries Society conference (Pittsburgh) and visit Woods Hole Oceanographic Institution (c. £1,500).

2010 - Challenger Society travel award to attend the Marine Biological Association conference in Glasgow, UK (£250).

2009 - FSBI Travel Award to attend the International Otolith Symposium in Monterey, USA (£1,000).

2008 - FSBI PhD Studentship to study at the University of Southampton & Centre for Environment, Fisheries and Aquaculture Science (£53,530).

2007 - Royal Forest and Bird NZ small project grant (NZ$2,000).

2006 - John Jillet Prize for best research proposal and best student presentation, University of Otago, NZ.

2006 - Leverhulme Trust Study Abroad Studentship for MSc at the University of Otago, NZ (£50,000).

2003 - Edinburgh University grants for expeditions (c. £25,000 from the Davis Award, Weir Fund, Faculty Scholarship Prize, Barson Bequest, Gordon Foundation and College Vacation Scholarship for Students with Exceptional Merit).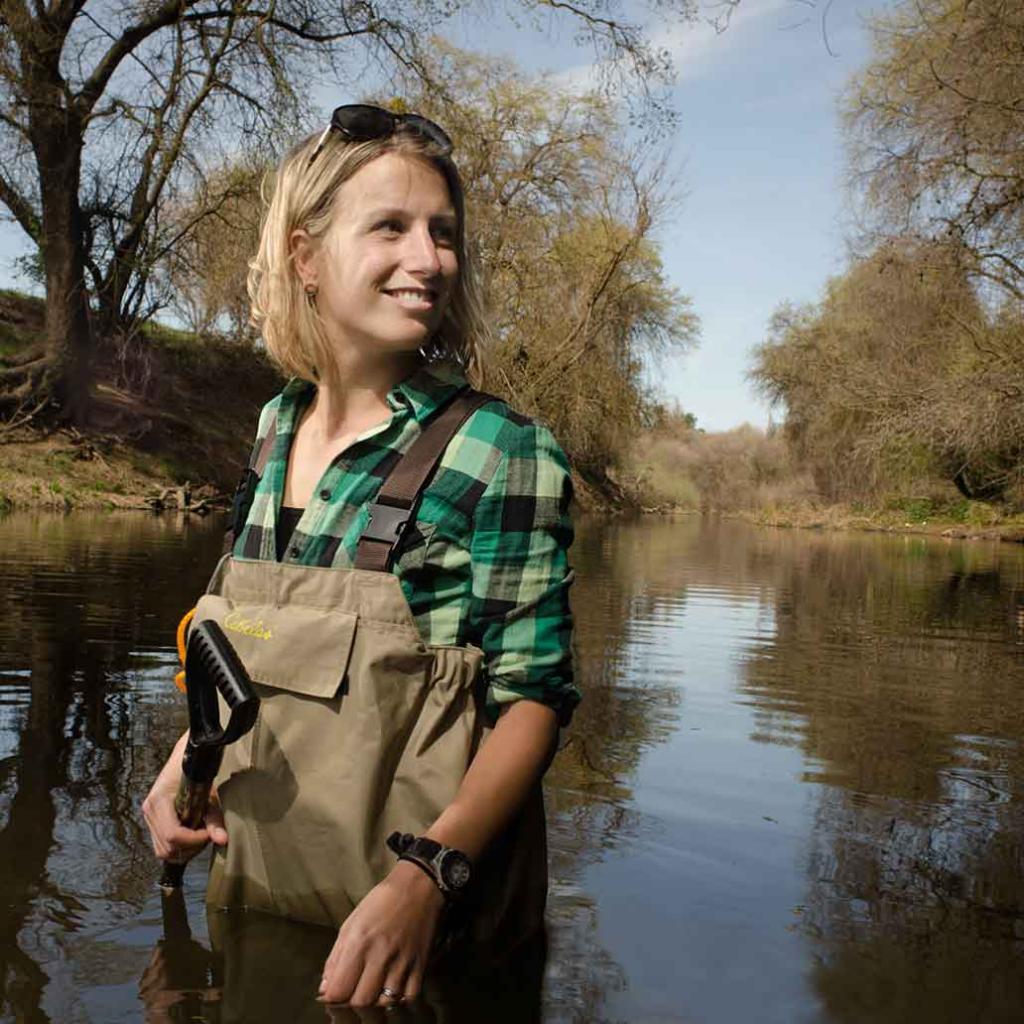 Contact details
E-mail:
a.sturrock@berkeley.edu
Office Address
304 Mulford Hall
Office Phone Number
510-643-9688
Mailing address
Department of Environmental Science, Policy & Management
University of California, Berkeley
130 Mulford Hall #3114
Berkeley, CA 94720