I am a chemist by training interested in a wide range of issues related to energy and climate - I've worked on problems ranging from sulfur biogeochemistry and the reconstruction of past ocean chemistry to climate finance and environmental economics. My current work is focused on carbonate mineral formation and soil carbon cycling, which provide the foundation for many negative emissions and carbon removal opportunities.
Education
2015 MSc in Environmental Technology (Environmental Economics and Policy), Imperial College London
2014 MPhil in Earth Science, University of Cambridge
2013 BA with Honors in Integrated Science, Chemistry, and Earth Science, Northwestern University
Research Interests / Specializations:
Carbon sequestration and negative emissions, surface chemistry and mineral-fluid interactions, carbonates, biogeochemical cycling, soil carbon
Selected Publications
Peer-reviewed Publications:

Mills J.V., DePaolo D.J., and Lammers L.N. (2021) The influence of Ca:CO3 stoichiometry on Ca isotope fractionation: Implications for process-based models of calcite growth. Geochimica et Cosmochimica Acta. https://doi.org/10.1016/j.gca.2021.01.016

Wilkening J.V., Turchyn A.V., Redeker K.R., Mills J.V., Antler G., Carrion O., and Todd J.D. (2019) The production and fate of volatile organosulfur compounds in euxinic and ferriginous sediments. JGR Biogeosciences.

Antler G., Mills J.V., Hutchings A.M., Redeker K., and Turchyn A.V. (2019) The role of bioturbation in the carbon-sulfur-iron interplay - a lesson from salt marsh sediments. Frontiers in Earth Science . https://doi.org/10.3389/feart.2019.00140

Prus M., Syzmanek K., Mills J. V., Lammers L. N., Piasecki W., Kendra-Krolis K., Zarzycki P. (2019), Electrophoretic and Potentiometric Signatures of Multistage CaCO3 Nucleation. Journal of Colloid and Interface Science. https://doi.org/10.1016/j.jcis.2019.03.002

Hutchings A. M., Antler G., Wilkening J., Basu A., Bradbury H. J., Clegg J. A., Gorka M., Lin C. Y., Mills J. V., Pellerin A., Redeker K., Sun X., Turchyn A. V. (2019) Creek dynamics determine pond subsurface geochemical heterogeneity in East Anglian (UK) salt marshes. Frontiers in Earth Science. https://doi.org/10.3389/feart.2019.00041

Oerter E., Mills J. V., Maurer G. E., Lammers L. N., and Amundson R. (2018) Greenhouse gas production and transport in desert soils of the southwestern USA. Global Biogeochemical Cycles. https://doi.org/10.1029/2018GB006035

Mills J.V., Gomes M.L., Kristall B., Sageman B.B., Jacobson A.D., and Hurtgen M.T. (2017) Massive volcanism, evaporite deposition and the chemical evolution of the Early Cretaceous ocean. Geology : G38667-1. https://doi.org/10.1130/G38667.1

Mills J.V., Antler, G., and Turchyn, A.V. (2016) Geochemical evidence for cryptic sulfur cycling in salt marsh sediments. Earth and Planetary Science Letters, 453, 23-32. https://doi.org/10.1016/j.epsl.2016.08.001

Cadogan J.M., Rebbouh L., Mills J.V.J., Bland P.A. (2012) An 57 Fe Mossbauer study of three Australian L5 ordinary-chondrite meteorites: dating Kinclaven-001. Hyperfine Interactions.

Paulson K., Saeed M., Mills J., Cuvelier G.D.E., Kumar R., Raymond C., Robinson T., Szwajcer D., Wall D., Seftel M.D. (2011) Publication bias is present in blood and marrow transplantation: an analysis of abstracts at an international meeting. Blood, 118 (25), 6698-6701.

Reports and white papers:

Mills J.V., Lammers L.N., and Amundson R. (2020) Carbon balance with renewable energy: Effects of solar installations on desert soil carbon cycle. California Energy Commission.

Submitted manuscripts:

Amundson R., Mills J.V., Maurer G., and Lammers L.N. A diffusion-based analysis of soil nitrous oxide concentrations and its stable isotope composition. Submitted to Global Biogeochemical Cycles.

 
Honors and Awards
Funding Awards:

2015 Berkeley Fellow (5 years of graduate funding)

2015 EPA-Marshall Scholar (3 years of graduate funding)

2013 Marshall Scholar (2 years of funding for graduate study in the United Kingdom)

Academic Awards:

2018 Certificate for Distinguished Teaching, Earth and Planetary Science, UC Berkeley

2015 AECOM first prize – top MSc student, Environmental Technology, Imperial College London

2013 Marple-Schweitzer Memorial Award – top graduating senior, Northwestern Chemistry 

2013 Seymour Schlanger Memorial Award – top graduating senior, Northwestern Earth Science

2013 Distinguished Honors Thesis – Integrated Science Program, Northwestern University

2012 Barry M. Goldwater Scholar

2012 Phi Beta Kappa honors Society (elected as junior)

2012 Oliver Marcy Scholar – outstanding rising senior in the natural sciences, Northwestern University

2012 Outstanding Junior in Physics – top rising senior, Northwestern Physics

2011 Ernest F. Hollings Undergraduate Scholar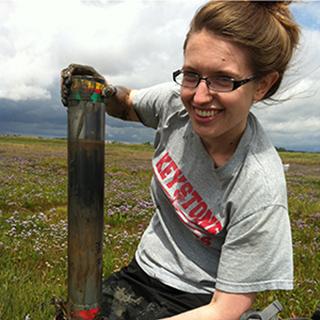 Contact details
E-mail:
jennifer.mills 'at' berkeley.edu
Office Address
Hilgard 235
Mailing address
Department of Environmental Science, Policy, & Management
UC Berkeley
130 Mulford Hall #3114
Berkeley, CA 94720