Cooperative Extension Specialist, Adjunct Professor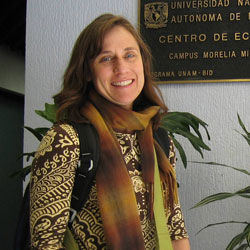 Education
PhD Biology University of Rochester, 1993
B.S. Biology University of California, San Diego, 1985
Research Interests
Conservation biology
Research Description
My primary focus is in the field of conservation biology. In particular, I am interested in the forces that influence loss of biodiversity at all hierarchical levels from genes to ecosystems. My experience spans from single species management to measures of ecosystem health, and most recently to regional land use planning. My other interests include ecological monitoring, restoration ecology, cumulative impacts to watersheds, conservation easements, protected area planning, mitigation, and protected area planning.
Current Projects
My research program covers a diverse suite of projects that involve mapping, monitoring, and modeling natural resources and human land-use patterns. I have developed an applied research program that uses Geographic Information Systems to better integrate biodiversity research and conservation planning in California's north coast oak woodlands. This is done through integrating spatially explicit land use change models with environmental data. Primarily we focus on the major threats that oak woodlands face in the north coast: 1) habitat fragmentation due to exurban development, 2) a booming wine industry driving an expansion of hillside vineyards in oak woodlands, and 3) the cascading effects of land-use on the Russian River Basin. The students and staff who work with me study wildlife in the agricultural matrix, watershed restoration, and sustainable land use.
To assess the effects of land-use conversion on biodiversity, my research group is measuring biological community integrity and diversity found in different land use types such as suburban developments, small ranches, vineyards and undeveloped areas within similar oak woodland habitat. This data in combination with a development and agricultural build out models for Sonoma County gives a full picture of the future threats to the biological resources in the region. Our previous work has suggested that invasive species from agricultural and developed areas differentially impact wildlands depending on the landscape configuration of these areas and their surrounding matrix. Graduate students are addressing this issue for a suite of invasive species and the native communities most likely impacted.
I am actively facilitating an interdisciplinary research team focused on sustainable water use in Mediterranean watersheds. This research draws on biology, hydrology, and sociology to develop decision support tools that can help prioritize restoration of stream flow for improved juvenile salmon survivorship and increase water certainty for agricultural uses. This new program takes advantage of ongoing work in the lab on the relationship between land use and stream condition for salmon.
We developed and recently revised a GIS decision-making tool for Sonoma County open space planners to identify properties that contain priority natural and agricultural assets that should be considered for conservation easements. The products of this type of research will help county planners avoid making decisions at a local level without the benefit of understanding the patterns of change at the regional level.Working with the UC Cooperative Extension's Integrated Hardwood Range Management Program provides an opportunity for us to implement natural resource conservation and education programs in north west California. For more information please see our lab web site.
Selected Publications
MERENLENDER, A. M., S. E. REED, K. L. HEISE 2009 Exurban Development Influences Woodland Bird Composition. Landscape and Urban Planning, Landscape and Urban Planning 92:255-263
DEITCH, M. J., KONDOLF, G. M., and A. M. MERENLENDER 2009 Hydrologic impacts of small-scale instream diversions for frost and heat protection in the California wine country. River Research and Applications. 25:118:134
MERENLENDER, A. M., M. DEITCH, and S. FEIRER 2008 Decision support tool seeks to aid stream flow recovery and enhance water security. California Agriculture. Caifornia Agricutlure 62(4):148-155.
HILTY, J. A., LIDICKER, W. Z., and, A. M. MERENLENDER. 2006 Corridor Ecology: The Science and Practice of Connectivity for Biodiversity Conservation. Island Press, Washington DC
LOHSE, K., NEWBURN, D., OPPERMAN, J., and A.M. MERENLENDER 2008 Forecasting the relative impacts of land use on fine sediment in anadromous fish habitat to guide development and conservation programs. Ecological Applications 18:467-482
HILTY, J. A., BROOKS, C., HEATON, E., and A. M. MERENLENDER. 2006 Forecasting the effect of land-use change on native and non-native mammalian predator distributions. Biodiversity and Conservation 15:2853–2871
REED, S. E. and A. M. MERENLENDER 2008 Quiet, Non-Consumptive Recreation Reduces Protected Area Effectiveness. Conservation Letters 1(3):146-154
MERENLENDER, A. M., BROOKS, C., SHABAZIAN, D., GAO, S., and R. JOHNSTON. 2005. Forecasting exurban development to evaluate the influence of land-use policies on wildland and farmland conservation. Journal of Conservation Planning 1(1):64-88.
NEWBURN, D., REED, S., BERCK, P. and A. M. MERENLENDER. 2005. Economics and land-use change in prioritizing private land conservation. Conservation Biology, 19(5):1411-1420.
HILTY, J. A. and A. M. MERENLENDER. 2004. Use of riparian corridors and vineyards by mammalian predators in Northern California. Conservation Biology 18(1):126-135.
MERENLENDER, A. M., HUNTSINGER, L., GUTHEY, G., and S. K. FAIRFAX. 2004. Land trusts and conservation easements: Who is conserving what for whom? Conservation Biology 18(1):65-75.
OPPERMAN, J. and A. M. MERENLENDER. 2004. The effectiveness of riparian restoration for improving instream fish habitat in four hardwood-dominated California streams. North American Journal of Fisheries Management. Vol 24(3):822-834.
Honors and Awards
Conservation planning award - American Planning Association - 2001
Recent Teaching
90 - INTRO TO CRS
199 - SUPERV INDEP STUDY
201C - ENVIRONMENTAL FORUM
298 - DIRECT GROUP STUDY
299 - INDIVIDUAL RESEARCH
Contact Information
Email: adinam@berkeley.edu
Office: Hopland Research and Extension Center
Office Phone: 707-744-1270
Fax: (707) 744-1040
Website(s)
Curriculum Vitae
Office Hours
By Appointment
Research Group(s)
Mailing Address
Hopland Research and Extension Center
4070 University Road
Hopland, California 95449-9717