Graduate Student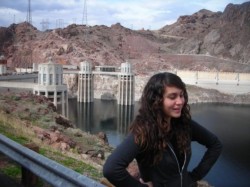 Education
I received a B.A. from Hampshire College, where I studied animal behavior with a focus on bioacoustics and physiology.
Research Interests
Behavioral Ecology, Evolution, Sexual Selection, Jumping Spiders
Research Description
I'm broadly interested in how selective pressures influence diversification, particularly in the evolution of sexually selected traits and behaviors. My primary research focuses on acoustic, visual, and multi-modal communication channels in jumping spider courtship behavior.
Contact Information
Email: crivera@berkeley.edu
Office: 5030 VLSB
Website(s)
Research Group(s)
Mailing Address
Dept of Environmental Science, Policy, & Management
UC Berkeley
130 Mulford Hall #3114
Berkeley, CA 94720