Professor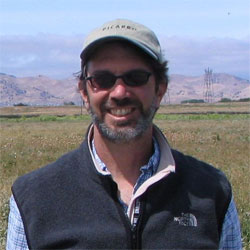 Education
Ph.D. Bio-Environmental Engineering University of Nebraska, Lincoln, 1982
B.S. Atmospheric Science University of California, Davis, 1977
Research Interests
biometeorology, biosphere-atmosphere trace gas fluxes, ecosystem ecology, climate change
Research Description
Our research approach involves the coordinated use of experimental measurements and theoretical models to understand the physical, biological, and chemical processes that control trace gas fluxes between the biosphere and atmosphere and to quantify their temporal and spatial variations. The spatial scales of this work ranges from the dimension of a leaf through the depth of plant canopies and the planetary boundary layer and the horizontal extent of landscapes. The temporal aspect of this work ranges from seconds through hours, days, seasons and years.
More information can be found in the Biometeorology Lab website.
Selected Publications
Pennypacker, S. and Baldocchi, D., 2015. Seeing the Fields and Forests: Application of Surface-Layer Theory and Flux-Tower Data to Calculating Vegetation Canopy Height. Boundary-Layer Meteorology: 1-18.
Knox, S.H. et al., 2015. Agricultural peatland restoration: effects of land-use change on greenhouse gas (CO2 and CH4) fluxes in the Sacramento-San Joaquin Delta. Global Change Biology, 21(2): 750-765.
Baldocchi, D., Sturtevant, C. and Fluxnet, C., 2015. Does day and night sampling reduce spurious correlation between canopy photosynthesis and ecosystem respiration? Agricultural and Forest Meteorology, 207: 117-126.
Baldocchi, D. and Waller, E., 2014. Winter fog is decreasing in the fruit growing region of the Central Valley of California. Geophysical Research Letters: 2014GL060018.
Baldocchi, D., 2014. Measuring fluxes of trace gases and energy between ecosystems and the atmosphere – the state and future of the eddy covariance method. Global Change Biology, 20(12): 3600-3609.
Monson, R. and Baldocchi, D., 2014. Terrestrial Biosphere-Atmosphere Fluxes. Terrestrial Biosphere-Atmosphere Fluxes. Cambridge Univ Press, Cambridge, 1-487 pp.
Honors and Awards
Fellow, American Geophysical Union
American Meteorological Society Award for Outstanding Achievement in Biometeorology
Thomson-Reuter's Highly Cited Researcher in Agriculture and Environment/Ecology
Recent Teaching
ESPM 2, The Biosphere
ESPM 111, Ecosystem Ecology
ESPM 129, Biometeorology
ESPM 228, Advanced Topics in Biometeorology and Micrometeorology
Contact Information
Email: baldocchi@berkeley.edu
Office: 345 Hilgard Hall
Office Phone: 510-642-2874
Website(s)
Office Hours
By appointment
Research Group(s)
Mailing Address
Dept of Environmental Science, Policy, & Management
UC Berkeley
130 Mulford Hall #3114
Berkeley, CA 94720