Alumnus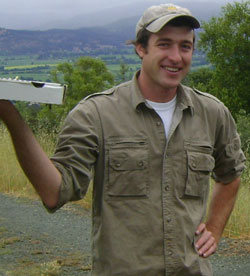 Education
B.A. Development Studies, UC Berkeley (2005)
Research Interests
Agroecology, biological control, landscape ecology, political economy of agricultural development
Research Description
My research broadly explores the relationship between biodiversity and ecosystem service provisioning in agriculture. More specifically, my dissertation project will evaluate how changes in biodiversity at multiple spatial scales (landscape- and field-scale) influences biological control of arthropod pests in North Coast wine grape vineyards. Previous studies have shown that the area and diversity of natural habitats surrounding an agroecosystem (landscape-scale diversity) can influence biological control of pests. Similarly, additional studies have demonstrated that increasing habitat diversity within an agroecosystem (field-scale diversity) can also influence biological control of pests. As such, it is thought that the ability of on-farm habitat diversification to enhance biological control may be contingent upon the type of landscape within which the farm is situated.
My project evaluates the performance of a specific on-farm habitat diversification practice (floral resource provisioning using flowering summer cover crops) in 25 vineyards situated in different landscapes ranging from low to high diversity. The goal of this study is to better understand how natural habitats surrounding vineyards contribute to biological control and attempt to determine thresholds of landscape diversity within which the use of floral resource provisioning most effectively enhances biological control.
The focal pest of this study is the western grape leafhopper (Cicadellidae: Erythroneura elegantula) and it's key egg-parasitoids in the genus Anagrus (Mymaridae: Anagrus erythroneura and Anagrus daanei). This study is being conducted in collaboration with 30 commercial wine grape growers in Napa and Sonoma County who we have been working with since 2008.
Following graduate school my intention is to work in Cooperative Extension or the USDA Agriculture Research Service (USDA-ARS).
Selected Publications
Miles, A.F., H. Wilson, C.I. Nicholls, and M.A. Altieri. 2011. "Diversification Strategies to Enhance Arthropod Biological Control in California Vineyards." in Arthropod Management in Vineyards. N.J. Bostanian, R. Isaacs and C. Vincent (eds.). Springer.
Honors and Awards
Robert Van den Bosch Scholarship (2011, 2012, 2013)
Diversified Farming Systems Small Grant (2012)
Fischer Vegetation Management Scholarship (2010)
Tanada Fellowship (2011, 2012)
Milton D. and Mary M. Miller Plant Science Award (2013)
Entomology Society of America - Student Prize (2011)
Recent Teaching
ESPM 118 "Agroecology" -- Fall 2009/2010/2011/2012/2013
ESPM 165 "International Rural Development Policy" -- Spring 2012/2013
Entomology Students Organization (Fall 2008 - present)
Contact Information
Email: houston@berkeley.edu
Office: 25 Hilgard
Website(s)
Office Hours
By appointment.
Research Group(s)
Mailing Address
Dept of Environmental Science, Policy, & Management
UC Berkeley
130 Mulford Hall #3114
Berkeley, CA 94720