ALUMNA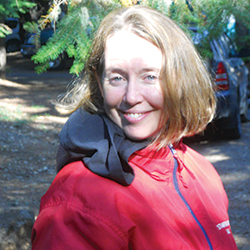 Education
University of California, Berkeley,Dept. of Environmental Science, Policy & Management, PhD Candidate (Advanced to candidacy, May 2010.)
Stanford University, B.A. Dual degree in Slavic Studies and Human Biology, with honors, 1997.
Research Interests
Natural resource governance with indigenous peoples in Pacific Northwest salmon watersheds
Research Description
I am studying co-management (collaborative or cooperative management) of natural resources with indigenous peoples.  This course of study builds off of eight years of previous NGO work on issues of community participation in natural resource management primarily in the Russian Far East (in Kamchatka).   For my graduate research, I am working with two Pacific Northwest indigenous communities – the Xaxli'p Indigenous Community in British Columbia, Canada and the Karuk Tribe in Northern California, USA.   Both communities are negotiating with forest management agencies to shift natural resource management practices on their aboriginal territory.  These case studies follow how these communities are articulating new models of ecological and cultural restoration, and how community and state agency representatives are negotiating power relations through resource management planning and practice.   I am also applying a community engaged scholarship approach and hope to do participatory GIS mapping work in collaboration with community colleagues through the Karuk-UC Berkeley Collaborative.
Selected Publications
Diver, S. 2012. Columbia River Tribal Fisheries: Life History Stages of a Co-management Institution.  Book chapter in edited volume: Indigenous Peoples and Salmon in the Northern Pacific.  School for Advanced Research Press: Santa Fe, New Mexico.
Hallett, L. M., Diver, S., Eitzel, M. V., Olson, J. J., Ramage, B. S., Sardinas, H., Statman-Weil, Z. and Suding, K. N. 2013. Do We Practice What We Preach? Goal Setting for Ecological Restoration. Restoration Ecology. doi: 10.1111/rec.12007
Eitzel, M.V., Diver, S., Sardiñas, H., Hallett, L.M., Olson, J.J., Romero, A., de L. T. Oliveira, G., Schuknecht, A.T., Tidmore, R., Suding, K.N. 2012. Insights from a Cross-Disciplinary Seminar: 10 Pivotal Papers for Ecological Restoration. Restoration Ecology 20:147-152.
Diver, S., Liu, L., Canchela, N., Tannebaum, S., Silberblatt, R., and Reed, R.  Karuk Lands Management Historical Timeline.  May 7, 2010.  Webpublished at http://karuktimeline.wordpress.org
Diver, S., Hammond, H., and Adolf, A.  Participatory mapping for eco-cultural restoration on Xaxl'ip Survival Territory, British Columbia, Canada.   The 7th Conference of the Pacific Rim Community Design Network, Sustainable Landscapes, Sustainable Communities.  Awaji Landscape Planning & Horticulture Academy (ALPHA), Awajishima, Japan, September 11-14, 2010.
Ball, J., Diver, S., and Hwan, J. 2009. Evidence of Streamflow and Sediment Effects on Juvenile Coho and Benthic Macroinvertebrates of Lagunitas Creek and San Geronimo Creek, Marin County, California. UC Berkeley: Water Resources Center Archives. <http://escholarship.org/uc/item/8z4732qk>
Honors and Awards
National Science Foundation Doctoral Dissertation Improvement Grant (awarded 2012)
Edward Hildebrand Fellowship for Berkeley, Department of Canadian Studies (awarded 2011)
National Science Foundation Graduate Research Fellowship (awarded 2009)
Berkeley Fellowship for Graduate Study (awarded 2008)
Contact Information
Email: sdiver@berkeley.edu
Office: 326 Mulford Hall
Office Phone: 206-849-5577
Research Group(s)
Mailing Address
Dept of Environmental Science, Policy, & Management
UC Berkeley
130 Mulford Hall #3114
Berkeley, CA 94720