Graduate Student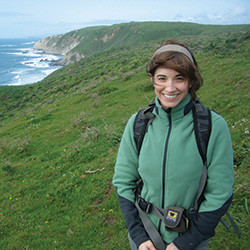 Research Interests
Systematics; Coleoptera; Behavior; Microscopy
Research Description
I am generally interested in Coleopteran systematics, behavior, biogeography, and ecology.  I am especially intersted in unique behaviors or morphological characters and their effects on the diversification of beetle groups.  I also enjoy scientific illustration and the utilization of different microscopy techniques in insect systematics. My dissertation research focuses on the taxonomy and systematics of the beetle family Aderidae (Coleoptera: Tenebrionoidea).  I will be combining a molecular and morphological approach to perform cladisitic analyses for the group, which will, in turn, be used to test functional hypotheses.
Selected Publications
Grzymala, T.L. & Miller, K.B. (In Prep) Taxonomic Revision and Phylogenetic Analysis of the Genus Elytroleptus Dugés (Coleoptera: Cerambycidae: Cerambycinae: Trachyderini).  Will submit to Zootaxa.
Scharf, M.E., C.E. Buckspan, T.L. Grzymala, and X. Zhou. 2007.  Regulation of polyphonic caste differentiation in the termite Reticulitermes flavipes by interaction of intrinsic and extrinsic factors.  The Journal of Experimental Biology: 210: 4390-4398.
Zhou, X., C. Song, T.L. Grzymala, F.M. Oi, and M.E. Scharf.  2006.  Juvenile hormone and colony conditions differentially influence cytochrome P450 gene expression in the termite Reticulitermes flavipes.  Insect Molecular Biology:  15(6): 749-761.
Honors and Awards
2011 Society of Systematic Biologists Graduate Research Award
2011 Theodore Roosevelt Memorial Grant, American Museum of Natural History
2011 National Science Foundation Graduate Teaching Fellowship in GK-12 Education
2011 Sigma Xi Grant, University of California, Berkeley Chapter
2011 Graduate Division Summer Research Grant, UC, Berkeley
2010 Margaret C. Walker Fund for Systematic Entomology, UC, Berkeley
2009 Grove Research Scholarship, University of New Mexico, Department of Biology
Recent Teaching
Biology 1B - Ecology, Evolution, & Plant Diversity
Biology 201 - Molecular & Cell Biology (University of New Mexico)
Biology 485 - Entomology (University of New Mexico)
Contact Information
Email: mala@berkeley.edu
Website(s)
Research Group(s)
Mailing Address
Dept of Environmental Science, Policy, & Management
UC Berkeley
130 Mulford Hall #3114
Berkeley, CA 94720