Professor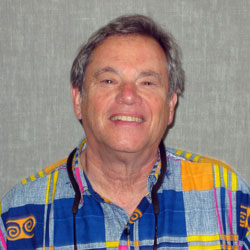 Research Interests
Aquatic Biology, Water Pollution, Modeling, Entomology
Research Description
The research program in my laboratory follows three lines: (1) studies of the evolutionary biology and ecology of aquatic insects, crustaceans, and molluscs in stream and river habitats; (2) the evaluation of habitat manipulations for use in environmental restoration or enhancement, and the use of them in examining underlying influences of ecological interactions; and (3) and the development of techniques for the biological assessment of water quality.
The ecological studies of aquatic invertebrates involve descriptive and experimental approaches to life history studies, herbivore-plant interactions, effects of disturbance, and other topics related to population dynamics, biotic and abiotic interactions, and community structure and function. These studies currently are being conducted in California coastal streams and on the diadromous fauna in oceanic island streams near the UC Berkeley research station in Moorea, French Polynesia.
In my research on habitat manipulations, emphasis has been on developing an understanding of how hydraulic forces affect the distribution of organisms, and how these forces can be modified to enhance running-water habitats in stream restoration. These approaches have been used in the habitat restoration of Strawberry Creek on the U.C. Berkeley campus.
Research in the biological assessment of water quality involves the use of several long-term data sets (> 10 years in duration) to evaluate the natural variability in unperturbed systems, levels of change that occur in perturbed systems, and to use this information in establishing thresholds to indicate whether impact has occurred. Current research also includes the development of population, community, and ecosystem indicators for use in water quality assessment. Related to these topics are the development of methods for the evaluation of mitigation procedures and habitat restoration programs.
I am particularly interested in developing approaches that can be used for biological monitoring and assessment of water quality in developing countries and by volunteer monitoring groups. Currently, I advise 11 West African nations on water sustainability issues regarding habitat management and population resettlement, and the Mekong River Commission on developing a biological monitoring program.
In summary, the current and future research directions that I encourage the students in my laboratory to pursue involve basic, quantitative research in aquatic entomology and ecology, and the incorporation of this research into a framework that can be used to solve applied problems of water-quality assessment and habitat restoration. Graduates from this laboratory continue to pursue these goals in universities, environmental consulting firms, industries, and government agencies.
Selected Publications
Resh, V.H. 2007. Multinational, freshwater biomonitoring programs in the developing world: lessons learned from African and Southeast Asian river surveys. Environmental Management 29:737-748.
Mazor, R.D., Reynoldson, T.B., Rosenberg, D.M. and Resh, V.H. 2006. Effects of biotic assemblage, classification, and assessment method on bioassessment performance. Canadian Journal of Fisheries and Aquatic Sciences 63:394-411.
Bonada, N., Prat, N., Resh, V.H. Statzner, B. 2006. Developments in aquatic insect biomonitoring: comparative analysis of recent approaches. Annual Review of Entomology 51:495-523.
Resh, V.H., L. Beche, and McElravy, E.P. 2005. How common are rare species in long-term benthic macroinvertebrate studies? Journal of the North American Benthological Society 24:976-989.
Bêche, L.A., Stephens, S.L., and Resh, V.H. 2005. Effects of prescribed fire on a Sierra Nevada (California, USA) stream and its riparian zone. Forest Ecology and Management 218: 37-59.
Rudnick, D. and Resh, V. 2005. Stable isotopes, mesocosms and gut content analysis demonstrate trophic differences in two invasive decapod crustaceans. Freshwater Biology 50:1323-1336.
Resh, V.H., C. Lévêque, and B. Statzner. 2004. Long-term, large-scale biomonitoring of the unknown: Assessing the effects of insecticides to control river blindness (Onchocerciasis) in West Africa. Annual Review of Entomology 49:115-139.
Resh, V.H. and R.C. Cardé (editors) 2003. The Encyclopedia of Insects. Academic Press. San Diego.
Rudnick, D., K.Herb, K. Grimmer, V.H. Resh. 2003. Patterns and processes of biological invasion: The Chinese Mitten Crab in San Francisco Bay. Basic and Applied Ecology 4:249-262.
Resh, V.H. 2001. Mosquito control and habitat modification: case history studies of San Francisco Bay wetlands. In: R. B. Rader, D.P. Batzer, and S. Wissinger (eds.). Biomonitoring and management of North American wetlands. John Wiley and Sons.
Reynoldson, T.B., D.M. Roseberg and V.H. Resh. 2001. Comparison of models predicting invertebrate assemblages for biomonitoring in the Fraser River Catchment, British Columbia. Canadian Journal of Fisheries and Aquatic Sciences 58:1395-1410.
Statzner, B. A.G. Hildrew, and V.H. Resh. 2001. Species traits and environmental constraints. Annual Review of Entomology 6:291-316.
Myers, M.J., Meyer, C.P., and Resh. V.H. 2000. Neritid and thiarid gastropods from French Polynesian streams: how reproduction (sexual, parthenogenic) and dispersal (active, passive) affect population structure. Freshwater Biology 43:1-11.
Resh, V.H., M. Moser, and M.J. Poole. 1999. Feeding habits of some freshwater fishes in streams of Moorea, French Polynesia. Annales de Limnologie 35:205-210.
Gasith, A. and V.H. Resh. 1999. Streams in mediterranean climate regions: abiotic influences and biotic responses to predictable seasonal events. Annual Review of Ecology and Systematics 31:51-58.
Reynoldson, T.B., R.H. Norris, V.H. Resh, K.E. Day, and D.M. Rosenberg 1997. The reference condition: a comparison of multimetric and multivariate approaches to assess water quality impairment using benthic macroinvertebrates. Journal of the North American Benthological Society 16:833-852.
Resh. V.H. 1995. Freshwater benthic macroinvertebrates and rapid assessment procedures for water quality monitoring in developing and newly industrialized countries. In: W. S. Davis and T. Simon (eds.), Biological Assessment and Criteria. Lewis Publishers, Chelsea, Michigan.
Resh, V.H., A.G. Hildrew, B. Statzner, and C.R. Townsend 1994. Theoretical habitat templets, species traits, and species richness: a synthesis of long-term ecological research on the Upper Rhone River in the context of concurrently developed ecological theory. Freshwater Biology 31: 539-554.
Honors and Awards
Award of Excellence - North American Benthological Society - 2005
Award of Recognition for Outstanding Contributions to Entomology - Entomological Society of America, Pacific Branch - 2005
Distinguished Teaching Award - University of California, Berkeley - 1995
Recent Teaching
99 - SUPERV INDEP STUDY
C107 - Biology and Geomorphology of Tropical Islands Course site
115B - Biology of Aquatic Insects
H196 - HONORS RESEARCH
299 - INDIVIDUAL RESEARCH
301 - Professional Preparation: Teaching in Environmental Science, Poli
C302 - Effective Scientific Communication
Contact Information
Email: resh@berkeley.edu
Office: 305 Wellman Hall
Office Phone: 510-642-3763
Website(s)
Office Hours
By Appointment
Research Group(s)
Mailing Address
Dept of Environmental Science, Policy, & Management
UC Berkeley
130 Mulford Hall #3114
Berkeley, CA 94720