Professor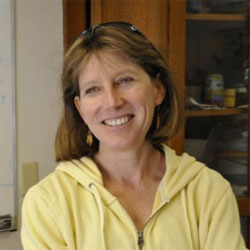 Education
PhD Ecosystem Ecology Yale University, 1992
B.I.S. Environmental Studies School for International Training, 1982
Research Interests
Ecosystem ecology, biogeochemistry
Research Description
My research interests are in the field of ecosystem ecology, and include biogeochemical cycling in the plant-soil-atmosphere interfaces, the effects of disturbance on nutrient cycling, and the relationships among nutrient cycling, land-use, and biodiversity. My lab group works on themes linking climate, plant community characteristics, and biogeochemical cycling in tropical forests, as well as the effects of changing cover types at local and regional scales. Some of the mechanisms we use to study the relationships between climate and ecosystems are to determine the impact of spatial and temporal variability in rainfall, temperature, and relative humidity on plant productivity, ecosystem nutrient dynamics, and soil C, nutrient, and gas fluxes. A second focus of our research concerns the effects of natural and human induced disturbances on forest ecosystems, and the impacts of different rehabilitation or reforestation strategies on biogeochemical cycling. We are interested in determining how long the biogeochemical signal of disturbance events persists, and how species composition alters long term patterns in the flow of carbon and nutrients through ecosystems.
Current Projects
Climate Impacts on Tropical Forest Productivity and Biogeochemical Cycling Systematic climate changes along elevation gradients offer convenient surrogates for climate change. We are currently working along elevation gradients in the Luquillo Experimental Forest (LEF), Puerto Rico, to identify linkages among climate and biogeochemical processes, and to determine any direct or indirect plant and soil responses to soil oxygen availability, temperature, and light. In wet tropical forests, we have found that soil oxygen availability is inversely related to rainfall, and can reach very low levels in non-flooded humid environments. We are measuring the effects of low oxygen levels on biogeochemical processes such as methane production and emission, nitrogen cycling, and P availability. Tropical forest productivity appears to be highly sensitive to very small changes in temperature (19-21 oC). Our research group is working to identify the mechanisms responsible for this apparent temperature sensitivity.
Nitrogen Cycling: Dissimilatory Nitrate Reduction to Ammonium Tropical forests are the largest natural source of nitrous oxide production, a radiatively important greenhouse gas. The general conditions under which nitrous oxide is produced (low soil oxygen, high carbon and available nitrate) also facilitate a less studied process called dissimilatory nitrate reduction to ammonium (DNRA). Our lab, in collaboration with the Firestone lab group, has documented high rates of DNRA in tropical forests. We have shown that DNRA effectively conserves nitrogen in the ecosystem, and is likely to limit nitrous oxide production. We are now exploring other ecosystems for DNRA and determining the factors that favor DNRA over trace gas production. Our work is expanding to temperate forests, grasslands, and boreal forests in systems where redox fluctuates.
Carbon Dynamics is Disturbed and Recovering Tropical Forests The storage of carbon in soils and biomass in tropical forests plays an important role in the global carbon cycle. High rates of tropical deforestation have prompted growing concern about the loss of carbon storage capacity, and increasing rates of carbon emissions to the atmosphere. Considerable recent efforts have focused on documenting the effects of deforestation and land use change on plant and soil carbon pools. Much less research has explored possible mechanisms to help offset carbon losses through reforestation of pasture and agricultural land. In Puerto Rico, we are determining the rate of new carbon accumulation in soils and plants following forest reestablishment. Our preliminary results suggest that carbon allocation patterns among species are likely to affect the rate of ecosystem carbon accumulation and the relative distribution of carbon between plants and soils.
Selected Publications
Marín-Spiotta, E., D.F. Cusack, R. Ostertag, and W.L. Silver. Trends in above and belowground carbon with forest regrowth after agricultural abandonment in the Neotropics. In: R. Myster, ed. Post-agricultural Succession in the Neotropics. Springer, New York, NY. In press.
Teh, Y. A., E. A. Dubinski, W. L. Silver, and C. M. Carlson. Acetate competition between methanogenic archaea and Fe(III)-reducing bacteria in tropical rain forest soils. In press, Global Change Biology.
Marin-Spiotta, E., C. W. Swanston, M. S. Torn, W. L. Silver, and S. D. Burton. Chemical and mineralogical control of soil carbon storage during tropical reforestation. In press, Geoderma.
Adair, E. C. W.J. Parton, S.J. DelGrosso, W.L. Silver, S.A. Hall, M.E. Harmon, and S.C. Hart. A simple three pool model accurately describes patterns of long term, global decomposition in the Long Term Intersite Decomposition Experiment Team (LIDET) data set. In press, Global Change Biology.
Parton*, W, W. L. Silver*, I. C. Burke, L. Grassens, M. E. Harmon, W. S. Currie, J. Y. King, E. C. Adair, L. A. Brandt, S. C. Hart, and B. Fasth. 2007. Global-scale similarities in nitrogen release patterns during long-term decomposition. Science 315:362-364. * Co-lead authors.
Marin-Spiotta, E., R. Ostertag, and W. L. Silver. 2007. Long term patterns in reforestation of tropical pastures: plant community composition and aboveground biomass accumulation. In press, Ecological Applications.
McGroddy, M. E. and W. L. Silver. 2007. Nutrient Cycling and Climate Change in Tropical Forests. Pages 295-316 in M. Bush and J. Flenly eds, Tropical Rainforest Responses to Climatic Change. Praxis-Springer Verlag, Berlin.
Pett-Ridge, J., W. L. Silver, and M. K. Firestone. 2006. Redox fluctuations in a humid tropical forest soil impact N-cycling rates by framing the composition of the soil microbial community. Biogeochemistry 81:95-110.
Teh, Y. A., W. L. Silver, M. E. Conrad, S. E. Borglin, and C. M. Carlson. 2006. Carbon isotope fractionation by methane-oxidizing bacteria in tropical rain forest soils, J. Geophys. Res., 111, G02001, doi:10.1029/2005JG000053.
Chacon, N. W. L. Silver, E. A. Dubinsky, and D. F. Cusack. 2006. Iron reduction and soil phosphorus solubilization in humid tropical forests soils: the roles of labile carbon pools and an electron shuttle compound. Biogeochemistry 78: 67-84.
Teh, Y. A., and W. L. Silver. 2006. Effects of soil structure destruction on methane production and carbon partitioning between methanogenic pathways in tropical rain forest soils. Journal of Geophysical Research-Biogeosciences III doi:10.1029/2005jg000020.
Trumbore, S. E, E. Salazar da Costa, P. Barbosa de Camargo, L. A. Martinelli, D. Nepstad, D. Ray, and W. L. Silver. 2006. Dynamics of fine root carbon in Amazonian tropical ecosystems. Global Change Biology 12: 217-229.
Chambers, J. Q., and W. L. Silver. 2005. Ecophysiological and biogeochemical responses to atmospheric change. Pages 57-65 in O. Phillips and Y. Mahli, Tropical forests and global atmospheric change. Oxford University Press, Oxford, England.
Silver, W. L., A. W. Thompson, M. K. Firestone, A. Reich, and J. J. Ewel. 2005. Nitrogen retention and loss in tropical plantations and old growth forests. Ecological Applications 15: 1604-1614.
Teh, Y. A., W. L. Silver, and M. E. Conrad. 2005. Oxygen effects on methane production and oxidation in humid tropical forest soils. Global Change Biology 11:1283-1297.
Silver, W. L., A. W. Thompson, D. J. Herman, and M. K. Firestone. Nitrogen cycling in upper montane tropical forests: is there evidence for limitations to nitrogen mineralization? In Bruijnzeel, L.A., Juvik, J., Scatena, F.N., Hamilton, L.S. & Bubb, P. (editors), Forests in the Mist: Science for Conserving and Managing Tropical Montane Cloud Forests. University of Hawaii Press, Honolulu. In press.
Silver, W. L., A. W. Thompson, M. E. McGroddy, R. K. Varner, J. R. Robertson, J. D. Dias, H. Silva, P. Crill, and M. Keller. 2005. Fine roots dynamics and trace gas fluxes in two lowland tropical forest soils. Global Change Biology 11: 290-306.
Ostertag, R., W. L. Silver, and A. E. Lugo. 2005. Factors affecting mortality and resistance to damage following hurricanes in a subtropical moist forest. Biotropica 37: 16-24.
Honors and Awards
Global Change Distinguished Post Doctoral Fellow - Department of Energy - 0000
Clare Booth Luce Professorship in Science and Engineering - 0 - 0000
Stellar Course Award, College of Natural Resources - College of Natural Resources, U.C. Berkeley - 0000
Citation for Excellence in Presentation of a Paper - Soil Science Society of America - 0000
Biological Sciences Faculty Research Award - U. C. Berkeley - 0000
Keynote Speaker, Long Term Ecological Research Graduate Student Symposium - Long Term Ecological Research Network - 0000
Plenary Speaker, Microscale Approaches to Macroscale Issues in Terrestrial Ecosystem Ecology
Recent Teaching
111 - ECOSYSTEM ECOLOGY
116C - Tropical Forest Ecology
199 - SUPERV INDEP STUDY
298 - DIRECT GROUP STUDY
299 - INDIVIDUAL RESEARCH
N299 - Individual Research
Contact Information
Email: wsilver@berkeley.edu
Office: 319 Hilgard Hall
Office Phone: 510-643-3074
Fax: 510-643-5098
Website(s)
Office Hours
By Appointment
Research Group(s)
Mailing Address
Dept of Environmental Science, Policy, & Management
UC Berkeley
130 Mulford Hall #3114
Berkeley, CA 94720