Post-event survey.
Thank you all for participating in the online version GradFest 2020! 
Please help us assess the effectiveness and success, as well as to improve future versions of this event by completing this short survey. It will take you only a few minutes. 
We are incredibly grateful to the 55 talk attendees, and with all the people that have visited the pages. Your participation was deeply valued, especially during these challenging times. We hope the event was engaging and informative for all. 
GradFest will be back next year, hopefully with more in-person components.
–
5/04
e-GradFest is live now!  
In this link you can find the speaker sessions to read about the dissertation research of graduating Ph.D. students from the department of Environmental Science, Policy, and Management (ESPM) at UC Berkeley.
–
5/01
Awards ceremony. 
As this year we are having ESPM's GradFest online, we will not be holding the traditional end-of-the-year award ceremony. We do recognize all the hard work that the ESPM community has done this academic year. We will host an even bigger award ceremony next year!
In words of ESPM's chair Paolo D'odorico:
"A special thank you to the graduate students who have contributed to the success of this event, the ESPM Staff (Bianca Victorica, Ryann Madden, Morgan Tougas), the CNR staff, our alumni, donors, and faculty for their dedication and support."

–
3/18
e-GradFest: we're moving online! From May 04 to May 15 we will be launching a summary of each student's dissertation research, our online professional development workshop, and the contribution by the keynote speaker here on each respective page. S
chedule coming soon.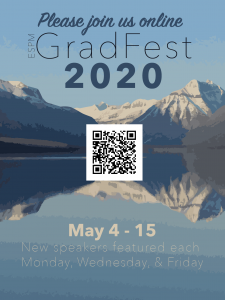 Graphic design by Shannon O'Brien
This online event will highlight the achievements of graduating students in our department. There will also be a contribution by a keynote speaker, and a short professional development workshop.
Event Sponsor: The UC Berkeley Department of Environmental Science, Policy, and Management
Questions? Concerns? Suggestions? Please contact the event coordinator Ignacio Escalante (espm_gradfest [at] berkeley.edu).