3/18 update: 
e-GradFest: we're moving online! From May 04 to May 15 we will be launching a summary of each student's dissertation research, our online professional development workshop, and the contribution by the keynote speaker here on each respective page. S
chedule coming soon.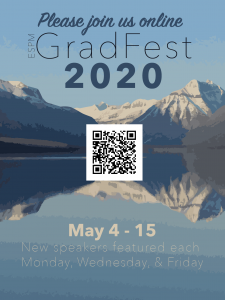 Graphic design by Shannon O'Brien
This online event will highlight the achievements of graduating students in our department. There will also be a contribution by a keynote speaker, and a short professional development workshop.
Event Sponsor: The UC Berkeley Department of Environmental Science, Policy, and Management
Questions? Concerns? Suggestions? Please contact the event coordinator Ignacio Escalante (espm_gradfest [at] berkeley.edu).