Curious about what ESPM alumni/ae are doing?
An ongoing survey* with alumni/ae addresses this question and here are some of the preliminary findings. 
Of 297 alumni/ae graduated from 2003 to Spring 2019, we have received 99 responses (33%) as of February 11, 2020. Help us get more responses by
sharing this survey.
We have found that:
37% Report having done or currently doing their postdoc

32% of them have a teaching, research, or staff position at an R-1 university

14% teach at a non-R-1 institution

16% work at an environmentally-focused NGO

14% have a governmental position (EPA, USDA, San Diego County, etc.)

4% work in consulting, and 5% in industry

58% of them are based in California, 1 or 2 in OR, DC, WA, NV, TN, WI, MA, NY, NJ, Australia, Canada, Chile, Scotland, or Cambodia.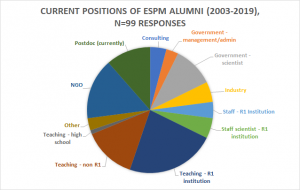 They all have advice and resources that might help the professional and academic development of ESPM graduate students. Check them out in the current database.
We are compiling the information in an alumni/ae database (click here to access the living document). The document is restricted to @berkeley.edu and alumni/ae email addresses). If you have any suggestions, questions, or want to reach out to any of the alumni/ae please contact the authors of this page: Ignacio Escalante (iescalante@berkeley.edu) or Sarah Hartman (espm_coordinator@berkeley.edu).
*The survey was prepared by 2019 GradFest Coordinator Juliet Lu.
Alumni/ae, please complete this contact form as well! https://goo.gl/forms/rbJNDpxXgHzPfo8S2