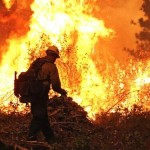 Firefighters battling last year's Rim Fire in the central Sierra Nevada. Photo by Mike McMillan, US Forestry Service.
As the U.S. Forest Service finalizes plans to restore forests torched in last year's Yosemite-area Rim Fire—the third largest in state history—conservationists are worried that the scheme skimps on environmental protection. Also concerned is one of the state's top forestry experts, a UC Berkeley professor who warns that replanting trees the traditional way will simply sow the seeds for the next conflagration.
Fire science professor Scott Stephens also contends that dallying by federal agencies is undermining a golden opportunity to fund wildland restoration by selling the young trees that must be thinned in Western forests.
"We don't have that many options now, and drought and climate change will limit the options we do have the longer we wait," Stephen says. "Our research shows that we could fund a lot of restoration right now if we get into the areas that are already replanted and market the young trees that must be thinned. We could increase the health of the forests, stimulate some economic activity for rural areas, cover a lot of our costs, and greatly reduce the vulnerability of our woodlands to fire. But we have to be proactive, we have to get going. What we do—or don't do—right now will affect the Sierra Nevada for the next century or more."
Read the full article on the California Magazine website
Article written by Glen Martin, California Magazine