Diversity, Equity, and Inclusion (DEI) Committee (2020-21 AY):
Stephanie Carlson (Equity Advisor and Chair of the DEI Committee)
Benjamin Blonder (Junior faculty representative)
Ataya Cesspooch (Student representative)
Christy Getz (CE representative)
Vernard Lewis (Emeriti representative)
Rachel Morello-Frosch (Society & Environment representative)
Neil Tsutsui  (Organisms & Environment representative)  
ESPM DEI Plan
ESPM Department DEI plan (approved 4/2018)
Major updates to DEI plan:
       7/2019: ESPM will no longer require the GRE as part of graduate admissions!
       7/2018: ESPM Equity Advisor was added as a voting member to the ESPM Council 
       7/2018: DEI Committee established as a formal standing committee in ESPM
Graduate Diversity Council (GDC)
The ESPM Graduate Diversity Council is a graduate student group with a vested interest in the continued diversification of the students and faculty of the department of Environmental Science, Policy and Management. We work to increase the presence of underrepresented groups in environmental fields through recruitment and retention efforts including workshops, speakers, special presentations, and mentoring. We are committed to creating and maintaining a community among underrepresented groups in ESPM, while actively promoting and engaging in diversity initiatives in the campus community.
More information about the GDC can be found at https://ourenvironment.berkeley.edu/graduate-diversity-council or please contact Ataya Cesspooch at ataya_cesspooch@berkeley.edu.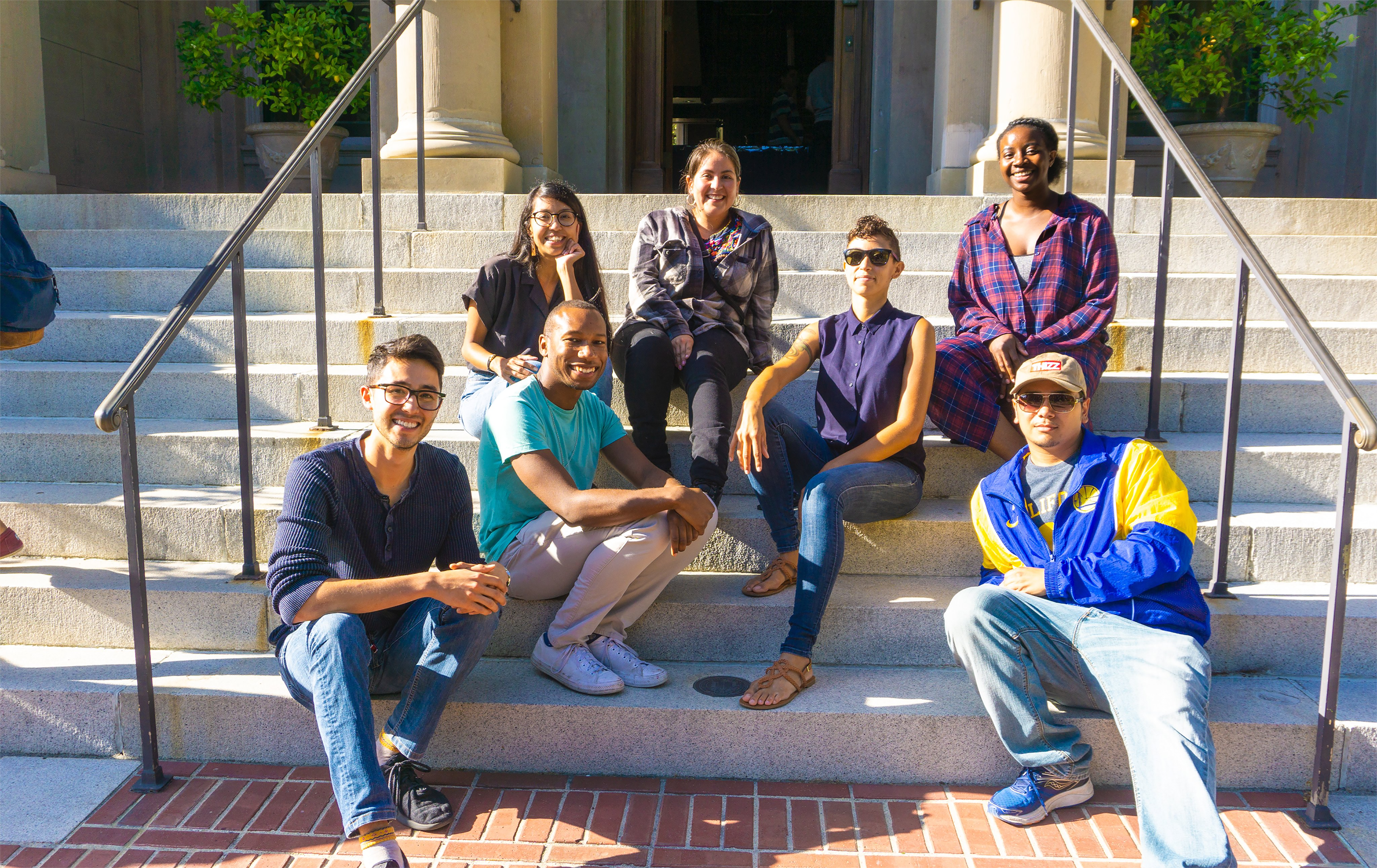 GDC members attending the 2019 Chancellor's Graduate Diversity Reception.
PHOTO:  GDC members attending the 2019 Chancellor's Graduate Diversity Reception
2020-2021 GDC leadership
      Whitney Mgbara (Head Coordinator)
      Kendall Calhoun (Head Coordinator & Tenure and Hires Working Group Lead)
      Aidee Guzman (Response Working Group Lead)
      Kenzo Esquivel (1:1 Meetings Working Group Lead)
      Ataya Cesspooch (EID Representative & Accountability Working Group Lead)
      Katie Wolf (Rausser Working Group Lead)
      Lucy Andrews (UCPD Working Group Lead)
      Rosalie  Z. Fanshel (Anti-Racism Coursework Working Group Lead)
      Alexandra Kahn (Syllabi and Seminars Working Group Lead)
      Chippie Kislik (Communications/Social Media Working Group Lead)
Featured News
7/1/2020: ESPM Council asks the Berkeley campus to make DEI an essential component of merits and promotions
6/29/2020: ESPM faculty respond to students with action plan 
6/15/2020:  ESPM graduate students call for anti-racist actions 
6/1/2020: ESPM Council statement on injustice and racism
1/16/2020: Prof. Isha Ray named the inaugural Associate Dean of Equity and Inclusion for Rausser College!
3/2019: Head Grad Advisor Damian Elias joins the California Consortium for Inclusive Doctoral Education (C-CIDE) effort as a UC Berkeley representative. There are two workshops planned for the 2020-21 AY - email Dr. Elias directly for more information 
12/2018: ESPM's professor Rachel Morello-Frosch receives the 2018 Chancellor's Award for Advancing Institutional Excellence and Equity (CAAIEE)!
Upcoming Events
TBD
Some of the relevant campus resources
UC Berkeley Division of Equity and Inclusion
Othering & Belonging Institute at UC Berkeley
Restorative Justice Center at UC Berkeley
Centers for Educational Justice & Community Engagement, (510) 642-6528: These centers provide space, programs, and services for Berkeley's diverse student communities. 
Reporting: For information and support on reporting hate crimes or hate-motivated acts, visit  stophate.berkeley.edu.