Diversity, Equity, and Inclusion (DEI) Committee (2022-23 AY):
Kathryn De Master (Chair and Society & Environment)
Ben Blonder (Organisms & Environment)
Tim Bowles (Organisms & Environment)
Stephanie Carlson (Chair Emerita, Ecosystem Sciences)
Damian Elias (Organisms & Environment)
Ted Grantham (Cooperative Extension)
Vernard Lewis (Emeriti)
Chris Schell (Ecosystem Sciences)
Kenzo Esquivel (DEI Student Coordinator & Graduate Diversity Council)
Tyus Williams (Graduate Student Association Equity & Inclusion Officer)
 
ESPM DEI Plan
ESPM Department DEI plan (approved 4/2018)
Major updates to DEI plan:
       7/2019: ESPM will no longer require the GRE as part of graduate admissions!
       7/2018: ESPM Equity Advisor was added as a voting member to the ESPM Council 
       7/2018: DEI Committee established as a formal standing committee in ESPM
Graduate Diversity Council (GDC)
The ESPM Graduate Diversity Council is a graduate student group with a vested interest in the continued diversification of the students and faculty of the department of Environmental Science, Policy and Management. We work to increase the presence of underrepresented groups in environmental fields through recruitment and retention efforts including workshops, speakers, special presentations, and mentoring. We are committed to creating and maintaining a community among underrepresented groups in ESPM, while actively promoting and engaging in diversity initiatives in the campus community.
More information about the GDC can be found here or please contact GDC Co-chairs Kenzo Esquivel (kesquivel@berkeley.edu) or Annie Taylor (annalisetaylor@berkeley.edu)
2022-2023 GDC leadership 
Kenzo Esquivel (Diversity, Equity, and Inclusion Coordinator, GDC Coordinator)
Annie Taylor (GDC Coordinator)
Tyus Williams (Equity and Inclusion Officer, GSA and GDC)
Rosalie Zdzienicka Fanshel (Anti-Racism Coursework Working Group Lead)
 
2020-2021 GDC leadership photo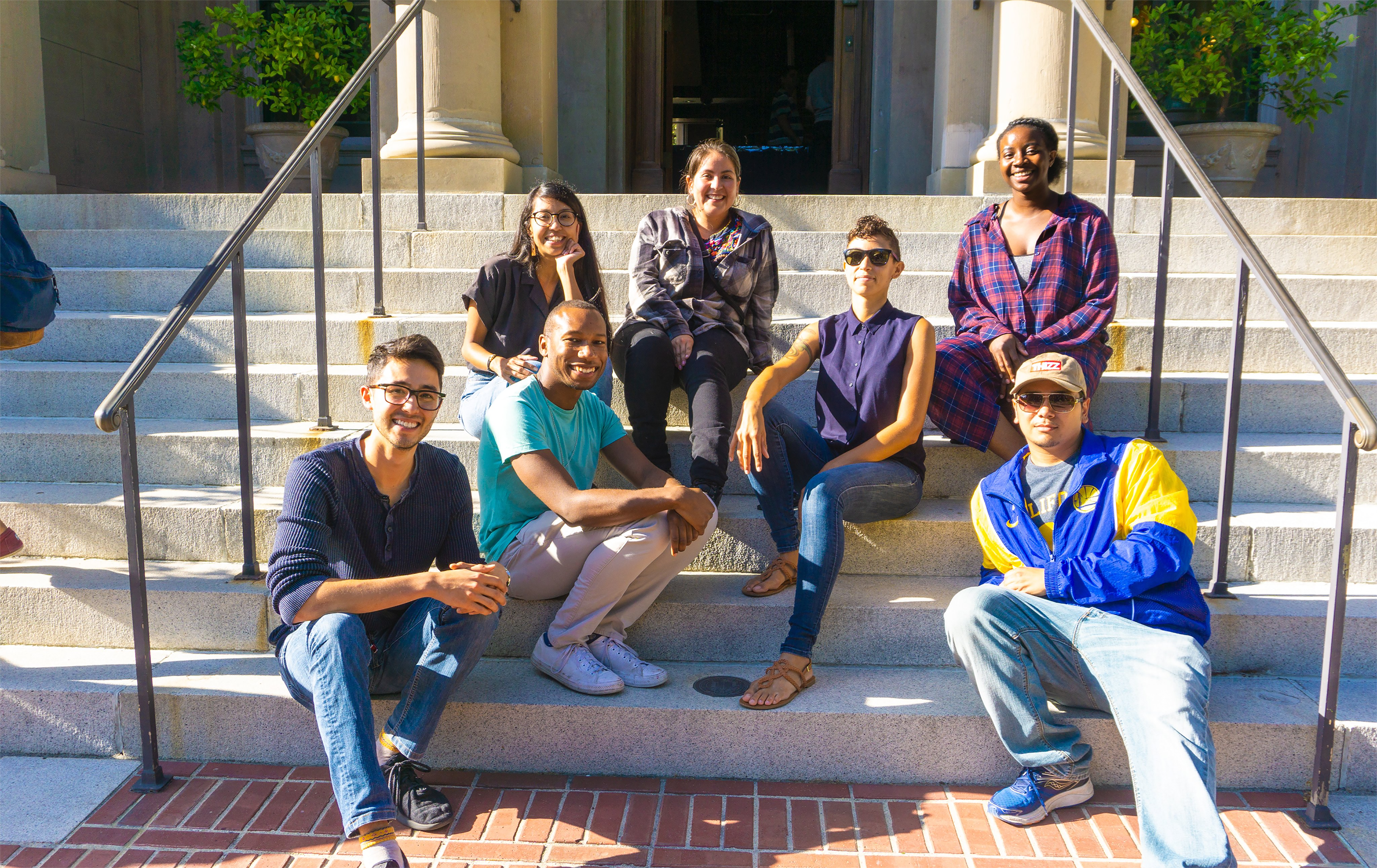 GDC members attending the 2019 Chancellor's Graduate Diversity Reception.
PHOTO:  GDC members attending the 2019 Chancellor's Graduate Diversity Reception
 Whitney Mgbara (Head Coordinator)
  Kendall Calhoun (Head Coordinator & Tenure and Hires Working Group Lead)
  Aidee Guzman (Response Working Group Lead)
  Kenzo Esquivel (1:1 Meetings Working Group Lead)
  Ataya Cesspooch (EID Representative & Accountability Working Group Lead)
  Katie Wolf (Rausser Working Group Lead)
  Lucy Andrews (UCPD Working Group Lead)
  Rosalie  Z. Fanshel (Anti-Racism Coursework Working Group Lead)
  Alexandra Kahn (Syllabi and Seminars Working Group Lead)
  Chippie Kislik (Communications/Social Media Working Group Lead)
Critical Engagements In Anti-Racist Environmental Scholarship
In Fall 2020 the department began a semester-long course to create a space for the Environmental Science, Policy, and Management community to discuss anti-racism in environmental scholarship in the age of a growing Black Lives Matter movement. The first portion of the course focused on relevant works by Black, Indigenous, and People of Color (BIPOC) scholars (e.g. academics, activists, naturalists, and cultural critics) because it is crucial to center BIPOC voices when addressing equity and inclusivity in the environmental sciences. The second part of the course critically engaged with strategies for developing active anti-racist labs, classrooms, and a broader environmental science, policy, and management research community. 45 ESPM graduate students, faculty, postdocs, and staff participated in the course. 
Teaching Team 2020: Aidee Guzman, Kenzo Esquivel, Phoebe Parker-Shames, Rosalie Z. Fanshel, Whitney Mgbara, and Alastair Iles. Read an article here about the teaching team and course.  Request access to the syllabus here.
Teaching Team 2021: Damian Elias, Kenzo Esquivel, and Phoebe Parker-Shames (fall teaching) and Whitney Mgbara, Natasha Shannon, and Lorenzo Washington (summer prep)
Teaching Team 2023: Kathryn De Master, Kenzo Esquivel, Natasha Shannon, Yesenia Valverde, Lorenzo Washington
Featured News
Advancing Inclusion and Anti-Racism in the College Classroom
9/26/2022 Ten UC Berkeley courses revamped to incorporate inclusive and anti-racist approaches
1/25/2022 New Tool: Advancing Inclusion and Anti-Racism in the College Classroom
7/1/2020: ESPM Council asks the Berkeley campus to make DEI an essential component of merits and promotions
6/29/2020: ESPM faculty respond to students with action plan 
6/15/2020:  ESPM graduate students call for anti-racist actions 
6/1/2020: ESPM Council statement on injustice and racism
1/16/2020: Prof. Isha Ray named the inaugural Associate Dean of Equity and Inclusion for Rausser College!
3/2019: Head Grad Advisor Damian Elias joins the California Consortium for Inclusive Doctoral Education (C-CIDE) effort as a UC Berkeley representative. There are two workshops planned for the 2020-21 AY - email Dr. Elias directly for more information                                                                                                          This organization is now called the Equity In Graduate Education Resource Center
12/2018: ESPM's professor Rachel Morello-Frosch receives the 2018 Chancellor's Award for Advancing Institutional Excellence and Equity (CAAIEE)!
Campus Resources and Affinity Groups
UC Berkeley Division of Equity and Inclusion
Othering & Belonging Institute at UC Berkeley
Restorative Justice Center at UC Berkeley
Centers for Educational Justice & Community Engagement, (510) 642-6528: These centers provide space, programs, and services for Berkeley's diverse student communities. 
RCNR College Rainbows (link forthcoming)
The CNR Queer Coalition exists to foster a safe and welcoming community for Queer CNR graduate students of all identities. We are here to support and uplift one another as well as advocate for the advancement of all people of marginalized identities.
Facebook link: https://www.facebook.com/groups/333683795602679
Discord: https://discord.gg/gSttXZnXta
Reporting: For information and support on reporting hate crimes or hate-motivated acts, visit  stophate.berkeley.edu.