By Ann Brody Guy, College of Natural Resources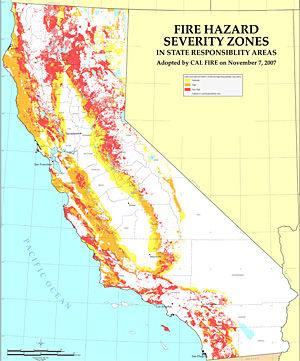 California fire hazard severity zone map. Click to link to high-resolution jpeg image.
BERKELEY — Many fire scientists have tried to get Smokey the Bear to hang up his "prevention" motto in favor of tools like thinning and prescribed burns, which can manage the severity of wildfires while allowing them to play their natural role in certain ecosystems.
But a new international research review led by UC Berkeley says the debate over fuel-reduction techniques is only a small part of a much larger fire problem that will make society increasingly vulnerable to catastrophic losses unless it changes its fundamental approach from fighting fire to coexisting with fire as a natural process.
The paper, "Learning to Coexist with Wildfire," published in the Nov. 6 issue of the journal Nature, examines research findings from three continents and from both the natural and social sciences. The authors conclude that government-sponsored firefighting and land-use policies actually encourage development on inherently hazardous landscapes, amplifying human losses over time.
"We don't try to 'fight' earthquakes — we anticipate them in the way we plan communities, build buildings and prepare for emergencies. We don't think that way about fire, but our review indicates that we should," said lead author Max Moritz, Cooperative Extension specialist in fire at UC Berkeley's College of Natural Resources. "Human losses will only be mitigated when land-use planning takes fire hazards into account in the same manner as other natural hazards, like floods, hurricanes and earthquakes."
Read the full story at the source  
Related Links