As part of ESPM's 20th Anniversary celebration we invited ESPM community members to submit photos in four categories: Research, ESPM in Action, Community, and ESPM's History. The group of photos submitted represent the diversity of our activities, from research in the field to departmental events. The winners in each category, chosen anonymously by a group of students, faculty, and staff, are featured below. Make sure to also check out all of the submissions online!
Research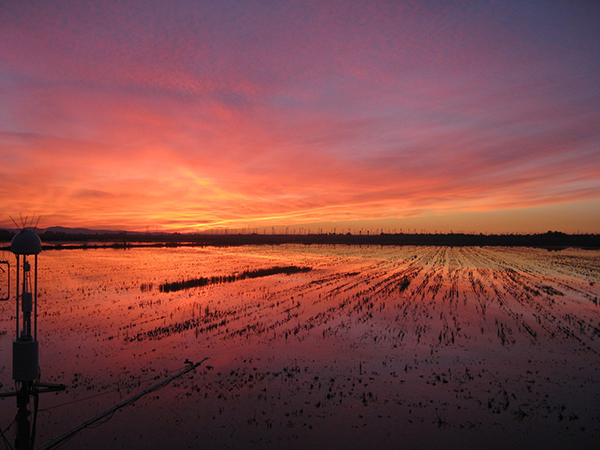 1st Prize: Delta Sunset
(Taken February 1, 2013)
Submitted by: Joseph Verfaillie, Developmental Lab Technician in the Biometerology Lab
Sunset over a fallow rice paddy on Twitchell Island in the Sacramento / San Joaquin River Delta. At this site we measure the absorption and emission of greenhouse gases to answer questions about methods for rebuilding soils and establishing carbon farms. Carbon dioxide and methane gas analyzers can be seen in the lower left corner of the photo, and wind generators from the Montezuma Hills Wind Farm can be seen on the horizon.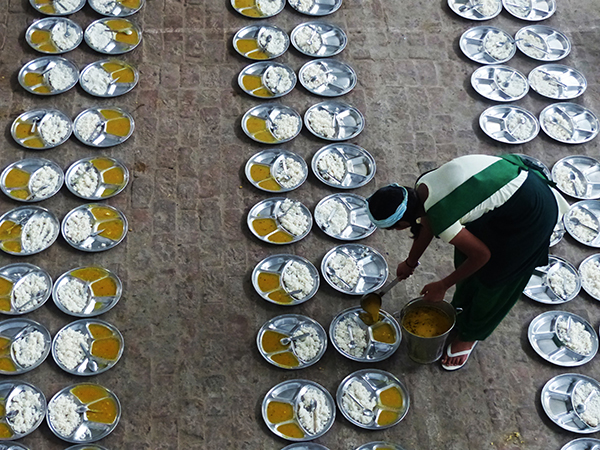 2nd Prize: Kitchen Duty, Pardada Pardadi Educational Society, India
 (Taken June 2013)
Submitted by: Fredella Surjono, ESPM undergraduate, Society and Environment Major, Global Poverty and Practice Minor 
A student on kitchen duty prepares rice and dhal for 1,119 of her peers before lunch. The hundreds of metal trays on the dusty concrete depict the vast number of underprivileged girls who are fighting through the rat race society. The absence of kitchen staff not only reflects the struggle of this underfunded school, but also reveals the Indian government's economic inability to nurture its future generations.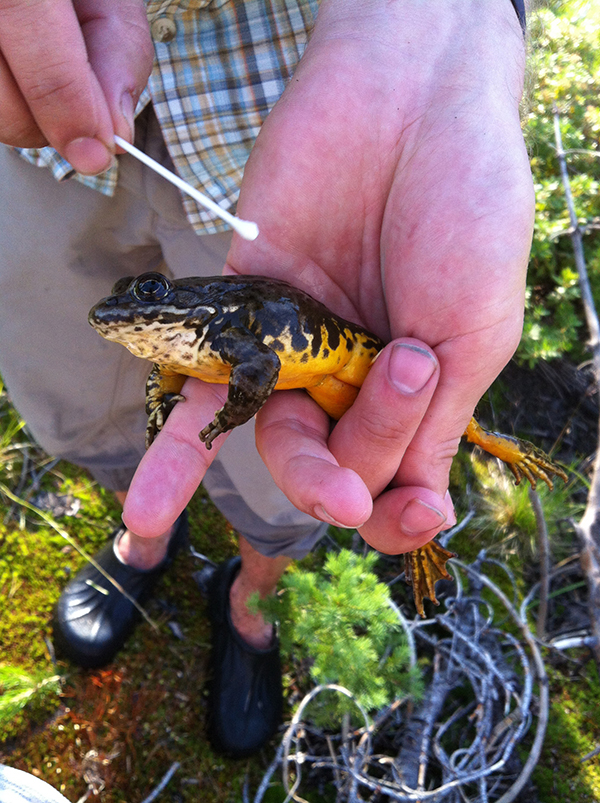 3rd Prize: Swabbing a Sierra Nevada Yellow-Legged Frog in Yosemite
(Taken July 2013)
Submitted by: Thomas Poorten, ESPM graduate student
I collected a swab sample from this frog, which was caught near Summit Meadow in Yosemite N.P.
ESPM in Action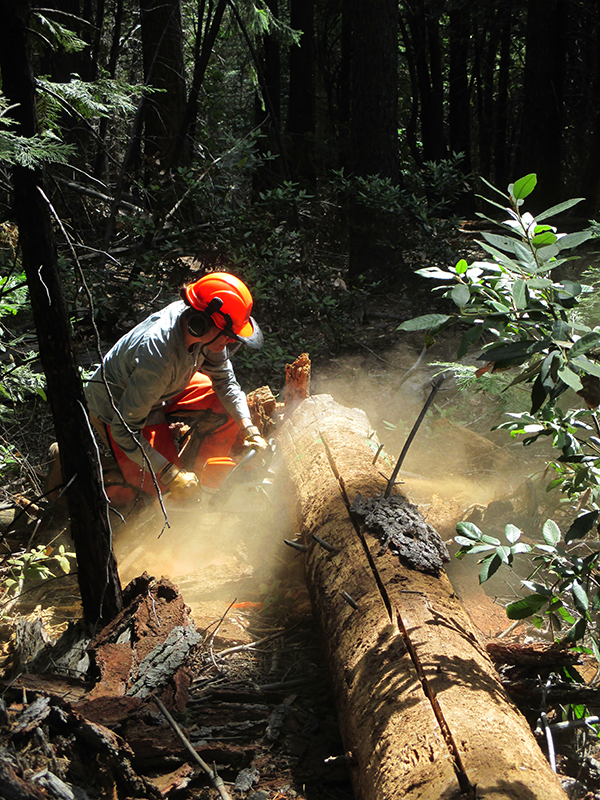 1st Prize: Summer at Blodgett
(Taken July 2013)
Submitted by: Stella Cousins, ESPM graduate student
ESPM PhD student S. Cousins collects a sample of decaying wood to inform her research on forest carbon dynamics based at the Center for Forestry's Blodgett Forest Research Station.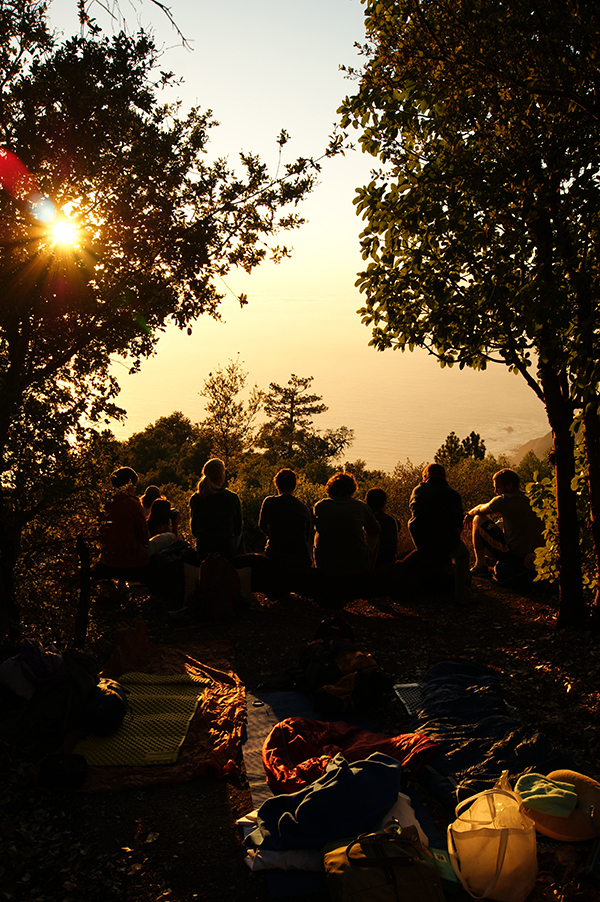 2nd Prize: October Bliss
(Taken October 20, 2013)
Submitted by: Ian McGregor, ESPM undergraduate student, Conservation and Resource Studies & Society and the Environment major
This photo was taken during our class trip to Big Sur. We stayed in the UC Research Station area, and our campsite overlooked the Pacific Ocean with roughly a one thousand foot drop. The fog settled in low that night, giving us not only a spectacular sunset but also a warmer night than the valley.
ESPM's Community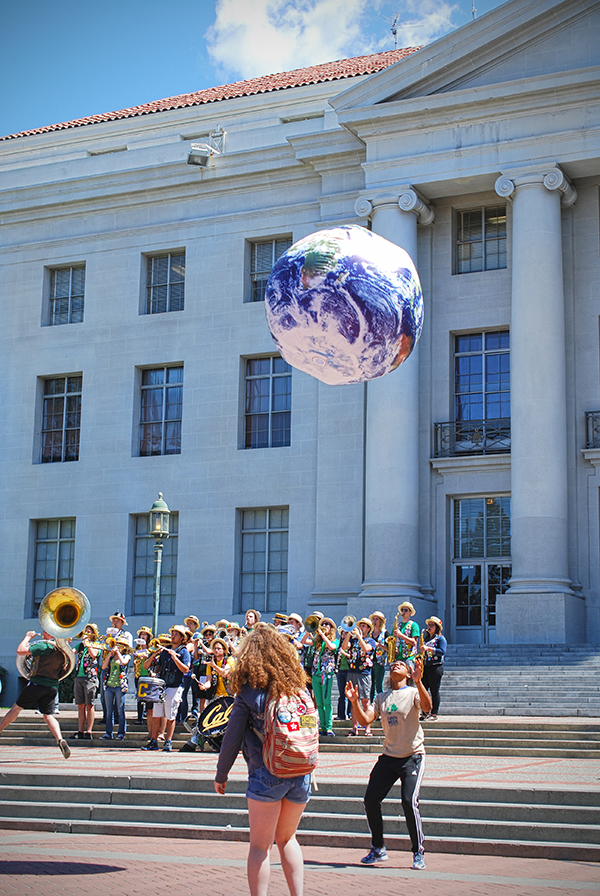 1st Prize: The Weight of the World: A Golden Bear's Perspective
(Taken April 22, 2014, Earth Day)
Submitted by: Shannon Davis, ESPM undergraduate, Society and Environment & Conservation Resource Studies double Major
Although every day feels like Earth Day at Cal, there is still something special about this campus community. Leave it to Upper Sproul to bring together students studying Environmental Science, Policy, and Management to have a little fun under the sun. Being a Cal student often feels like carrying the weight of the world, until you realize that being a Golden Bear means that you have a community to support you every step of the way. Being a part of the UC Berkeley community is like having a million hands to lift the burden and make the world feel weightless.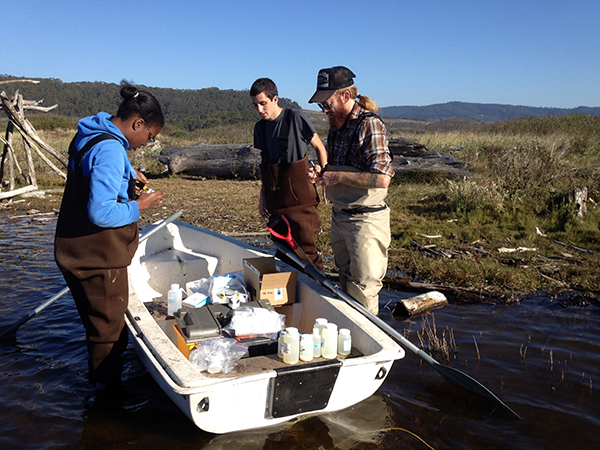 2nd Prize: Working in the Pescadero Natural Marsh Preserve
(Taken 2013)
Submitted by: Chandra Richards, ESPM graduate student
Sarick Matzen (ESPM graduate student), Kyle Carbajal (ESPM graduating senior), and Chandra Richards (ESPM graduate student) work at the sandbar inlet of Pescadero Natural Marsh Preserve to collect water and sediment samples for biogeochemical analysis and flow-through reactor experiments in the Pallud Lab. This picture represents ESPM's community as it embodies a shared interest and collaborative efforts in understanding the estuary's unique dynamics and the causal reasons for fish kills at Pescadero.
History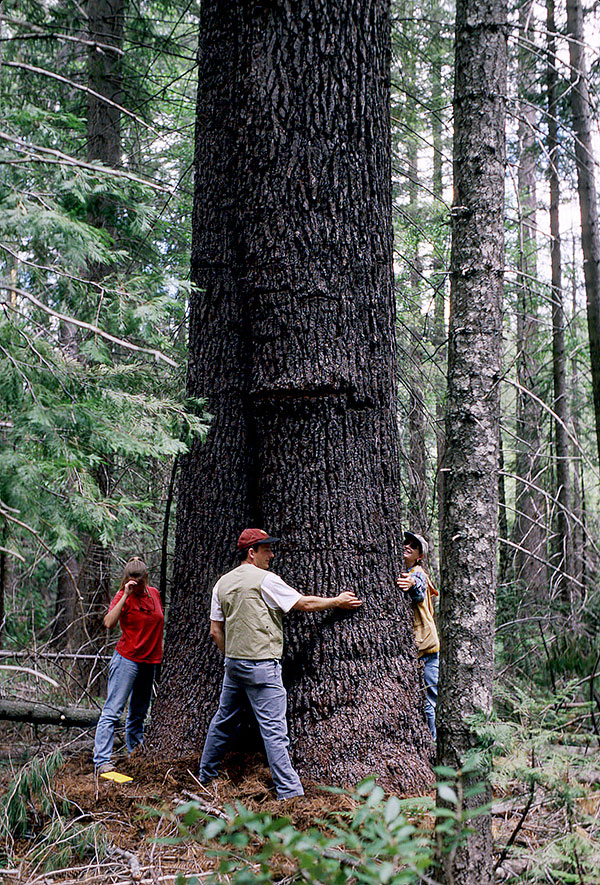 1st Prize: Tree Huggers (Taken 1998)
Submitted by: Professor Reginald Barrett
John Battles and Barbara Allen-Diaz loving largest sugar pine at Blodgett Forest, 1998.