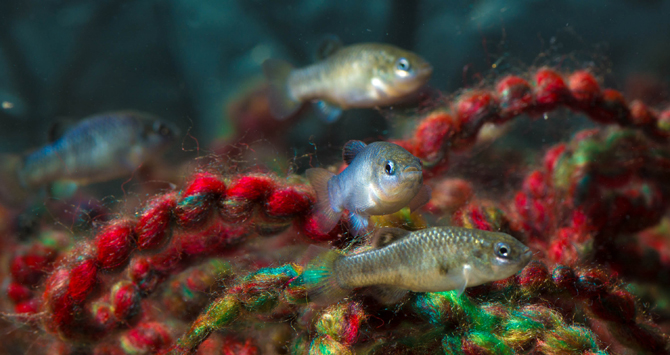 Devils Hole pupfish in the Ash Meadows Fish Conservation Facility in Nevada's Amargosa Valley. These individuals hatched from eggs removed from Devils Hole in November 2013. Males with the blue tint court the olive colored females. Eggs are deposited on the yarn "spawning mops." (Photo by Olin Feuerbacher, U.S. Fish and Wildlife Service)
BERKELEY — Scientists estimate that fewer than 100 Devils Hole pupfish remain in their Mojave Desert home, but a conservation biologist at the University of California, Berkeley, is giving important guidance in the efforts to rescue them by establishing a captive breeding program.
Considered the world's rarest fish, with one of the smallest geographic ranges of any wild vertebrate, the tiny pupfish (Cyprinodon diabolis) – about one-inch long as an adult – neared extinction in spring 2013 when populations dropped to an all-time low of 35 observable pupfish. While more recent fish counts showed some recovery, the species is considered critically endangered.
The dire situation spurred the U.S. Fish and Wildlife Service to open the Ash Meadows Fish Conservation Facility, which is less than a mile from Devils Hole. Previous attempts to establish refuge populations of pupfish have not fared well, either because the transplanted fish did not survive or because they cross-bred with other species of pupfish. Biologists from the agencies managing the pupfish captive breeding program wanted a risk assessment to determine which methods have the highest chance of success.
A risk analysis by Steven Beissinger, UC Berkeley professor of environmental science, policy and management, found that when it came to reducing impact on the wild population, it was better to transfer pupfish eggs to a captive breeding facility rather than adults, and that it was preferable to transfer fish in the fall, when the population tends to be larger, rather than in the spring.
In addition, Beissinger found that moving more than six adults per year for three consecutive years rapidly increases the risk of extinction. The results, published today (Tuesday, Sept. 9) in the open-access journal PeerJ, showed that the wild pupfish faces a 28 to 32 percent risk of extinction over the next 20 years.
"The study really puts out more empirically the risk of extinction for this fish," said Kevin Wilson, an aquatic ecologist at Death Valley National Park who is working on the recovery of the pupfish. "These findings are providing us with very good tools for our toolbox."
Read the full article at the UC Berkeley News Center
Article written by Sarah Yang, UC Berkeley Media Relations