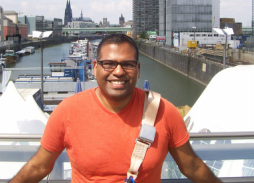 At the 2014 Gradfest, the ESPM Graduate Student Association honored PhD student Guillermo Douglass-Jaimes as the second ever recipient of the ESPM Distinguished Service Award. This award officially recognizes a member of the ESPM community who has worked hard to improve the department.
Guillermo served as the 2013-14 President ESPM Graduate Student Assembly, and has been very involved in visit and welcome days for prospective and incoming students. Committed to creating a welcoming and inviting space for all forms of difference within the department, he also helped reignite the Graduate Diversity Council in 2012.
Guillermo was nominated for the award with the full support of the ESPM graduate student body and the ESPM Graduate Student Association. One of Guillermo's peers wrote, "Guillermo has proven to be an exemplary leader and is committed to improving the lives of all students. As GSA president, Guillermo has worked tirelessly to increase transparency and revise the outdated GSA constitution. He has also worked closely with the Graduate Diversity Council for continued diversification of the students and faculty here in ESPM. He also took the lead in working to minimize microaggressions in the department. Guillermo's advocacy for inclusivity, diversity, and transparency in the department has substantially improved the lives of ESPM graduate students."