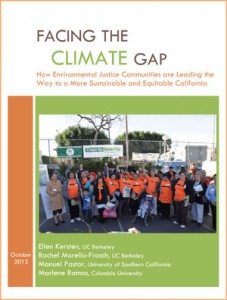 A new report co-authored by ESPM graduate student Ellen Kersten, professor Rachel Morello-Frosch, and collaborators at USC and Columbia documents case studies that highlight the work of community-based organizations in California dealing with the "climate gap" – the disproportionate burden of climate change on vulnerable communities.
Facing the Climate Gap: How Environmental Justice Communities are Leading the Way to a More Sustainable and Equitable California shows how community-based organizations across California are working with small staffs on tight budgets to tackle some of our most pressing environmental burdens. The communities most affected by the climate gap are creating solutions that can be scaled up.
The timing couldn't be better. In early October, Governor Brown signed the "Climate and Community Revitalization" bills – SB535 and AB1532. Together, they set up a system for allocating revenues from auctioning allowances under California's new market-based effort to reduce greenhouse gas emissions – and they mandate that a significant share of those resources be invested in the Golden State's most environmentally burdened and socially disadvantaged communities.  As legislators, regulators, and local governments decide on how to allocate these funds, they can look to this new research on organizations that know how to get this work right.