This year's annual Graduate Research Symposium (May 2 at the David Brower Center) is not to be missed! The day's events will feature research presentations from graduating students, a guest lecture by Jessica Weir (University of Western Sydney), a keynote presentation by poet Robert Hass, and remarks from the Graduate Diversity Council. We'll also honor members of the department during the ESPM awards ceremony, including Guillermo Douglass-Jaimes (recipient of the Student Service Award) and Professor Carolyn Finney (recipient of the Faculty Mentoring Award). With finishing talks on a range of topics—from Singapore's tropical rainforests to California's grassland spiders, from atmospheric aerosols to health equity data—Gradfest truly represents the breadth of ESPM's collective research.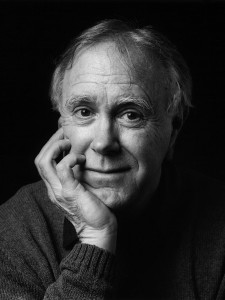 Distinguished Professor of Poetry and Poetics at UC Berkeley, Keynote speaker Robert Hass is former Poet Laureate of the United States and a recipient of the National Book Award and the Pulitzer Prize. In addition to the contributions he has made to contemporary American poetry and translation, Hass is a gifted naturalist who incorporates environmental history and environmental literature into his critical scholarly work. He co-teaches the popular undergraduate course, "Introduction to Environmental Studies," the longest surviving team taught course at UC Berkeley, with ESPM Professor Garrison Sposito.
Dr. Jessica Weir is a Senior Research Fellow at the Institute for Culture and Society at the University of Western Sydney. Her research is part of the critical intellectual work of the environmental humanities to resituate humans within their environments, and more-than-humans within cultural and ethical domains, as part of responding to ecological devastation and climate change.  Weir's research collaborations with Indigenous people examine how western binaries and Indigenous knowledges interact to circumscribe and transform our understandings of environmental issues and their governance. Jessica has recently extended her research to consider our relationships with natural hazards.
For a full symposium schedule and to register, visit the gradfest website.  
Bob Hass photo by Margaretta K. Mitchell; bio information adapted from the Barclay Agency.