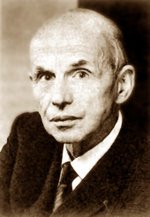 About Hans Jenny
Hans Jenny, a world authority on soils and their formation, died in 1992 at the age of 92. He was an emeritus professor of soil science in the College and his contributions to the study of soils had a major impact on many scientific fields ranging from agriculture, soil conservation and ecology to geography and geology.
Jenny's seminal book, Factors of Soil Formation, written in 1941, made him one of the most outstanding philosophers and thinkers in soil science. Jenny and his wife, Jean, actively worked to preserve numerous wildlands in California and the West so that future generations could benefit. A native of Switzerland, Jenny came to the US in 1926, and joined the Berkeley faculty in 1936. He retired in 1967, but continued to work and conduct research until his death in 1992.
Hans and Jean were instrumental in preserving the famous pygmy forest of Mendocino County as part of the Jug Handle State Reserve. The Pygmy Forest was later named the Hans Jenny Pygmy Forest Reserve.
The memorial fund was set up to support of graduate students in Soil Sciences as well as to support an annual public lecture.
Previous Jenny Memorial Lecturers
Martin Alexander, Cornell University
Gregory Retallack, University of Oregon
Peter Vitousek, Stanford University
William Schlesinger, Duke University
Gene Likens, Institute of Ecosystem Studies
William Dietrich, University of California at Berkeley
Eugene Rosow, Common Ground Media
Deborah Koons Garcia, Lilly Films
Garrison Sposito, University of California at Berkeley [video]
Pedro Sanchez, The Earth Institute at Columbia University [video]
David Montgomery, University of Washington [video]
Chris Mooney, Journalist, Mother Jones & Climate Desk [video]