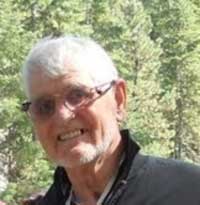 In Memoriam, September 4, 1930 - May 26, 2013
Bill Dost passed away quietly early Sunday morning, May 26, 2013 after a brief illness. He was born in Seattle, WA during the Depression, the third child of Harry and Jessie Dost. Always busy and a hard worker, Bill was responsible for much of his own support while still a youth. He raised chickens for their eggs and meat, picked fruit and berries for local farmers, and spent his 15th, 16th and 17th summers working at a cannery on Kodiak Island, Alaska. He grew into an energetic, gentle, kind and generous man, much loved by friends and family. He will be sorely missed.
From toddlerhood he always loved trees. He received his BS in Forest Products from the University of Washington and his MS in Wood Science and Technology from the University of California, Berkeley. For thirty years he worked as a Co-op Extension Specialist for the UC Forest Products Laboratory where he provided education and research support to the wood products industry. He produced over 90 research papers prompting improvements in wood processing and worker safety, and co-authored a book with Professor Elmer Botsai of the University of Hawaii, Wood: Detailing for Performance. Upon his retirement from UC, the Regents of the University of California granted him Emeritus status.
During a two year leave of absence from UCB, he served as President of the American Wood Preservers Bureau in Washington, DC where he was able to influence the standards set for wood preservation used in construction. After retirement, Bill practiced as an independent forensic wood technologist, providing investigation and expert testimony concerning wood failure in construction and personal injury litigation.
Nature and the outdoors were Bill's best friends: the forest, the shore, the mountains, but especially the forest. He loved to teach others how to identify different tree species and to enjoy hiking and camping among them. During his US Navy service 1953-1955 he was assigned to train Navy pilots in survival skills. Many years later he still enjoyed taking friends on "foraging" hikes where he would demonstrate available plant foods by eating his way up and down the trails and sharing the "goodies" he found.
William Dost's first marriage was to Marian Bales. They had three children. In 1995 he married Janice who was with him when he passed away. She will greatly miss and lovingly remember him. He was preceded in death by his parents and his older brother, Harry, Jr. He is survived by his sister Eleanor Thiemann of Elizabeth, IN; sons Conrad of San Jose, CA; Richard (Berrin) of Alameda, CA, and daughter Laurel of Oakland, CA. He also leaves his stepsons Matthew Burrows (Kathy) of Oakland, and Christopher Burrows (Adrienne) of Santa Monica, CA. He is survived by nine grandchildren.