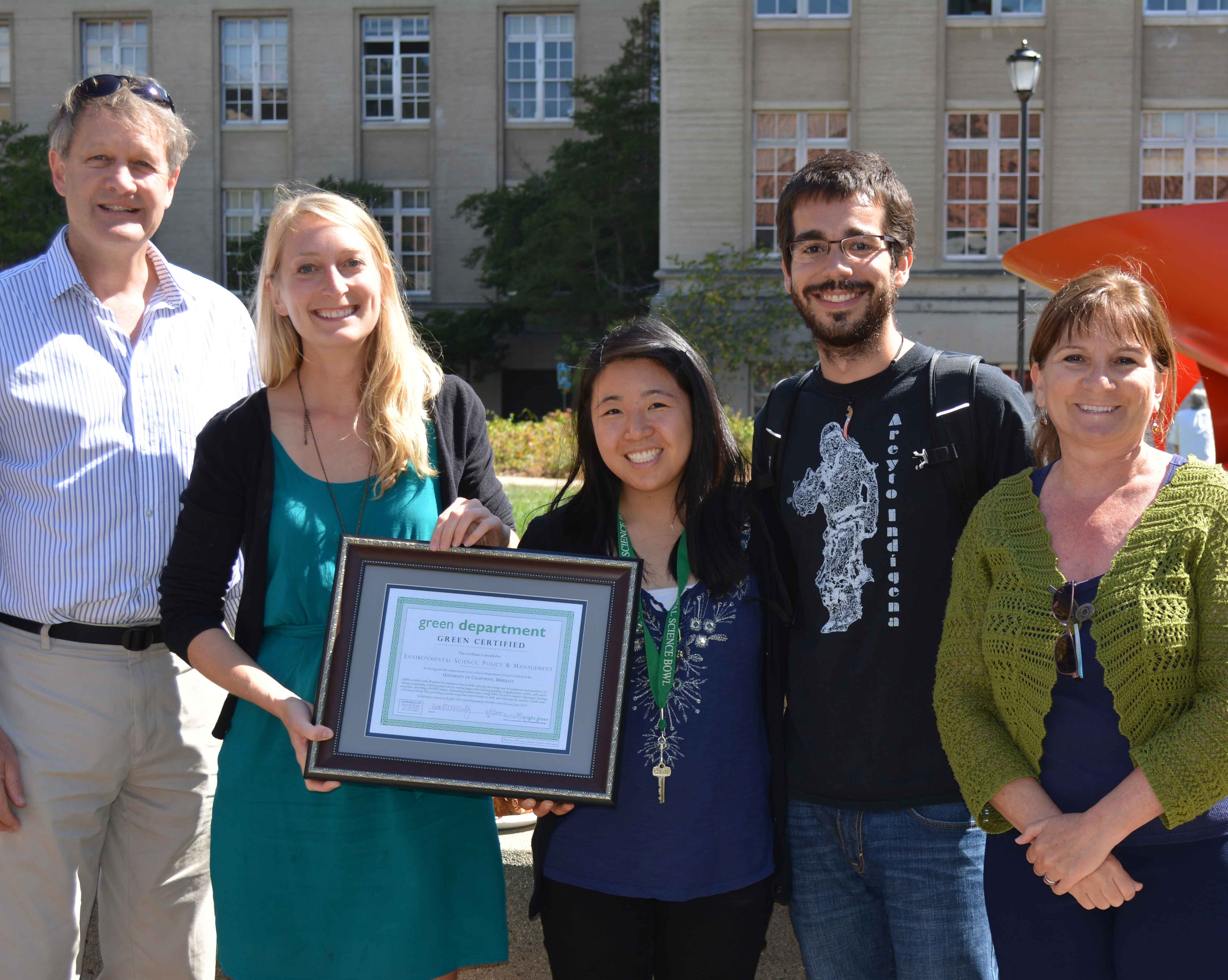 Kira Stoll (right) awarded ESPM's Green Department Certificate to members of the green team. Pictured left to right: George Roderick (ESPM Chair), Julie Van Scoy (ESPM Web & Communications Director), Alyssa Fong (ESPM Departmental Assistant), and Omar Gutiérrez del Arroyo (ESPM Graduate Student).
We are proud to announce that ESPM has achieved Green Certification through the Office of Sustainability and Energy's Green Department Certification Program! This program highlights the efforts of campus departments that have taken extensive and innovative steps towards becoming more sustainable through providing documentation on specific criteria that they meet.
A green team including staff, faculty, postdocs, graduate students, and undergrads was created to pursue the green department certification. The Office of Sustainability and Energy notes that ESPM excelled in the innovation section of the green certification process, which rewards departments for coming up with their own ways of becoming more sustainable. ESPM's innovative efforts included having a "swap day" to exchange unused materials such as office supplies and electronics, featuring "green tips" about sustainability in the department's weekly newsletter, and reducing the amount of printed course materials such as syllabi.
Thanks to green team members Omar Gutiérrez del Arroyo, Robin Bellows, John Battles, Greg T. Drozd, Natalie Stauffer-Olsen, Max Moore, Julie Van Scoy, and Alyssa Fong for their efforts leading to this recognition!
Read more about ESPM's certification and how to certify your lab or department on the Office of Sustainability and Energy website.