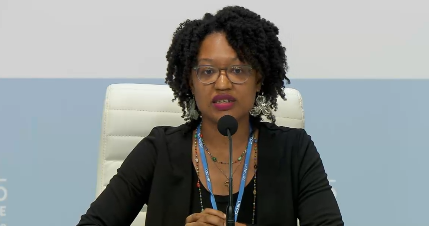 As climate activists and policy makers gathered for the United Nations Convention on Climate Change (COP25) in Madrid this past December, Environmental Science, Policy, and Management PhD candidate Frances Roberts-Gregory took part in the Convention's panel titled Towards a Feminist Green New Deal.
Centered on the principles of the Feminist Green New Deal, the panel discussion included Roberts-Gregory and other women leaders in climate justice and activism from the NAACP, the Women's Environment & Development Organization (WEDO), and the Women's Earth & Climate Action Network (WECAN). The Convention's stated principles for solving the climate crisis include more women in leadership roles, addressing the impacts of colonization across generations, redressing economic disparities, Indigenous and human rights, and divestment from the military-industrial complex and extractive industries, among others.
During the discussion, Roberts-Gregory described the ways in which her research focuses on climate and women of color in the United States, in relation to energy and petrochemical industries, resistance against environmental racism, and the development of energy and climate solutions. 
"Often these groups are viewed as vulnerable, but they are resilient and they are change makers," says Roberts-Gregory on the panel. "They are the future we are looking for when we talk about climate justice."
Watch the full panel discussion below.