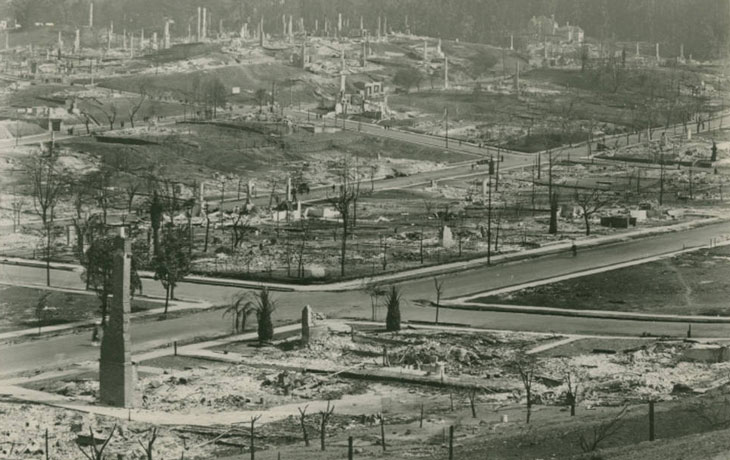 Destruction caused by the Berkeley fire of September 17, 1923. Courtesy of the Berkeley Public Library
One hundred years ago this September, a wildfire tore through the city of Berkeley leaving thousands homeless and causing millions of dollars in damage.
According to Berkeleyside, the fire began just after 12 p.m. on September 17, 1923, in an area of a trail alongside a power line on the east slope of the San Pablo Ridge. Fire crews were able to control the fire by nightfall, but not before the blaze destroyed nearly 600 residential buildings. 
In an interview with Berkeleyside, Environmental Science, Policy, and Management professor Scott Stephens—an expert in fire science and co-director of Berkeley Forests—said Berkeley remains vulnerable to wildfires despite advances in firefighting and fire detection. Many Berkeley properties still exist in what's known as the wildland urban interface, a zone where the intermingling of human structures (particularly the 50- to 100-year-old homes that predate fire resistance improvements found in modern building code) and vegetative fuels make it difficult to control wildfires.
 "A lot of our housing stock hasn't been really changed from its architecture long ago. So there's no doubt another big fire like that could happen in the Berkeley Hills," Stephens said.
Read the full series at the Berkeleyside website.