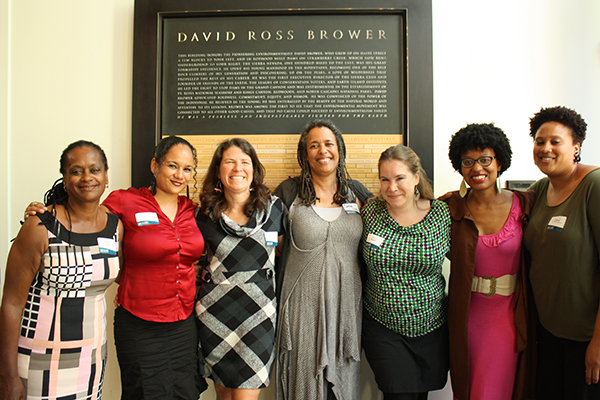 Photo Courtesy of Esther Kim.
The 2014 ESPM Graduate Student Association's (GSA) Faculty Mentor Award was recently given to Professor Carolyn Finney for her commitment to mentoring and helping graduate and undergraduate students succeed.
In announcing the award during the GradFest Symposium in early May, GSA president Guillermo Douglass-Jaimes gave the following statement:
I am honored to present this year's faculty mentor award to Carolyn Finney. The faculty who were nominated this year were truly spectacular, which made the decision of whom to award that much more challenging. How do you adequately compare such vastly different people with different approaches and different styles of mentoring, who operate in different spaces and mentor different people? Well, thankfully, Carolyn Finney examines difference in her scholarly work and community engaged practice. And perhaps it is this engagement with difference that has drawn many students to seek her out, to work with her, and ultimately to nominate her for this award.

Though the decision of whom to award was difficult, the decision to award Carolyn Finney was unanimous. Carolyn received the most letters of nomination for the award and had the broadest support across the department, reflecting Carolyn's commitment to mentorship both within her own lab, as well as to those in the department who sought her out.

Some students get to know Carolyn from her graduate seminar, "Race, Identity, and Environment;" others from the various panels she has participated in, as well as the guiding committees, oral exam committees and dissertation committees on which she has served. And many students expressed the idea that Carolyn is unique. They find that they can't do their work here without her; this sentiment was expressed by not only the students who were drawn into this department to work with Carolyn, but also for students who later learned about her work.

Carolyn is an inspiring figure, who not only talks the talk, but walks the walk, and shows us through example what it means to "take risks" in the pursuit of producing knowledge that challenges the status quo, a pursuit that the students who work with her and who have looked to her for advice no doubt will take heed. One student remarked, Carolyn Finney "…is the embodiment of what it is to act through one's scholarship. She trains her students to engage in community services through her example. Dr. Finney's integrity, exemplary demonstration of service and far reaching scholarship has made cross-disciplinary dialogue comprehensible and relevant to all whom engage her. Her consult and mentorship is solicited not [only] from students across UC Berkeley campus and departments, but from organizations and institutions of higher learning across the globe."

Another remarks, "not only does she help students tackle diverse problems along our doctoral paths, Dr. Finney inspires a creativity and vibrancy in our research that is absolutely crucial to the future of our department, and the possibilities of academia at large." Additionally, she brings together students from across this university who have since formed collaborations for further work.

Carolyn has also been instrumental in securing funding for her students, where, "[n]early all of her students have received prestigious awards such as the National Science Foundation Graduate Fellowship Program award and the Ford fellowship. Several more of her students have gone on to launch their own community based service non-profit organizations." And finally, "[b]ecause she makes graduate students a priority, her presence improves the quality of both their experience and the work they produce."

Talking about Carolyn Finney, one cannot help but speak about difference. Difference, the subject of study which most of the students who have worked with her seek to examine. Difference, which Carolyn examines through relationships that connect multiple forms of identity and the environment. Difference, as our own chair Ron Amundson so often calls us to do in his weekly departmental messages to "Think Different." Carolyn doesn't just "Think" different, she LIVES and EMBODIES difference, and she shows her students and everyone around her how to BE different and how to ENGAGE difference and how to MAKE a Difference. It is my honor to present this year's Faculty Mentor Award to Professor Carolyn Finney.