By Kate Wilkin, ESPM Graduate Student
As part of the Graduate Training in Cooperative Extension Program, a pilot project in UC Berkeley's College of Natural Resources, I am "making (my) science matter" to the public while building skills for the workforce (1). During this training, my mentors include people from all levels of Extension, including university faculty, Cooperative Extension Specialists (at UC Berkeley), and Cooperative Extension Advisors (in the region and county).  In addition to collaborating with these mentors on applied research and outreach, I am working closely with the California Fire Science Consortium and the Northern California Prescribed Fire Council to promote science-based land management.
Applied Research

As part of their research on fire and land management, graduate student Kate Wilkin and her team survey the forest — measuring the diameter of trees and counting sticks, pinecones, and plants on the forest floor.
The Smokey the Bear mascot represents fire suppression, the longest running U.S. public service campaign. In California, fire suppression reduced the annual acres burnt from 2.3 million in the early 1800s to less than 300,000 per year today (2). Fire suppression now causes catastrophic human and environmental consequences. An example of this is the 2013 Rim Fire. Ravaging 257,000 acres in just a few weeks, the Rim Fire seemed unstoppable. However, the fire's northeast flank fizzled out when it reached Yosemite's Frog Creek Wildland Fire Use Area, a place where frequent fires have been promoted since the 1970s (3). Here, lightning strikes are allowed to blaze, smolder, and creep their way through the woods until they are extinguished naturally by winter precipitation; these lightning-ignited fires consume dry wood and small trees, thus starving future fires of fuel. These managed areas most closely resemble historical fire patterns in California forests.
My research is focused on these natural fires (which often burn from early summer until the winter snow pack is formed), and how they shape the forest and enhance biodiversity and other natural benefits. I am working in Frog Creek and in other areas throughout the central Sierra Nevada. As a Graduate Student Cooperative Extension researcher, my goal is to use my research to educate landowners and land managers about maintaining natural fire regimes on private and public lands to help minimize fire danger and promote healthy forests.  
Cooperative Extension
Backpacking with NPR through Yosemite
For one of my outreach projects this past summer, I guided environmental reporter and NPR affiliate Amy Quinton through Yosemite National Park's Illilouette Creek Basin to discover what fire could be like in California, if fire suppression were replaced with better fire management.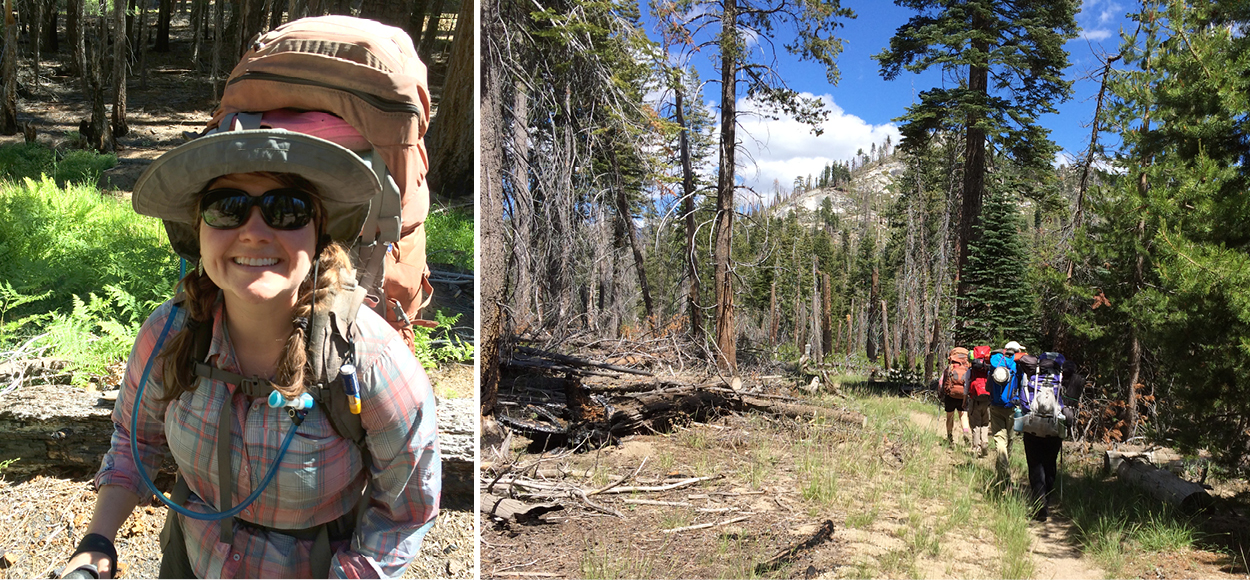 Left: Kate Wilkin loaded down with gear and ready to hike the trail. Right: Kate Wilkin leads the NPR reporting crew into Illilouette Creek Basin to observe patterns of fire on the landscape firsthand. Photos by Josiah Johnston
Kate Wilkin explains the richness of fire—explaining how fire includes torching trees and creeping fires from early summer until the winter snow pack is formed— in the Illilouette Creek Basin to Amy Quinton from NPR's Capital Public Radio while Curtis Haynes films the interview. Photo by Stacey Sargent Frederick
Over three days we traveled more than 16 miles to investigate the Illilouette Creek Basin, where the park has a nearly 50-year experiment that has allowed more than 150 lightning-strike fires to burn. Here, fires fit together like a jig-saw puzzle. Together Amy and I saw how frequent fire shapes the landscape, creating a pattern of park-like forests, shrub fields, and fields of blackened snags with brilliant purple understories (see photo series below). These burned patches are relatively small and contribute to biodiversity while moderating fire behavior. The Illilouette's quilt-like plant patterns are in stark contrast to the aftermath of the Rim Fire, which left more than 30,000 contiguous acres of blackened trees, devoid of baby trees to form future forests. (3)
"Pieces of the Quilt" in the Illilouette Creek Basin
Whereas the Rim Fire aftermath is a moonscape with charred tree remains in patches more than 30,000 acres in size, the Illilouette Creek Basin's Wildland Fire Use Program has catalyzed a quilt-like pattern of forest structure rich in plant and animal diversity. Within its 15,000 acres, the Illilouette Creek Basin has: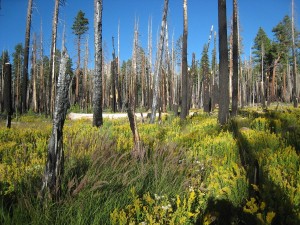 (1) Spectacular displays of California goldenrod in what use to be a Lodgepole Pine forest (Pinus contorta) [photo: Scott Stephens]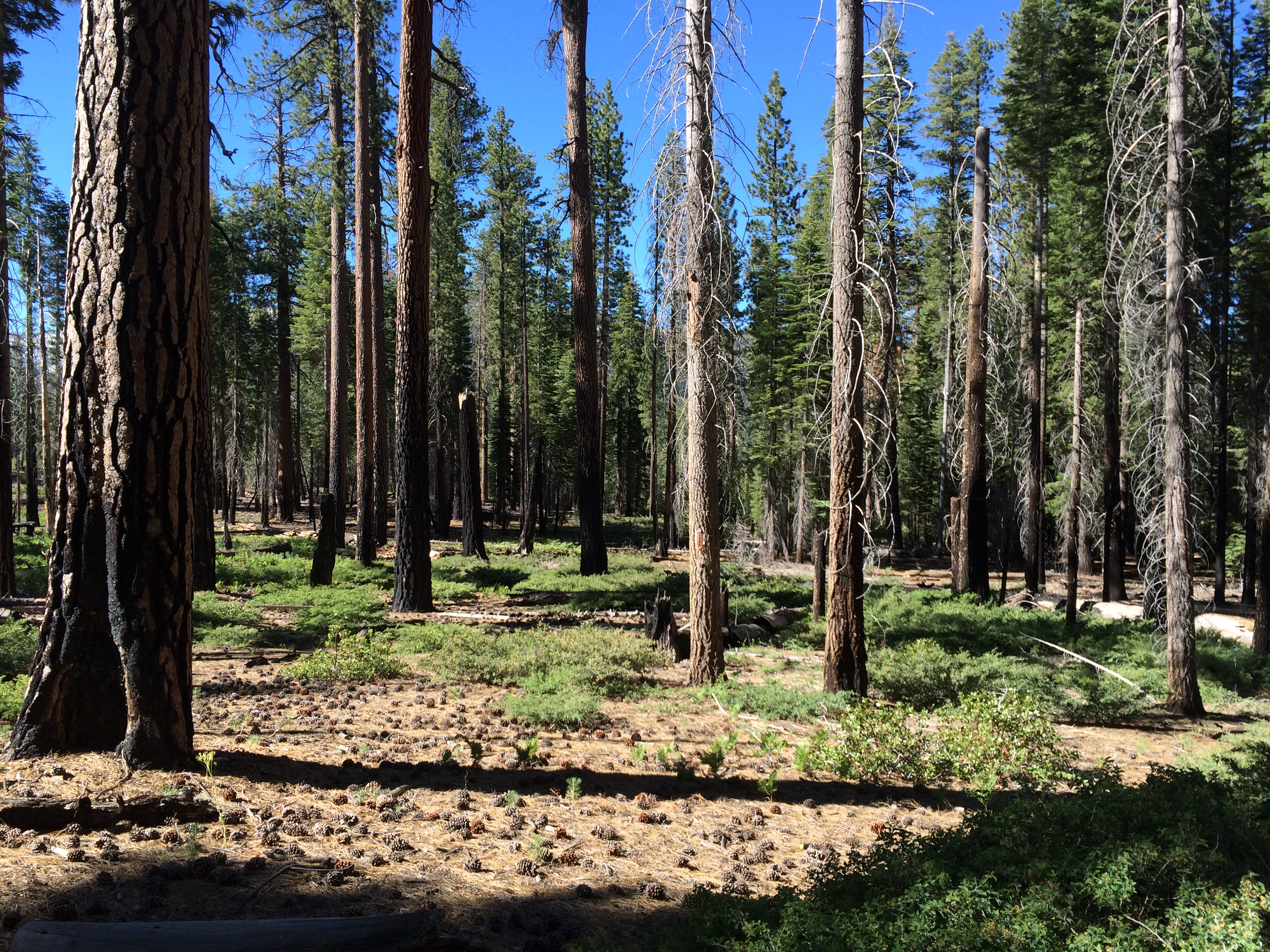 (2) Park-like-forests with sparse shrubs [photo: Josiah Johnston]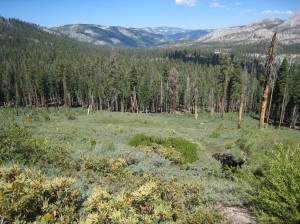 (3) Open shrubfields where birds love to hunt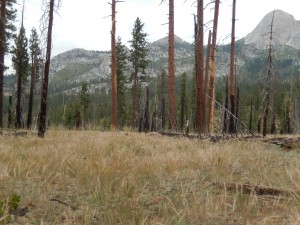 4) Park-like-forests with native grasses where bears graze in the spring [photo: Kate Wilkin]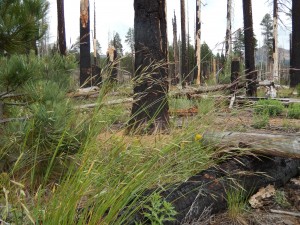 (5) Habitat for California's native grasses like California brome (Bromus carinatus) [photo: Kate Wilkin]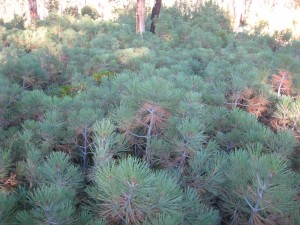 (6) Areas thick with baby trees [photo: Kate Wilkin]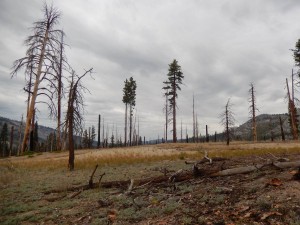 (7) Sand barrens with rare plants [photo: Lauren Ponisio]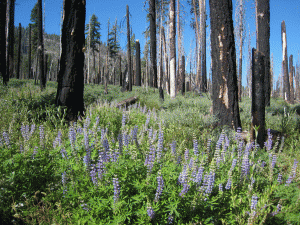 (8) Striking fields of purple lupines (Lupinus polyphyllus) set off by blackened pines [photo: Kate Wilkin]
Listen to the episode about my trip with Amy on California Burning, a multimedia examination of how Californians are coping with the increased threat, technologies being developed to fight and predict fire, and how we can make forests less prone to megafires in the future.
Once fire is restored as an ecosystem process, fires often fit together like a jig saw puzzle or overlap slightly (
4
). Where fires overlap, they sometimes moderate how many trees are killed by the fire. However, if a fire kills most trees, then following fires continue to kill many trees (
5
). These findings are from the Wildland Fire Use program, such as in Yosemite National Park's upper mixed conifer forests in the Illilouette Creek Basin—a nearly 50 year experiment allowing 150+ lightning strike fires to burn in Yosemite's wilderness. Here, the fire frequency and effects are approaching historical forest conditions. These results, which reduce fire hazards for people and nature, could be seen in similar forests elsewhere in California if fire became a principle tool of forest management (
7
).
---
Outreach: Live fire demonstrations for NPR's web-site and student programs
Hearing about fire and seeing its effects is one thing. Setting a fire and watching it burn in front of you is entirely different. Live fire demos captivate audiences and communicate the principles of fire science more effectively. The following demonstrations allow you to understand how fire behaves differently in areas with more than 100 years of fire suppression and without any fire suppression.
After seeing how historical forests burn when compared to today's fire patterns, it is easier to understand how fires have become more severe, endangering both nature and people. Wildland Fire Use Areas, like Frog Creek and the Illilouette Creek Basin, demonstrate how we can influence the outcomes of fires in California's forests. It is possible to manage our lands and wildland urban interface to be resistant and resilient to fire, but we must change our policies and our individual choices to do so.
Imagine what your living room would like if you didn't vacuum its carpet for a year. The dust, random pieces of wrapper, and other litter would accumulate. The same thing has happened to California's forests with fire suppression.
Without fire, old trees continue to live while new trees sprout and grow to adulthood. Together, the old and young trees create a dense forest with nearly continuous branches and leaves from the forest floor to the top of the canopy. This structure creates a ladder for the fire to climb into the canopy; these densely growing branches and leaves are called ladder fuels. When fires occur, the combination of dense trees and ladder fuels catalyzes fires to spread quickly across the landscape and into the tree tops. This often results in fires killing many trees across vast areas of forest. In contrast, historical forests had less continuous fuel on the forest floor and fewer ladder fuels extending into the canopy. Therefore, historical fires burned less severely and the fires infrequently reached the canopy to kill trees.
People often enjoy wonderful views living near hilltops, but these views come with greater risk of quickly moving fires, which are nearly unstoppable. In this demonstration, note how fast and far the fire moves when you change the slope from flat, slightly sloped (15'), to steeply sloped (45'). Studies demonstrate that where houses are placed in a landscape can influence which homes are lost during fires, with homes at the top of a hill or on the edge of a neighborhood being especially vulnerable. Homeowners living in these dangerous settings can mitigate risk somewhat with fire resistant building materials and landscaping. To learn more about preparing your home and landscape for fire see FireWise.org
Demonstration: A fire scientist's best party trick: five foot tall firenado!
Watch the video to hear an explanation of the physics behind the fire tornado; these "fire-nados" range from 100-300 feet tall when occurring in nature.  
---
Special thanks to my mentors for their support, including Scott Stephens (Primary academic advisor and team member), Maggi Kelly (Dissertation committee member, CE specialist, and team member), Lenya Quinn-Davidson (CE assistant advisor and team member), Yana Valachovic (CE advisor and team member), and Max Moritz (Associate CE specialist). 
Special thanks to my fellow student collaborators in the Illilouette Creek Basin, including Lauren Ponisio with pollinators and Gabrielle Boisrame with hydrology; Stephens Lab researchers Brandon Collins, Todashi Moody, Stacey Sargent Frederick, Anu Kramer, and Danny Fry for their continued support; undergraduate research technicians including Shane Fairchild, Megan Seymour, andAmy Foo for their hard work and enthusiasm; and others who helped me develop these ideas including Jan Van Wagtendonk, Gus Smith, Malcolm North, Kent Van Wagtendonk, and Jay Miller.
---
References
1. N. Baron, Escape from the ivory tower: a guide to making your science matter. (Island Press, 2010). 2. S. L. Stephens, R. E. Martin, N. E. Clinton, Prehistoric fire area and emissions from California's forests, woodlands, shrublands, and grasslands. Forest Ecol Manag 251, 205 (2007). 3. J. W. van Wagtendonk, The history and evolution of wildland fire use. Fire Ecology Special Issue 3, 3 (2007, 2007). 4. B. M. Collins et al., Interactions Among Wildland Fires in a Long-Established Sierra Nevada Natural Fire Area. Ecosystems 12, 114 (2009). 5. J. van Wagtendonk, K. van Wagtendonk, A. Thode, Factors associated with the severity of intersecting fires in Yosemite National Park, California, USA. Fire Ecology 8, 11 (2012). 6. M. North, B. M. Collins, S. Stephens, Using fire to increase the scale, benefits, and future maintenance of fuels treatments. J Forest 110, 392 (2012). 7. Yosemite National Park, Y. N. Park, Ed. (Yosemite National Park, 2012).