Our Environment e-Newsletter, Spring 2013, Volume 2, Issue 1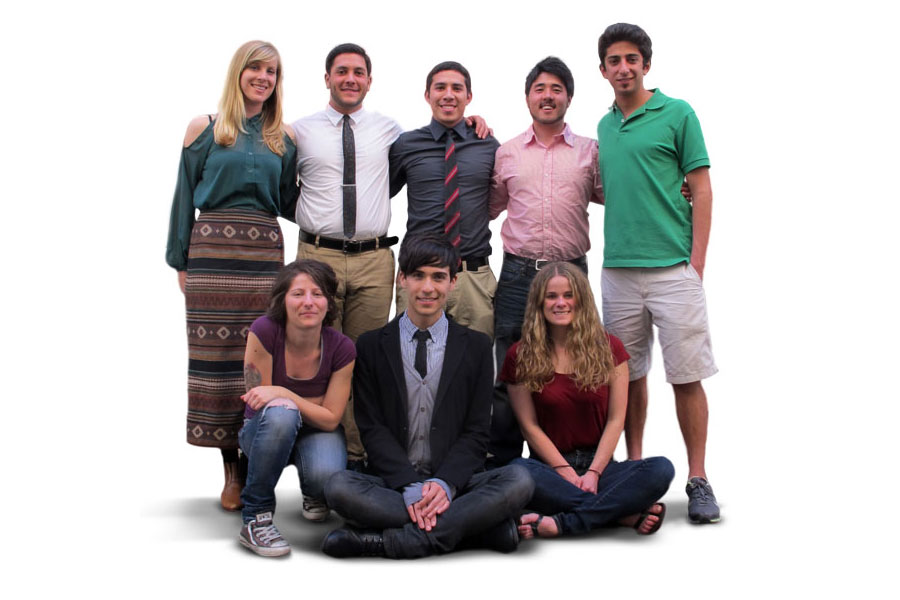 Student staff members of SERC: Standing (left to right): Justine Rembac, Noah Puni, Mauricio Castillo, Zen Trenholm, Omead Kohanteb; Seated (left to right): Roberta Giordano, Nolan Pack, Katie Hoffman
The Student Environmental Resource Center (SERC) was in a bind. The newly formed group was being forced to move out of their temporary space near the Cal Student Bookstore in order to accommodate the Lower Sproul Hall construction project. With the cranes looming in the background, they prepared a professional case statement, put on their sport coats and ties, and walked over to ESPM to make their pitch. They are now housed on the third floor of Mulford Hall, adjacent to space that will soon be occupied by the faculty equivalent: the Berkeley Institute for the Environment.
We asked founding members Nolan Pack, Mauricio Castillo and Noah Puni to share the story of how three friends from southern California conspired to bring a long overdue student presence to Our Environment.
Tell us about SERC. What compelled you to form this group?
N. Puni: 
SERC developed out of a need that we recognized on campus. Mauricio, Nolan and I came to UC Berkeley as transfer students eager to get involved in the campus environmental community. Unfortunately, we did not know how to go about doing this. There were no organizations or centers on campus that helped students get acquainted with various aspects of environmental issues, advocacy, projects, events, etc. We decided to create the Student Environmental Resource Center (SERC) to help underclassmen and transfer students familiarize themselves with environmental issues, groups, and opportunities on and off campus. 
M. Castillo: 
The three of us were involved with environmental efforts at our community college. When we arrived at Cal we found it difficult to find our 'niche' (no ecological pun intended). Despite there being over 30 environmental groups on campus, there was no central location to obtain information about these environmental groups or projects. Observing and interacting with so many driven students, we strongly felt a student-oriented environmental resource center was necessary to amplify outreach and foster collaboration. We received a $12,000 grant from the Green Initiative Fund, hired five core staff members, and have transitioned to a new long term space with the help of ESPM.
What kind of projects does SERC have planned?
N. Pack: 
(1) Environmental Advocacy Agenda - SERC has partnered with Environmental Clubs and Organizations (ECO) to unite the campus environmental community around a set of common goals. This semester, SERC and ECO will host a series of open town halls to discuss the priorities of environmental student groups on campus. (2) Leadership Development - SERC has worked with student groups like the ASUC Sustainability Team (STeam) and off-campus organizations like Green Corps to bring environment-focused leadership training to UC Berkeley. We plan to host a yearly leadership retreat to strengthen and empower environmental student groups at Cal. (3) DVD Library - SERC is working with the ASUC Sustainability Team (STeam) to provide space to house a library of environment-themed documentaries. (4) ESOC DeCal - SERC teaches a semesterly DeCal designed for students who are interested in learning about the array of environmental organizations at Cal. "Environmental Student Organizations at Cal" (ESOC) serves students by bringing in guest speakers from a variety of student organizations and campus units in order to showcase the many leadership opportunities available. 
N. Puni: 
A current project has come about due to a partnership with a company called Chinook Book. This company is in the process of developing a mobile application that helps people support local sustainable businesses and save money in doing so. SERC is aiding Chinook Book in creating a database of environmental organizations and businesses on the UC Berkeley campus and community at large. The idea is that people will use this mobile application to acquire coupons and spend them at the environmentally-conscious businesses presented in the Chinook Book database. This project will help SERC to identify and manage the environmental community on and off campus while aiding Chinook Book in their endeavors. SERC is excited to be a part of this project. 
M. Castillo:
In collaboration with the California Student Sustainability Coalition (CSSC), ASUC Sustainability Team, and the Berkeley Student Food Collective, SERC is proud to be hosting the CSSC Spring convergence here at UC Berkeley April 26- 28th.
Twice a year, the CSSC holds a convergence where students across the state gather at a host campus to take part in a weekend of activities geared toward cultivating leadership skills and furthering sustainability on their campuses and across their communities. For more info, please check out the CSSC website at www.sustainabilitycoalition.org
What influences has ESPM had on SERC and its direction?
N. Puni:
I have always had an interest in food. My juvenile food eating binges resulted in a plump stature that has faded with an expanding knowledge of food science, economics, social implications and environmental impacts. While attending Berkeley, I've had the pleasure of taking ESPM 117 and ESPM 118. These two courses, taught by the vanguard of agroecology and sustainable farming, Miguel A. Altieri, have had a profound impact on me. I learned how to propagate a garden, feed myself and got exposed to the economic, environmental and social repercussion of our global food system. I am also doing research in the Altieri Lab where we focus on the management of non-crop vegetation to enhance the natural regulation of key insect pests in vineyards. We strive to conduct comprehensive research spanning landscape-level dynamics to specific within-field insect interactions. Having the opportunity to apply my course work in the lab has introduced me to food in ways I never previously fathomed.
M. Castillo:
Despite already completing my graduation requirements, almost my entire upper division course work has consisted solely of ESPM classes. I have enjoyed every class I've taken and they have all contributed to my understanding of the pivotal environmental and social problems the world faces today. I also work in the Altieri Lab researching biological control in California vineyards. My favorite ESPM classes have been: Fire Insects and Disease of Forest Ecosystems, Restoration Ecology, Tree Taxonomy Growth and Structure, and Agroecology; my lab and course work have exposed me to the tools and strategies necessary to mitigate environmental degradation on a large scale. Ignacio Chapella, Miguel Altieri, Katherine Suding, Richard Dodd and John Battles are all vanguards in their fields. Having the opportunity to learn and interact with them has really shaped my perspectives. Personally, what I've learned from these classes and professors about the importance of world's ecosystems has been a primary driver for establishing the Student Environmental Resource Center and ensuring its durability.
Tell us something about SERC that most people would be surprised to learn.
N. Pack:
SERC is a very young project. It's only about five months old, and we're excited to continue nurturing this new space as we build connections with environmental student groups and learn how we can best serve the community in the years to come. The Multicultural Community Center started out more than ten years ago as a small room in Cesar Chavez, and is now a fantastic space on the first floor of MLK (temporarily in Hearst Annex during construction). SERC is just starting out, but we expect to continue growing alongside the environmental community at Cal.
M. Castillo:
SERC has just received news that it is being considered for a grant from the Chancellors Advisory Committee on Student Fees (CACSF), which will provide $115,000 of recurring funding every year. We are very thankful, excited, and proud about this source of funding as it will ensure the durability and development of our organization. As SERC continues to blossom we are in a continuous search for passionate, driven, environmental leaders and innovative ideas. If anyone is interested in getting involved please email me (Connie Nielsen).
A note from Chair Ron Amundson
In December, I began to be "pestered" by a couple of the most mature and imaginative undergraduates I have encountered at Cal. Today, you have read their story. I should note that it is us here in ESPM who benefit most from our affiliation with SERC. We are inspired by their vitality and enthusiasm. By the way, all three SERC founders are ESPM majors, and demonstrate the quality of our students - and their passion. Stand back and watch them change the world.    
Interview by Trish Roque and Ron Amundson; Photo by Trish Roque.  Note: responses were edited for brevity.