By Sarah Yang, UC Berkeley Media Relations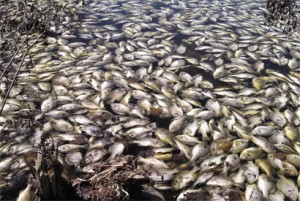 Shown are large numbers of dead sunfish and largemouth bass in April 2014 following a severe winter on Wintergreen Lake, Kalamazoo County, Michigan. Fish are a taxon where mass mortality events have been increasing in frequency and magnitude through time. (Photo by Gary Mittelbach)
BERKELEY — An analysis of 727 mass die-offs of nearly 2,500 animal species from the past 70 years has found that such events are increasing among birds, fish and marine invertebrates. At the same time, the number of individuals killed appears to be decreasing for reptiles and amphibians, and unchanged for mammals.
Such mass mortality events occur when a large percentage of a population dies in a short time frame. While the die-offs are rare and fall short of extinction, they can pack a devastating punch, potentially killing more than 90 percent of a population in one shot. However, until this study, there had been no quantitative analysis of the patterns of mass mortality events among animals, the study authors noted.
"This is the first attempt to quantify patterns in the frequency, magnitude and cause of such mass kill events," said study senior author Stephanie Carlson, an associate professor at the University of California, Berkeley's Department of Environmental Science, Policy and Management.
The study, published Monday, Jan. 12 in the Proceedings of the National Academy of Sciences, was led by researchers at UC Berkeley, the University of San Diego and Yale University. Co-authors from ESPM are Sébastien Nusslé, Kristina Cervantes-Yoshida, Jason L. Hwan, and Eric R. Huber.
Read more at the UC Berkeley NewsCenter
Read the study in the Proceedings of the National Academy of Sciences