Kristina
Cervantes-Yoshida
Education
University of California Berkeley. Department of Environmental Science, Policy and Management, PhD Candidate (advanced to candidacy May 2010)
Smith College, Northampton, MA. B.A. in Biological Sciences and Marine Sciences, 2002
Research Interests / Specializations:
Freshwater ecology, stream fish communities, watershed land use, urban streams, drought disturbances
Research Description:
I am broadly interested in exploring how multi-scale anthropogenic and natural environmental factors influence freshwater fish communities. One element of my graduate research explores the influence of watershed-scale factors, such as land cover and hydraulic infrastructure, on freshwater fish communities around the San Francisco Bay region. A second component of my research involves re-sampling fishes from sites in the Alameda Creek Watershed that were sampled in the mid-1990s. These data will allow me to examine the influence of rapid development of this watershed on the fish assemblage.
This region of California is characterized by a Mediterranean climate, with distinct wet and dry seasons. During the summer drought period, many small streams contract to a series of isolated pools, limiting the movement of stream organisms. These isolated pools can undergo major shifts in community structure as a result of changes in abiotic factors (e.g., hydrology, water quality) as well as biotic interactions (e.g., predation). At one study site, I quantified changes in water level, water quality (temperature, dissolved oxygen), and fish communities in replicate pools across the summer drought season to explore the causes of fish community shifts during summer drought. As part of a related project at a second intermittent stream study site, I am using stable isotopes analyses of algae, stream invertebrates, and fish tissues to explore the influence of drought on intermittent stream food webs.
An overarching goal of my research is to inform regional management and conservation efforts through an improved understanding of the natural and anthropogenic factors affecting native fishes in this region.
Selected Publications
Leidy RA, Cervantes-Yoshida K, Carlson SM. 2011. Persistence of native fishes in small streams of the urbanized San Francisco Estuary, California: acknowledging the role of urban streams in native fish conservation, Aquatic Conservation: Marine & Freshwater Ecosystems, 21: 472-483.

Cervantes-Yoshida, K. 2009. Barriers for steelhead (Oncorhynchus mykiss) smolt migration through the lower flood channel of Alameda Creek. UC Berkeley: Water Resources Center Archives. http://escholarship.org/uc/item/66z191pd
Honors and Awards
Golden West Women Flyfishers Fisheries Scholarship (awarded 2011)

National Science Foundation Graduate Research Fellowship (awarded 2010)

Ford Foundation Predoctoral Fellowship, honorable mention (2010)

University of California Berkeley Chancellor's Fellowship (awarded 2008)

UC Berkeley & National Science Foundation AGEP Fellowship (awarded 2008)

 
Recent Teaching:
Fish Ecology, Department of Environmental Science, Policy and Management, Fall 2010
Biology 1B, Department of Integrative Biology, Spring 2009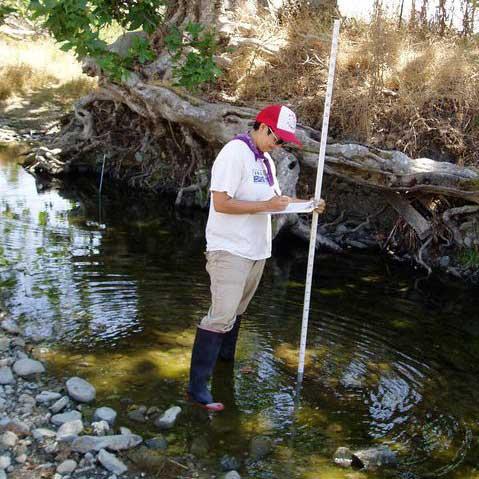 Contact details
Kristina Cervantes-Yoshida