By Michael Barnes, School of Chemistry
The Berkeley Center for Green Chemistry was awarded $3.4 million to train Ph.D. students in the principles of green chemistry and the design of clean-energy technologies, UC Berkeley's College of Chemistry announced today (August 29). The grant supports the Systems Approach to Green Energy (SAGE), a program whose goal is to develop a generation of scientists, engineers, toxicologists, policy-makers and business leaders who are well versed in the principles of green chemistry and clean energy. By using a systems approach, the program will foster technology innovations in solar energy, biofuel, and energy storage systems.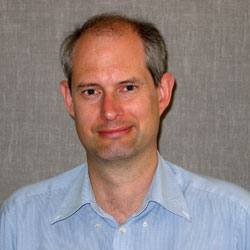 Chris Vulpe, associate professor in the Department of Nutritional Science and Toxicology, is the principal investigator for the grant. "We will bring together disciplines that don't speak the same language, and not only get them to talk, but also work together toward creative solutions to our pressing need for sustainable energy solutions," Vulpe said. Co-PIs are John Arnold, a professor in the Department of Chemistry;  Alastair Iles (pictured right), an assistant professor of Environmental Science, Policy and Management; and Thomas McKone, an adjunct professor in the School of Public Health and a senior staff scientist in Lawrence Berkeley National Laboratory's Environmental Energy Technologies Division.
The SAGE grant team is seeking grad students interested in incorporating green energy research into their graduate studies. They will be recruited from UC Berkeley's School of Public Health, the College of Chemistry, the College of Natural Resources, and the Haas School of Business. SAGE students take interdisciplinary courses related to green chemistry and be advised by interdisciplinary dissertation committees.
"We anticipate that SAGE graduate students will be fully funded for two years, starting in the spring of their first year and continuing through the fall of their third year," said Berkeley Center for Green Chemistry Executive Director Marty Mulvihill. "After that, SAGE students will be funded through traditional research and teaching assistant positions. SAGE students will also have access to funding from the National Science Foundation's Competitive Innovation Fund."
"I really encourage interested grad students to apply to the SAGE program," said Mulvihill. "Our project-based curriculum will engage students in hands-on learning that they can apply to their own dissertation research.
The grant, a coveted Integrative Graduate Education and Research Traineeship, the National Science Foundation's "flagship" interdisciplinary training program, supports five to six Ph.D. students annually for five years. In addition to taking green chemistry–related courses in a variety of disciplines and being advised by interdisciplinary dissertation committees, SAGE students will be able to participate in K-12 outreach programs to Bay Area schools and study at universities in England and Sweden that are developing similar green chemistry and sustainable energy programs.
Grad students encouraged to apply for funding.
For more information, visit the BCGC website.