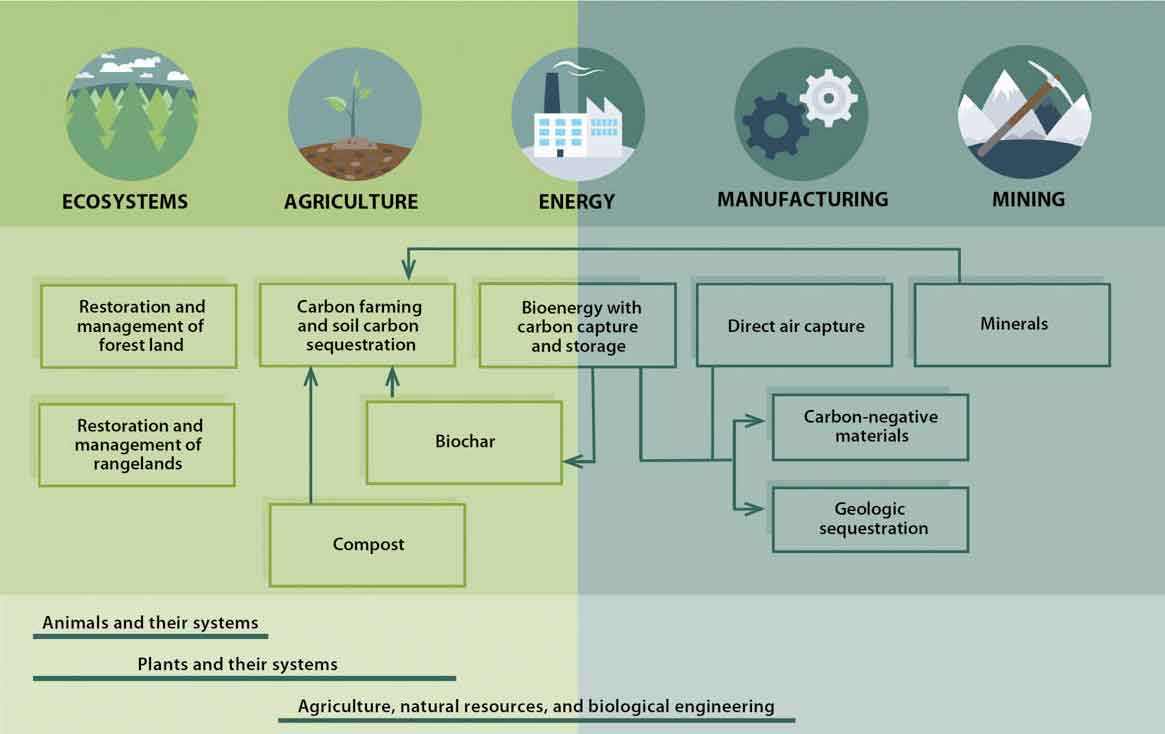 A graphic of the two general approaches to carbon dioxide removal—biological and engineered. Graphic courtesy of California Agriculture.
In the May edition of California Agriculture, Daniel Sanchez and Whendee Silver discuss challenges and new carbon dioxide removal technologies:
Carbon dioxide removal (CDR) technologies, also known as negative emissions technologies, appear critical to achieving California's ambitious climate change mitigation goals. Reducing the state's carbon dioxide (CO2) emissions cannot be achieved by reducing greenhouse gas (GHG) emissions alone. Instead, both emissions reductions and pathways to extracting CO2  emissions from our atmosphere are needed to help achieve California's climate goals. Yet Carbon dioxide removal technologies lack both technical and commercial maturity—and are not yet deployed at the industrial scales that could help make large-scale impacts across California possible. In response, numerous state government and nongovernmental organizations in California have taken early steps to support research, development and demonstration of carbon removal.
There are two general approaches to carbon dioxide removal—biological and engineered. Biological approaches enhance or manipulate natural sinks for CO2 to store more carbon, typically on land. Engineered approaches apply chemical and physical processes to capture and reliably convert or store CO2. Biological and engineered approaches to CO2 removal can be deployed alongside other climate change responses to reduce emissions, avoid climate impacts, and promote economic development within California. In this way, carbon dioxide removal offers an array of useful co-benefits for the economy, people and the planet.
Sanchez and Silver, along with UC Davis  colleague Benjamin Z. Houlton, also outline the goals and structure of the newly-formed Working Lands Innovation Center, a collaboration across several University of California and California State University campuses, which will continue to study and publish research about carbon dioxide removal technologies.
Read the full California Agriculture  article on UC Agriculture and Natural Resources' website.