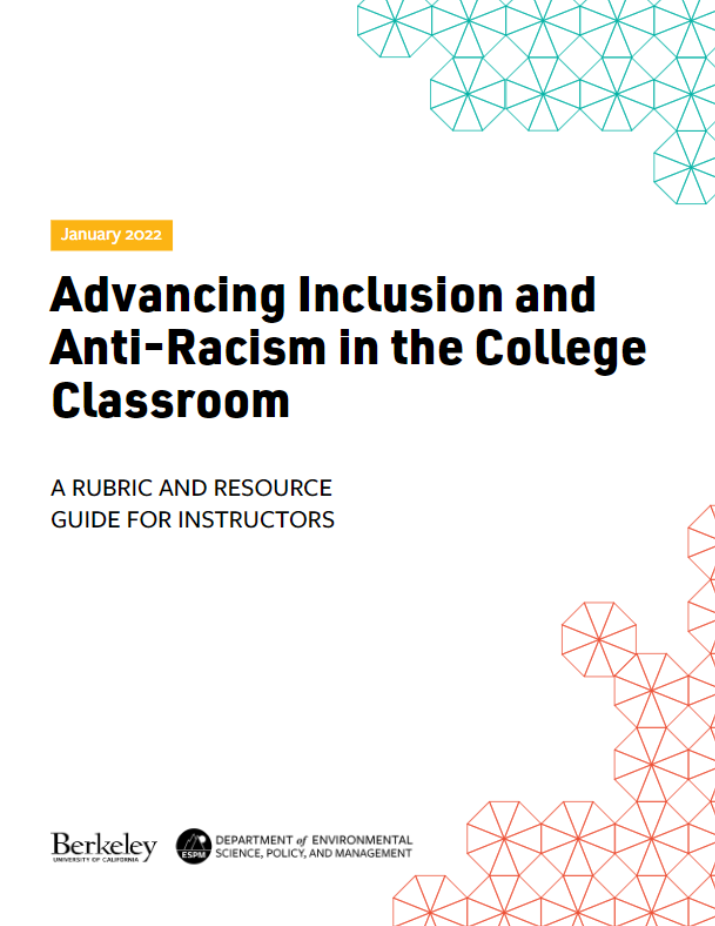 A new tool created by Environmental Science, Policy, and Management faculty and graduate students aims to support instructors in developing anti-racist approaches to course design and teaching practices.
The authors say: "Practices in our classrooms change the course of students' academic trajectories, self-confidence, and ultimately, their perceptions of how they are respected or included in our broader society. Our teaching practices, especially in large introductory classes that can act as gatekeepers, have a multiplicative impact on our students' lives—for good, or for bad." They note that while several tools for designing effective learning experiences already exist, there are fewer tools available for anti-racist pedagogy.
Guiding college-level instructors through a range of ideas and options to help them through a process of modifying their courses, the tool begins with sections focused on writing syllabi, exploring student and instructor positionality, designing assessments, establishing an inclusive learning environment for all students, communicating and reinforcing norms and expectations, and using student feedback. Later sections offer resources for instructors to make their curricular materials anti-racist, include Indigenous perspectives, and oriented toward social justice and anti-colonialism.
"Shifting instructor practices can have large and long-term effects on student outcomes," said assistant professor Benjamin Wong Blonder, who has led the initiative. "This tool is our first step towards making it easy for our instructors to contribute to student success." It is currently geared toward the types of classes offered by the ESPM department, but almost all of the tool could be used in other disciplines or institutions, Blonder said.
In June of 2020 the ESPM student Graduate Diversity Council called for ESPM leadership to take anti-racist actions to address ways in which systemic anti-Black racism has permeated academia. In response, ESPM faculty and students collaborated with the UC Berkeley Center for Teaching and Learning to develop the resource as a way to  foster inclusivity for Black students and other students of color in ESPM.
"Many instructors are actively seeking ways to incorporate anti-racist pedagogical practices into their teaching. We hope that this resource guide will help people across Berkeley's campus and beyond find supportive ways to do just that," said Kathryn De Master, the ESPM faculty equity advisor.  "We hope this guide will serve as both a starting point for many, as well as a tool for all instructors to use, no matter their level of experience or familiarity with anti-racism principles and approaches."  
"As a graduate student, I am heartened by the thoughtful approach our faculty took to building a tool to address racism and other forms of marginalization in our classrooms," said Rosalie Zdzienicka Fanshel, a doctoral student in the Society & Environment division who got involved in the tool's development in May 2021. Fanshel has applied the tool to two courses in the undergraduate Food Systems Minor. "I hope the entire ESPM faculty, and those of other departments at Berkeley and beyond, take advantage of this robust resource," they said.
"This tool is important to students because it shows that faculty are working towards improving student experiences, and it provides ideas and resources for creating a learning space that promotes belonging, inclusivity, diversity, and equity," said doctoral student Whitney Mgbara, who is currently serving as the ESPM DEI student coordinator. "I'm thankful to the faculty who have put time into this effort. I'm optimistic that it will create a more engaging classroom environment that is open to different perspectives." 
Contributors include ESPM faculty Benjamin Blonder, Timothy Bowles, Kathryn De Master, Manuela Girotto, Trevor Keenan, Michael Mascarenhas, and Matthew Potts; graduate students Rosalie Zdzienicka Fanshel, Alexandra Kahn, and Whitney Mgbara; and Sarah Pickett and Marisella Rodriguez of the Center for Teaching and Learning.