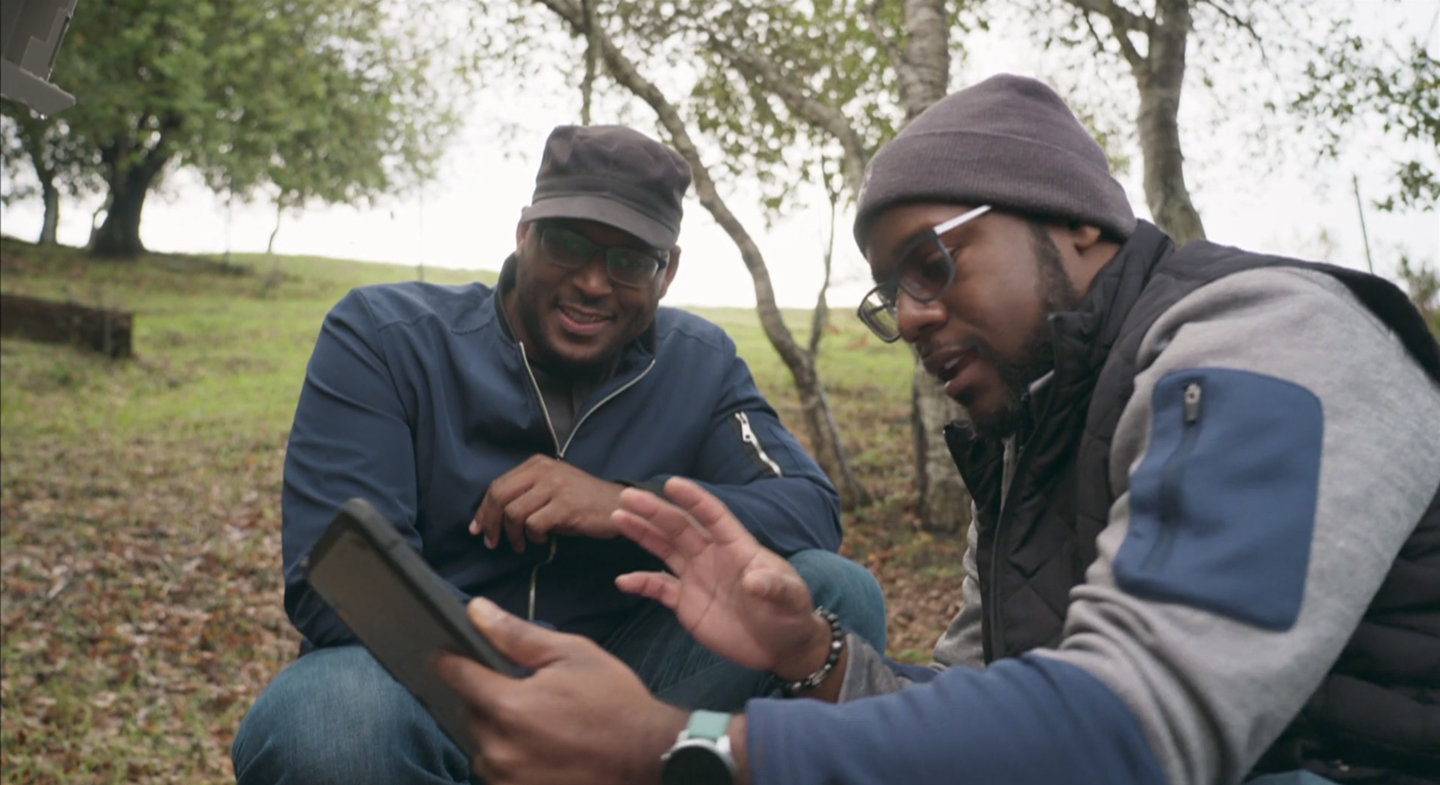 Schell (right) reviews images captured by a wildlife camera with biologist Shane Campbell-Stanton, host of the PBS series Human Footprint. Image courtesy of PBS and Days Edge Productions.
The modern city is a new ecosystem built by people, for people. More than half the world's population currently lives in cities, and every year, more and more people move into them. But these new urban ecosystems create challenges for humans and wildlife alike.
Last week, Environmental Science, Policy, and Management professor Chris Schell appeared in an episode of the six-part PBS documentary series "Human Footprint" to discuss how coyotes and other animals adapt to life in cities. The series is hosted by biologist and Princeton University professor Shane Campbell-Staton and explores the ways humans are transforming the planet.
Across Oakland and Berkeley, Schell and members of his lab use camera trapping and other methods to understand how the built environment influences the distribution of wildlife across the region. Carnivore species like foxes and coyotes flourish in the Berkeley Hills, where urban density is lower. In Emeryville, where there are more human structures and less vegetation, the diversity of species is much lower.
According to Schell, this luxury effect—the positive relationship between affluence and biodiversity—often mirrors the historical processes that have happened in cities. Both humans and wildlife species, for instance, are affected by residential segregation via redlining and other socioeconomic disparities in and across the urban landscape.
"They are the conduits to allow us to better understand that many of these disparities that hit communities of color, low-income communities really hard are also the same things that are destroying the natural world," Schell told Campbell-Staton. "The policies that separate us from us are also those same policies that separate us from the natural world."
Watch the full episode of "Human Footprint" on the PBS website.