Education
Ph.D. Department of Environmental Science, Policy, and Management Division of Ecosystem Sciences, 2015
University of California, Berkeley
Dissertation: Water Relations of Baccharis pilularis D.C. in California's central coast
Co-advisors: Professors Joe R. McBride and Todd E. Dawson
MSc Environmental Studies, focus on rare plant ecology, 2004
San José State University, San José, CA
Thesis: Effects of exotic species and soil depth on a rare serpentine jewelflower
BA Environmental Studies, Preparation for Teaching, 2001
San José State University, San José, CA
Graduated with Department Honors
Honors project: Fire ecology of coast redwood forests
Research Interests / Specializations:
Plant ecology, plant ecophysiology, plant water relations
Research Description:
How will California's grassland-shrubland ecotones be affected by a warming climate? Given my interests in plants, water, meteorology (coastal fog!), and vegetation change over time, I approached this broad question through a multifaceted research strategy with a focus on the water relations physiology of Baccharis pilularis (coyote brush, Asteraceae), a common shrub native to California.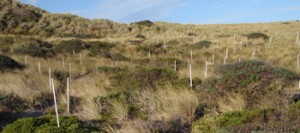 1.  Intraspecific variation in water relations of B. pilularis
Despite the fact one is practically guaranteed to see this native shrub when hiking open spaces in the central California coast, there is a dearth of physiological information about it. To help remedy this, I evaluated the intraspecific variation in water relations between the two genetically distinct morphotypes of B. pilularis in a common garden setting in Bodega Marine Reserve (common garden pictured above). These results provided a "baseline" picture of how B. pilularis varies in its responses to fluctuating seasonal water availability.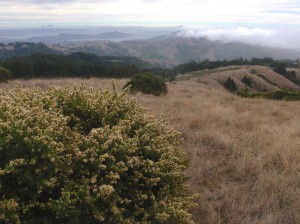 2.  Effects of ontogeny on B. pilularis seasonal water use and water relations
Plant age influences the way water moves through plants, from annual flowers to tall trees.  I researched how age affects B. pilularis water relations by comparing several parameters of water use in juvenile and adult shrubs in cool, fog-prone and warm, low-fog coastal grasslands. Through seasonal measurements of diurnal water potentials, midday stomatal conductance, tissue water relations characteristics (obtained via pressure-volume curves), and stable isotopes of water sources in young and mature B. pilularis plant tissue, we investigated how life stage affects this species' ability to respond to differing levels of water deficit.
3.  Seasonal water use and water relations of B. pilularis during seedling establishment in high- and low-fog coastal grasslands
B. pilularis is one of first shrubs to invade grasslands along California's central coast. Within the context of these landscape dynamics, it is important to understand how young B. pilularis plants use water in the presence of neighboring grassland species, particularly in our changing climate. As such, we conducted a manipulative neighbor removal experiment to measure seasonal B. pilularis water relations, water sources, and plant growth with and without neighbors in warm, low-fog and cool, high-fog coastal grasslands. Results from this study illustrate the responses of B. pilularis seedlings to these different coastal grassland environments and allow us to begin to predict seedling establishment in central California's coastal grassland-shrubland mosaic.
---
Honors and Awards
Marin Chapter, California Native Plant Society Research Scholarship, 2011

Santa Clara Valley Chapter, Calif. Native Plant Society Research Scholarship, 2011

Teaching Effectiveness Award, UC Berkeley, 2011

Outstanding Graduate Student Instructor, UC Berkeley, 2010

George Melendez Wright Climate Change Fellowship, 2010

Graduate Division Summer Research Grant, UC Berkeley, 2010

Northern California Botanists Research Scholarship, 2010

California Native Plant Society State Research Grant, 2009

National Park Service-Pacific Coast Science and Learning Center Research Grant, 2008

Sigma Xi, UC Berkeley Chapter Research Grant, 2008

Honors and Awards during MSc and BA degrees

California Native Plant Society Scholarship, East Bay Chapter 2004

Myrtle Wolf Scholarship, Calif. Native Plant Society, East Bay Chap. 2004

California Native Plant Society State Research Grant 2004

College of Social Sciences Foundation Research Grant 2003

College of Social Sciences Charles Burdick Scholarship 2003

Viola Palmer Memorial Scholarship 2003-2004 Academic Year

Kathryn Uhl Carr Scholarship 2003-2004 Academic Year

CSU Foundation's Helen Newhall Pardee Scholarship 2002-2003

SJSU Barnum-Everett Memorial Scholarship 2002-2003

Financial Aid Outstanding Student Scholarship for 2001-2002

Dean's Scholar 1999, 2000, 2001
Recent Teaching:
102A - Terrestrial Resource Ecology, 2006
C12 - Introduction to Environmental Studies, 2009 and 2010
Teaching Consultant, UC Berkeley GSI Teaching & Resource Center, June-December 2011
Master Plant Science Team Member and Scientist Mentor for Botanical Society of America's international PlantingScience program, January 2010-July 2012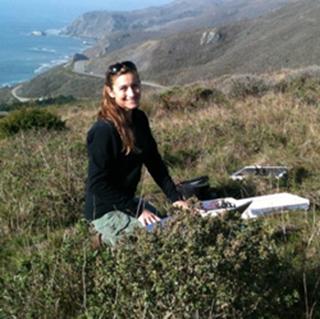 Contact details
E-mail:
kidder@berkeley.edu