Education
MS, SUNY College of Environmental Science and Forestry (2011)
BA, Vassar College (2009)
Research Interests / Specializations:
Forest ecology, community ecology, restoration ecology, ecological modeling
Research Description:
My research is based in the Sierra Nevada mixed conifer forests of California, where a century of fire suppression has resulted in a shift towards a low-diversity forest system. Low-diversity systems are less resilient to stressors such as drought, warming, and pest outbreaks, all of which are in the forecast for California forests. My work explores shifts in the structure and function of California forests over the past century and the impact that these changes have on measures of forest resilience and resistance to anthropogenic disturbances.  
Selected Publications
Levine, C.R., F. Krivak-Tetley, N.S. van Doorn, J.-A.S. Ansley, and J.J. Battles. Long-term demographic trends in a fire-suppressed mixed-conifer forest. In revision, Canadian Journal of Forest Research.

Yang, Y., R.D. Yanai, F.R. Fatemi, C.R. Levine, P.J. Lilly, and R.D. Briggs. 2015. Sources of variability in tissue chemistry in northern hardwood species. In press, Canadian Journal of Forest Research.

Glassman, S.I., C.R. Levine, A.M. DiRocco, J.J. Battles, and T.D. Bruns. 2015. Ectomycorrhizal fungal spore bank recovery after a severe forest fire: Some like it hot. The ISME Journal. Online in advance of print. doi: 10.1038/ismej.2015.182.

Yanai, R.D., N. Tokuchi, J.L. Campbell, M.B. Green, E. Matsuzaki, S.N. Laseter, C.L Brown, A.S. Bailey, P. Lyons, C.R. Levine, D.C. Buso, G.E. Likens, J. Knoepp, and K. Fukushima. 2014. Sources of uncertainty in estimating stream solute export from headwater catchments at three sites. Hydrological Processes 29(7):1793-1805. doi: 10.1002/hyp.10265.

Levine, C.R., R.D. Yanai, G.G. Lampman, D.A. Burns, C.T. Driscoll, G.B. Lawrence, J.A. Lynch, and N. Schoch. 2014. Evaluating the efficiency of environmental monitoring programs. Ecological Indicators 39:94–101. doi: 10.1016/j.ecolind.2013.12.010.

Yanai, R.D., C.R. Levine, J.L. Campbell, and M.B. Green. 2012. Ecosystem budgets have no error: A progress report on quantifying uncertainty in forest ecosystem studies. Journal of Forestry 110(8):448–456. doi: 10.5849/jof.11-087.

Levine, C.R., R.D. Yanai, M.A. Vadeboncouer, S.P. Hamburg, A.M. Melvin, C.L. Goodale, B.M. Rau, and D.W. Johnson. 2012. Assessing the suitability of rotary coring for sampling in rocky soils. Soil Science Society of America Journal 76(5):1707-1718. doi:10.2136/sssaj2011.0425.

Yanai, R.D., M.A. Arthur, M. Acker, C.R. Levine, and B.B. Park. 2012. Variation in mass and nutrient concentration of leaf litter across years and sites in New Hampshire northern hardwoods. Canadian Journal of Forest Research 42(8): 1597-1610. doi:10.1139/x2012-084.

Levine, C.R., R.J. Winchcombe, C.D. Canham, L.M. Christenson, M.L. Ronsheim. 2012. Deer impacts on seed banks and saplings in eastern New York. Northeastern Naturalist 19(1):49-66. doi:10.1656/045.019.0104.

Fatemi, F.R., R.D. Yanai, S.P. Hamburg, M.A. Vadeboncoeur, M.A. Arthur, R.D. Briggs, C.R. Levine. 2011. Allometric equations for young northern hardwoods: the importance of age-specific equations for estimating aboveground biomass. Canadian Journal of Forest Research 41:881-891. doi:10.1139/X10-248.

Wielopolski, L., R.D. Yanai, C.R. Levine, M.A. Vadeboncoeur, S. Mitra.  2010. Rapid, non-destructive carbon analysis of forest soils using neutron-induced gamma-ray spectroscopy. Forest Ecology and Management 206(7):1132-1137. doi:10.1016/j.foreco.2010.06.039.
Recent Teaching:
ES100: Introduction to the Methods of Environmental Science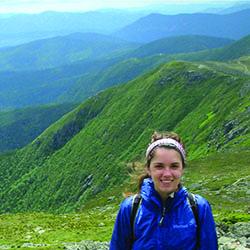 Contact details
E-mail:
crlevine@berkeley.edu