Margiana
Petersen-Rockney
About me
I grew up on a diversified dairy goat farm where working with the landscape – making hay, pruning fruit trees, butchering chickens, and assisting in midnight goat births – tangibly fostered an appreciation for farmers that drives my research program. During and after college I leased five acres and ran a 60 family vegetable CSA and raised pastured hogs and chickens for restaurants. As a farmer myself, I began organizing other beginning farmers in the Young Farmer Network (YFN) to share resources, knowledge, and a collective policy voice. My advocacy work led me to a job at New Entry Sustainable Farming Project, a non-profit organization where I worked with recent immigrant and refugee farmers. Through this work, I gained a greater appreciation for the fact that supporting farmers doesn't just mean teaching things like soil health and business planning, but it also means trying to address some of the underlying structural issues that many farmers face like insecure land access and institutional racism. 
For several years before graduate school I led a student fellowship program at Harvard University called the Food Literacy Project. I loved working closely with students, but I continued to feel a tension between doing the tangible everyday work of things like growing food or working with individual farmers, while not having the capacity to affect the broader structural dynamics that clearly needed to change for these efforts to be more than the crucial band aids that they are. So in the fall of 2016, I sold my tractor, harvested my last crops, and moved to Berkeley, CA to start a PhD program.
I was drawn to UC Berkeley's Department of Environmental Science, Policy, and Management because I wanted to do both biophysical and social science work. I had seen that most environmental problems were not actually due to inadequate knowledge -- we know climate change is bad and we know what we can do about it. Inaction on climate change is really much more of a power problem. And the agrifood system is a great place to unpack the social, political, cultural, and economic dynamics that shape these problems.
My research program consists of three interconnected pillars.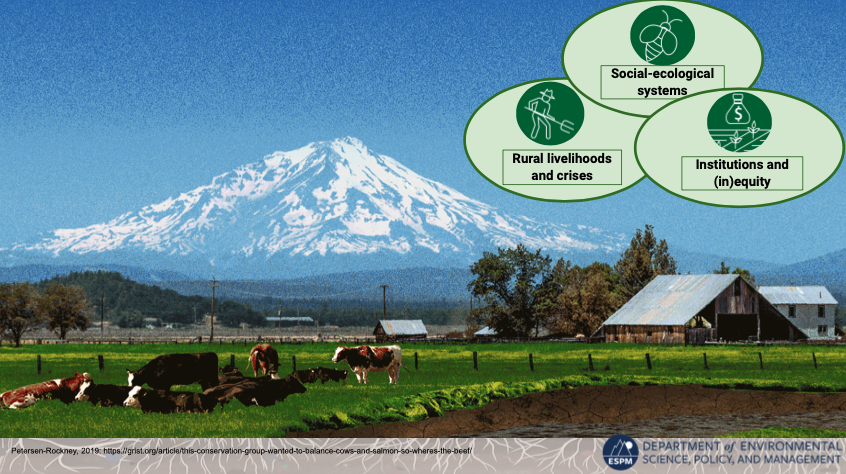 Image from Petersen-Rockney, 2019, Grist Magazine.
Social-ecological systems and climate change. I am particularly interested in the kinds of management practices implemented on "working landscapes" and their impact on ecosystem functioning and biodiversity conservation. Example of published work here. Additionally, I was an editor for a special issue on farming systems and adaptive capacity in Frontiers in Sustainable Food Systems, which can be found here.
Rural livelihoods and crises. Here I examine how rural agricultural communities in the US respond and adapt to the impacts of climate change - from water scarcity and unpredictable weather to changing demographics, policies, markets, and migrations. This is the focus of my dissertation - an early draft was awarded the 2021 Lawrence Busch Graduate Student Paper Award from the Rural Sociology Society. Articles that draw on this richly textured data, including over 130 in-depth interviews, include publications in the journals Global Environmental Change and Climatic Change.
Public institutions and (in)equity. I ask questions about the role of public institutions like County government or Cooperative Extension in defining and defending what is considered acceptable agriculture, who has power and control in those institutions - especially at the local level, and how that shapes access and equity as rural places transformation. Example of published work here and here.
Academic teaching experience
Certificate in Teaching in Higher Education
Outstanding Graduate Student Instructor Award (2018)
Mentor to undergraduate students from underrepresented backgrounds in academia through SPUR and URAP . Check out this article published in Rangeland Ecology & Management, co-authored by SPUR undergraduate mentee Aaron Saliman!
Deep Springs College (visiting faculty, spring 2021):
Political Ecology of Agrifood Systems
Rangeland and Indigenous Science and History
UC Berkeley (graduate student instructor):
Graduate Pedagogy in Environmental Science (for graduate students, 2018)
Sociology of Agriculture (upper division, 2018)
American and the Global Forest (lower division, 2017)
Recent published work
Social risk perceptions of climate change: A case study of farmers and agricultural advisors in northern California. 2022. Journal of Global Environmental Change, Vol. 75. 102557. (Petersen-Rockney, M.)
Criminalized crops: Environmentally-justified illicit crop interventions and the cyclical marginalization of smallholders. 2022. Political Geography, Vol. 99. 102781. (Petersen-Rockney, M., Lu, J., Dev, L., all co-lead authors)
Farmers adapt to climate change irrespective of stated beliefs in climate change: a California case study. 2022. Climatic Change, 173:23. (Petersen-Rockney, M.)
Rancher experiences and perceptions of climate change in the Western United States.  2022. Rangeland Ecology and Management, 84: 75-85. (Saliman, A. (undergraduate research assistant) and Petersen-Rockney, M. (Co-lead authors))
Narrow and Brittle or Broad and Nimble? Comparing Adaptive Capacity in Simplifying and Diversifying Farming Systems. 2021.  Frontiers in Sustainable Food Systems 5:564900. (Authors: Petersen-Rockney M, Baur P, Guzman A, Bender SF, Calo A, Castillo F, De Master K, Dumont A, Esquivel K, Kremen C, LaChance J, Mooshammer M, Ory J, Price MJ, Socolar Y, Stanley P, Iles A and Bowles T). Press release here and featured in the Daily Cal here.
Editorial: Diversified farming systems for adaptive capacity. 2021. (Authors: Petersen-Rockney, M.; Ahmed, S.; Bowles, T.; Baur, P.) Frontiers in Sustainable Food Systems. 5:806604
Porcine Providence: pigs, differentiation, and cultural strategies of exclusion through agrarian transformations in the making of a US city. 2021. Journal of Agricultural History, Vol 95: 5. (Petersen-Rockney, M.)
Cannabis farmers or criminals? Enforcement-first approaches fuel disparity and hinder regulation. 2019. California Agriculture. Vol. 73, no. 3.  (co-first author with Micheal Polson)
Farming Water. 2019. Grist Magazine feature article. (Petersen-Rockney, M.)
Last chance in this Farm Bill for beginning farmers and our farmland. 2018. Op-ed National Young Farmers Coalition. (Petersen-Rockney, M.)
What Beginning Farmers Need Most in the Next Farm Bill: Land. 2018. Policy Brief. Berkeley Food Institute. (Petersen-Rockney, M. and Calo, A.)
This Farm Bill deregulates the rich and polices the poor. 2018. High Country News. (Petersen-Rockney, M.)
Thank you to the Berkeley Fellowship, NSF GRFP, Graduate Students in Extension Fellowship, and Annie's Homegrown for graduate research funding.
Education
Ph.D. Environmental Science, Policy, and Management, University of California, Berkeley, Dec. 2022
M.S. Environmental Science, Policy and Management, UC Berkeley, 2019
B.A. Geology and Biology, Brown University, 2011
Research Interests / Specializations:
Climate change, adaptation, agriculture, rural livelihoods, land access and tenure, beginning and socially disadvantaged farmers, extension, sociology of agriculture, conservation biology and ecology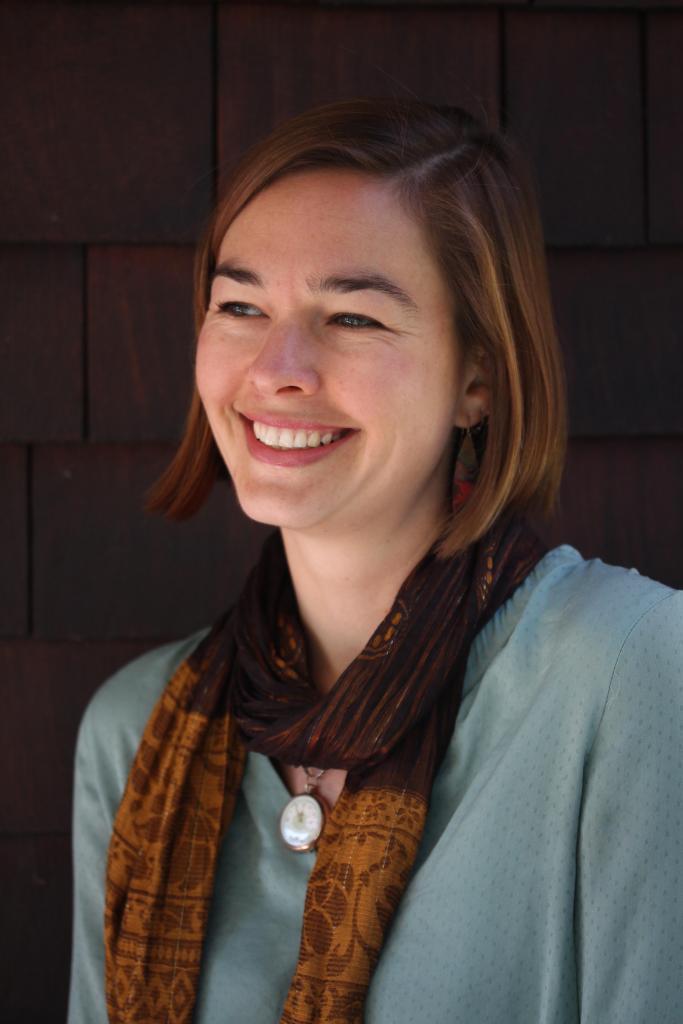 Contact details
Margiana Petersen-Rockney
E-mail:
margiana@berkeley.edu
Mailing address
Department of Environmental Science, Policy, & Management
UC Berkeley
130 Mulford Hall #3114
Berkeley, CA 94720