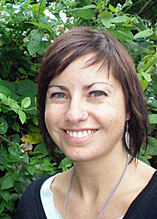 By Ann Guy
Kendra Klein of the Winickoff Research Group has been named a Switzer Environmental Fellow by the Robert and Patricia Switzer Foundation.
Kendra works at the nexus of public health and sustainable agri-food systems. In collaboration with Health Care Without Harm's "Healthy Food in Health Care" campaign, she is researching the supply chain obstacles and opportunities for increasing hospital procurement of local, organic, fair trade, and other sustainably produced foods nationwide. She is involved in pilot trainings organized by Health Care Without Harm to educate health professionals on an ecological approach to nutrition and to inspire them to advocate for a healthier, more sustainable food system within their health practices, communities, and at the federal level.
Klein also teaches the class Environmental Problems and Solutions at San Francisco State University. Her commitment to an ecological approach to food and health is rooted in her non-profit and academic work as well as her farming experience. As a community organizer at Breast Cancer Action, Kendra worked on a variety of environmental health campaigns including chemical policy reform, corporate accountability related to "pink ribbon" fundraising, and Precautionary Principle implementation.
Her career goal is to remain entrenched in food movements working to create ecologically resilient, economically viable, and socially just food systems, with a particular focus on the development of food hubs and mid-scale food system infrastructure that allows small and mid-sized farmers to reach larger markets.
This year, the Switzer Foundation awarded 20 fellowships for emerging environmental leaders who are pursuing graduate degrees and are dedicated to positive environmental change in their careers.
Read the UC Berkeley Graduate Division story.
Read the Switzer Foundation press release.