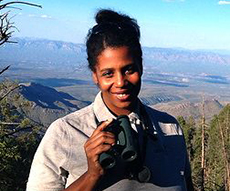 Rue Mapp, one of the newest additions to the Cal Alumni Wall of Fame is being recognized for her work supporting diverse participation and appreciation of the great outdoors. During her time studying at Berkeley, Mapp (History of Art, '09) enrolled in "The American Forest, Its Ecology, History, and Representation." Co-taught by ESPM Professor Joe McBride and Art History Professor Margaretta Lovell, the interdisciplinary course introduced students to both the scientific dimensions of forest environments and to the ways in which those environments have been seen, analyzed, utilized, and represented in the United States since the seventeenth century.
Mapp was inspired by the course's analysis of the power of images to change behavior and affect public policy, and wanted to take action. Scarcely out of college, she founded Outdoor Afro, an organization that uses social media to connect African Americans to nature and shift perceptions about who can enjoy the great outdoors. Beyond offering recreational activities, Outdoor Afro is reminding black people of their historical connection to the land and engaging them in protecting the wilderness. Mapp won a 2014 National Wildlife Federation conservation achievement award, among numerous recognitions, and has worked on environmental and children's health initiatives at the White House.
Follow Outdoor Afro on Facebook and Twitter, and see more on the Berkeley Wall of Fame.